Long before there was Jennifer Lopez, Salma Hayek, or Eva Mendez, the 1930s Hollywood silver screen blazed with the talents and hot looks of Latina movie stars Dolores Del Rio, Lupe Velez, and Conchita Montenegro. Dolores Del Rio was in the first ranks of movie stardom in the early to mid 1930s. Her radiant beauty was a magnet for the camera, and she starred in several major movies for Warner Brothers and RKO. Also pictured above is Ramon Navarro, born in Mexico and a lead actor for MGM in the 1920s. He played as Judah Ben Hur in the first Ben Hur, as well as the hero pilot in The Flying Fleet and other films.
Dolores Del Rio starred in the films The Bird of Paradise (1933), Flying Down to Rio (1933), Wonder Bar (1934), Madame du Barry (1934), and In Caliente (1935). She had started her Hollywood career in silent films such as Trail of '98 and Ramona (both 1928).  In the photo above, Dolores Del Rio models a sequin gown designed by Orry-Kelly. Below is a photo showing the classic beauty of Dolores Del Rio. The "Del" in her name became capitalized in the U.S, although she was born in Durango, Mexico.
Del Rio's second husband was Cedric Gibbons, MGM's Art Director. He made the art deco and moderne style of set designs popular in the MGM films of the late 1920s and 1930s. He also designed the famous Oscar statuette for the Academy Awards. After they married in 1930, they lived in this beautiful California moderne style house which he and architect Douglas Honnold designed in the Santa Monica mountains.  Del Rio and Gibbons are pictured below in their living room. The very large windows were innovative at the time. One can imagine the fabulous parties they held there, attended by all of the great Hollywood stars of the era.
Another popular Mexican actress in the 1930s was Lupe Velez, shown above.  She had acted in Vaudeville, and started her Hollywood career in silent films. She starred with Douglas Fairbanks  in The Gaucho in 1927, and was in C.B. de Mille's The Squaw Man in 1931.
In the photo above Lupe Velez models a gown designed by Walter Plunkett for the RKO film, Strictly Dynamite in 1934. The gown is of white crepe with diagonal lines of crystal beads. Lupe Velez and Dolores Del Rio were both early customers of designer Irene Lentz at her first two shops. It was through them that Irene developed a following in the Los Angeles film communitity, a following that soon became a flood. Irene later married Cedric Gibbons' brother Eliot and thus became the sister-in-law to Dolores Del Rio.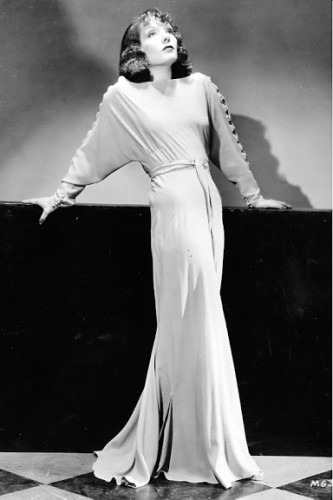 In the photo above Lupe Velez wears an Adrian designed gown for an MGM film. The gown features open Dolman sleeves held with brilliant circle clips along the arms. Lupe Velez reached the height of her popularity in the film series, The Mexican Spitfire,filmed at RKO in the early 1940s.
Conchita Montenegro shown above was a beauty from Spain, a dancer and model who came  to Hollywood with a contract at MGM in 1930. In those days MGM made Spanish language versions of their films and Conchita starred in several of these.  She played a Spanish dancer in Strangers May Kiss, at MGM along with Norma Shearer.  She also starred opposite Leslie Howard in MGM's Never the Twain Shall Meet in 1931.
Conchita Montenegro left MGM and went to the Fox studio to make movies there. She starred with Warner Baxter in The Cisco Kid in 1931.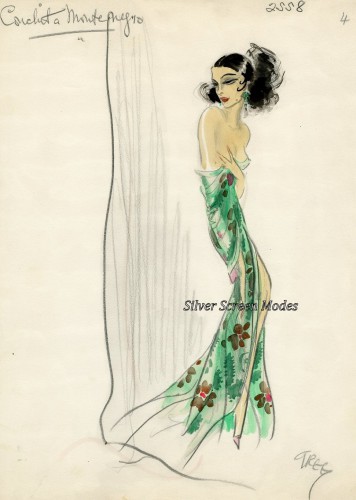 The beautiful costume sketch above for Conchita was designed by Dolly Tree. It was probably designed for The Cisco Kid, although Dolly Tree designed costumes both at Fox and at MGM during this period.
The photo above shows Raquel Torres in 1929. Miss Torres had a German father and a Mexican mother. She starred in two films in 1929 including The Bridge of San Luis Rey. She continued to make movies in the early 1930s.
This early flowering of Latina actresses was short-lived. By the late 1930s the importance of the roles offered the stars became less rewarding. Lupe's Mexican Spitfire movies were popular but stereotypes became common. Both Dolores del Rio and Lupe Velez returned to Mexico to make films, and del Rio became just as big a star in her home country. Lupe Velez died young in 1943. Conchita Montenegro too returned to her native Spain. The movie La Otra, made in Mexico and starring Dolores Del Rio and Victor Junco, was re-made in the U.S. in 1964 as Dead Ringer, starring Bette Davis.
Another generation of Latina actresses came along in the 1940s and 1950s, and then another after that. While roles in film are there, they are always too limited. We are fortunate however, to still have the chance to see the trail-blazing early stars of the silver screen.
An earlier version of this post appeared in my blog the Silver Screen Modiste in 2011