Hollywood's late costume designer Milo Anderson created looks for the stars that are icons of style. But ask anyone about him and blank stares are the response.  His name was simple, as were the styles he created: Joan Crawford's waitress uniform in Mildred Pierce, Marlene Dietrich's dark blue trench-coat, skirt and beret in Manpower, Lana Turner's debut "sweater-girl" Angora sweater in They Won't Forget, and the chorus girls' costumes in 42nd Street.
Milo Anderson was born in Chicago on May 9, 1910. His parents moved to Los Angeles when Milo was 8, He attended Fairfax High School and during the summers worked at Western Costume.  He got to do some designing. One costume he was remembered for was Common Clay (1930), that starred Constance Bennett. One tip she gave him stayed with him throughout his career, "It's not what you put on a costume, it's what you take off that counts."
When Milo had several costume sketches in a portfolio he took them to MGM's head designer Adrian. Adrian was not encouraging. He did however recommend him to Samuel Goldwyn, who was then short of a designer since Coco Chanel had not finished the designs for the film The Greeks Had a Word for Them. So he was hired to finish that film and then to design the costumes for The Kid from Spain, a big musical. It was 1932 and he was too young to sign the contract, his mother had to do it.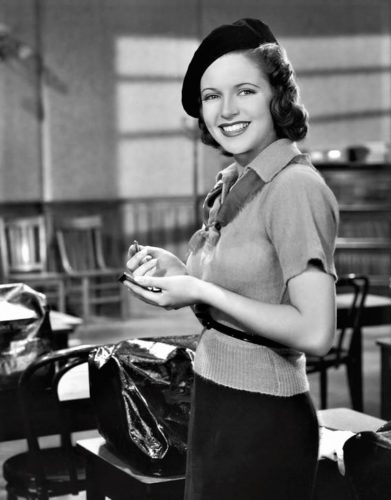 Another unforgettable costume that Milo Anderson "designed" was for Joan Crawford in Rain, 1932. The movie was a re-make of Sadie Thompson that had starred Gloria Swanson, and also the Broadway play with Jeanne Eagels.  Joan Crawford had asked to be loaned out to United Artist to play the role. She wanted a change in her usual roles to play something more serious and less glamorous. She got more than she bargained for. The role of Sadie Thompson was that of a prostitute. Milo was told to make something quickly, even though Joan only had two costume changes in the entire movie, and she wore one through most of it. That costume was a checked suit with short sleeves that he bought at a shop on Hollywood Blvd. He bought it large enough for her shoulders and fitted the rest to her measurements.  It was perfect for her role, but the problem was she would have to wear it through the entire movie while it was undergoing through South Seas weather. Milo went back to the store but that had been the only model. Wardrobe ended up silk- screening the checks onto like fabric and tailoring duplicate suits.
Milo had been loaned out to United Artists as well as Joan Crawford for Rain. It was a pleasant experience. working with her at the time, although the film did poorly at the box office and it was too much out of character for Joan's fans – or the critics. While at United Artists he also worked with Adrian designing Mary Pickford's and the others cast's costumes for Secrets (1933).
Milo started working at Warner Brothers in 1934. He had previously designed its production of Footlight Parade with Jimmy Cagney on loan-out the previous year. In 1935 he designed the costumes for Errol Flynn and Olivia de Havilland in Captain Blood, two stars he would work with repeatedly at Warner Bros. He also designed one of their most famous films together The Adventures of Robin Hood (1938).  Milo cleverly devised the use of metallic painted rope to look like chain-mail for many of the costumes. This avoided the noisy clanking of metal and was of course lighter. At Warner Bothers Milo Anderson was working along side of the famous designer Orry-Kelly. Fortunately Milo did not have a big ego  or felt competitive. They split their assignments and there were plenty to go around.
The decade of the 1940s started with some big movies for Humphrey Bogart and his female co-stars at Warner's. They Drive by Night (1940) gave him the opportunity to design for both Ann Sheridan again and with the new Warner Bros. star Ida Lupino.  This film about long-haul truckers and their dames (and a femme fatale) gave Milo a range of costume options. The following year Milo costumed another pairing of Bogart and Ida Lupino: High Sierra. All though it would become an all-time classic, it was not much of a costume movie.
That same year of 1941 presented him with the opportunity of dressing Marlene Dietrich in Manpower. Milo recalled that Marlene was very hard to satisfy – she had previously been dressed by Travis Banton and Irene. This film did not call for a glamorous wardrobe, but Milo Anderson created enticing costumes for Marlene and the two became good friends.
The U.S was now in WW II and movies took on different themes. Humphrey Bogart had another classic with To Have and Have Not in 1944. This was the film that introduced Lauren Bacall. Orry-Kelly was supposed to have designed it but he briefly served in the Army. In his autobiography he said he made the costume sketches for  Bacall. Milo Anderson stated he designed the costumes for the film and he is listed as the designer in the credits. At issue is the iconic hounds-tooth suit with the peplum jacket she wears in a key scene. That suit started a fashion trend. But the film's director Howard Hawks also claimed credit, stating he wanted Bacall to wear the same type of suit his wife "Slim" Hawks was wearing. Milo Anderson said he actually had the idea of using Slim's suit – fitting it for Bacall after nipping the waist and broadening the shoulders.
Milo then had the most difficult job of his career: working on Mildred Pierce. Joan Crawford had just moved over to Warner Bros. after 20 years at MGM. Director Michael Curtiz did not want her for the title role in that film, but he was obliged to have her do a screen test. With a hostile attitude, Curtiz yanked her blouse off, shouting, "You and your damned Adrian shoulder pads!" Only she had bought that outfit at Sears and there were no shoulder pads. She had wanted to appear in-character for the screen-test. Milo said she was very difficult to work with, unlike their first collaboration on Rain. He attributed that to her nervousness from being at Warner Bros and not knowing if she would have a future there. And she was constantly fighting with Curtiz.  She got along famously with Ann Blythe, who walloped her on the staircase scene.
Milo also created a stunning look for  Patricia Neal, not the typical Glamorous star, in The Fountainhead (1949).  She co-starred with Gary Cooper who played an architect. Milo dressed Patricia Neal in a black silk peignoir that she wore for her opening scene, and later a lace nightgown for a seduction scene.
By the early 1950s Milo Anderson became disillusioned with the state of designing costumes for Hollywood movies.  Warner Brothers wasn't even giving him design credit half the time. He finished  designing So Big for Jane Wyman in 1953, who he had worked with since his first film, The Kid from Spain, in 1932. This was their 30th film together.  He left Warner Bros. after that and designed for Catalina swim wear. He designed the costumes for one more Jane Wyman movie, at her request , Miracle in the Rain (1956).
In an interview with the late movie costume historian David Chierichetti, Milo Anderson said about his time during the Golden Age of Hollywood, "We ran ourselves ragged trying to keep up with the demands of our jobs, but we had the best materials, the best craftsmen and the most glorious women to wear them. It was an unforgettable era."
After he left Warner Brothers Milo Anderson joined the firm of Robert Muir & Associates as an interior designer.  He also taught classes periodically on costume design. He maintained a friendship with fellow costume designer Howard Shoup – "Shoupie" as his friends called him.
Milo Anderson died on November 10, 1984 at age 74 from emphysema.  Then and now he is little known despite the many stars he dressed and the beautiful iconic garments and costumes he designed.