It was the smallest big studio in Hollywood. Owned in succession by the likes of Joseph Kennedy,  David Sarnoff and RCA, Howard Hughes, and finally Lucille Ball and Desi Arnaz. RKO was once home to Fred Astaire and Ginger Rogers, Orson Wells, David O. Selznick, and King Kong. Katharine Hepburn made her first movies there, and it was equally known for Val Lewton horror movies and films noir.  For a small studio it produced outstanding period costumes. Its wardrobe department  had top talent and its costume designers were among the best in the 1930s. At RKO's creation in 1928 it amalgamated a vaudeville theater circuit with Kennedy's Film Booking Office and Sarnoff's, RCA . RKO stood for Radio Keith Orpheum. There were high hopes for it: RCA  (Radio Corporation of America) was interested in sound film; Kennedy in making money. The studio was located on Melrose and Gower in Hollywood. It also included Pathé withinin its holdings, and its lot in Culver City, once the studio of Thomas Ince and later home of Selznick International Pictures.  Today as a working studio RKO is long gone, its lot having turned into the Desilu Studio and now absorbed by Paramount Pictures.
At its beginning, RKO's  predecessor FBO (Film Booking Office) was owned by Joseph Kennedy. It made films, mostly westerns, and had hired a new costume designer named Walter Plunkett. When FBO was amalgamated into RKO in 1928, Plunkett became the de-facto costume designer for the new studio. As film production began to speed up, Plunkett had to organize an entire wardrobe department, as well as designing costumes for the principal cast of its films. RKO's first major production was Rio Rita  starring Bebe Daniels. The film was a big hit and Walter Plunkett made a name for himself. But working hard and launching his reputation still didn't give him adequate pay, and so Plunkett walked off the job to work at Western Costume. He was finally lured back in 1932, just as Katharine Hepburn had started making pictures there. this was also when  Ginger Rogers was about to make RKO famous dancing with Fred Astaire, and there was King Kong and Fay Wray too.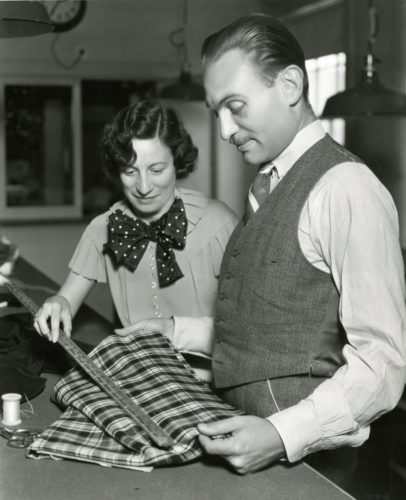 RKO Costume Designer Walter Plunkett is shown above. He is pictured with my-great-aunt, RKO's Head Cutter-Fitter Marie Ree. In this staged photo they are inspecting fabric for an upcoming movie with Helen Mack. The Cutter-Fitter's job was to take the designer's costume sketch and fabric selections and make patterns from which the fabric pieces could be cut. She would also do the fitting on the star, where the designer was usually present. In the photo below, a pattern cut from muslin is laid upon the satin fabric, which will then be cut and later sewn by seamstresses.  The muslin pieces were actually pinned together on a dress form made to the star's measurements, prior to the actual costume being sewn. Patterns would have to be made by the cutter-fitter whether the costume was a bathing suit, a 1930's glamour-gown, or an Elizabethan garment.
Below Marie adjusts a shoulder detail onto a custom dress form for an unknown production in the mid-1930s. This work was done for  one shoulder piece for one costume for one movie at the studio. One can imagine the labor for 30 movies a year, even if only a dozen or so were "A" pictures.
In the photo below, Marie examines an embroidered decoration for fit on a velvet gown. The embroidery would be later cut and sewn onto the gown. The beaded and sequined decorations always drew attention as they flashed under studio lighting in the film. Photo taken for an unknown production in 1940.
Walter Plunkett became a specialist in historical costume. As the only costume designer at RKO at its beginning, he had to design for everything: contemporary; historical; for men as well as women. But he excelled at designing historical costume and found great success with that specialty. He stated later that he prefered designing period costumes because directors seldom knew enough about them to argue with him. But he also had expert assistance from Marie Ree. She was a stickler for detail and correctness, and had a keen knowledge in historical French folk costume.  She also had the trade skills from having worked in the atelier of Jeanne Lanvin.
Under David O Selznick as producer, Louisa May Alcott's Little Women, was turned into a film starring Katharine Hepburn. In the Depression year of 1933 this movie about the thrifty but loving March family, and its struggles while the father is off fighting in the Civil War struck a chord. It was a big hit and made Hepburn a star. The calico and gingham fabrics and Victorian styles  were nostalgic, yet like a breath of fresh air to movie-goers. Surprisingly, the costumes influenced fashion as well, and were even noted by couturier Marcel Rochas, as "so pleasing."
RKO was also finding a big success in the dance team of Ginger Rogers and Fred Astaire. They had second billing in the movie Flying Down to Rio, but with The Gay Divorcee it was all about Fred and Ginger. With this movie Walter Plunkett designed the quintessential Ginger dance gown – form-fitting at the waist and hips to accentuate her figure and free-flowing at the ankles to twirl during her dance moves.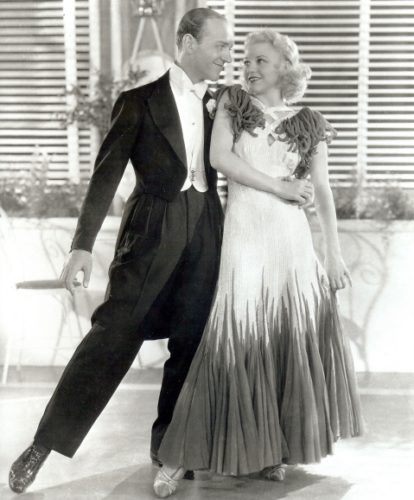 But soon Walter Plunkett was again dissatisfied. Bernard Newman was brought in as a second costume designer from New York's Bergdorf-Goodman. He was now dressing Ginger Rogers, and according to Plunkett, getting all the plum assignments. So Plunkett resigned again. He said if New York designers could come to Hollywood he would go to New York, and he did, with a new job there. Below is Bernard Newman's costume for Ginger Rogers for In Person from 1935, The gown is made of silver bugle beads sewn onto turquoise-colored chiffon.  The bugle beads provided brilliance under the lights and hugged her figure and the chiffon provided some transparency.
Ginger Rogers loved Bernard Newman's gowns. One of his famous gowns was the ostrich-feather and blue satin gown from Top Hat. The gown was backless. Ginger loved this gown and had to fight to keep it in the movie as Fred hated it. As they danced the feathers would come loose and stick to his tuxedo and lay on the polished dance floor.  Wardrobe was challenged as well as they would repeatedly have to re-sew the feathers back onto the gown. Despite these issues, their dance scene and Ginger's dress were amazing.
Bernard Newman is shown below  with French opera singer Lily Pons. Miss Pons starred in two RKO films. Newman designed  I Dream Too Much  and Edward Stevenson designed That Girl From Paris. Newman had a great fashion hit in the movie Roberta, with Irene Dunne,  remade in 1952 as Lovely to Look At, with designs by Adrian.
Costume designer Edward Stevenson came to RKO as Bernard Newman's sketch artist. He had already been a designer at First National for several years but lost that job when they merged with Warner Brothers. Bernard Newman didn't sketch his designs, and his method was rather slow. In fact he wasn't well suited to the Hollywood studio production pace and was soon gone. Stevenson stayed at RK0 for many years and designed the costumes for dozens of films including Citizen Kane, Suspicion, It's a Wonderful Life, Out of the Past, and others. He went on to design the costumes for the I Love Lucy shows. Edward Stevenson is shown below at right  in 1940  with director George Abbott amidst his costume sketches for Too Many Girls.
But meanwhile Katharine Hepburn was unhappy that she had lost her friend and expert in historical costume design Walter Plunkett. This was especially the case since the hit movie Little Women had RKO casting her in more historical films. The next one coming up was Mary of Scotland, to be released in 1936. For this she demanded that Walter Plunkett be brought back to design the costumes. Walter was in New York, and employed. He responded that he could get a leave of abscence, but only for eight weeks.  If the movie ran longer than that he would have to be paid double. So Plunkett came back to Hollywood, but the script kept getting revised and most of his eight weeks were used up before he began his designing. Thus he was earning double his initial salary, and soon had to resign his New York job.
Although the film was in black and white, most of the costumes were in glorious color. Katharine's sleeves and upper bodice were in rich red Lyon velvet, with gold thistles. The actual costume is pictured below as it was shown at the Debbie Reynolds auction of 2011..
Plunkett was now on a movie-by movie contract with RKO. But that would soon come to an end in 1936 as he sought and got the job of designing the costumes for Gone with the Wind.
Marie's RKO book of film costumes and fabric samples, usually with cost notations. is shown below. The red velvet fabric at left was used on Katharine Hepburn's sleeves and upper torso.  Fabric samples in book were for one of Queen Elizabeth's costumes.
Costume designer Renie Conley, who just went by the name Renie joined RKO in 1936. She had a very long career, having started as a sketch artist at MGM in the 1920s and designed her last film in 1981. Renie's portrait is shown below.
Renie's design's for Ginger Rogers appeared in Ginger's only Academy Award  for Best Actress. This was her win for Kitty Foyle, 1940.
Renie's costume design shown above made a strong statement in the film with it's colonial accents of the tri-corn hat and ruffled collar. It was also a fashion hit at the time. Below is Renie's original costume sketch.
RKO continued making movies through the 1940s, making particularly excellent films noir. The great costume movies, whether historicals or musicals, were now a thing of the past. When Howard Hughes bought out the studio in 1948, it made a few more movies but was erratic.  Eventually Lucille Ball and Desi Arnaz bought out the lot and turned it into the Desilu Studio in 1957. Paramount later bought the lot in 1967, and virtually nothing remains denoting RKO's physical presence today. Gone, but not forgotten.