"Treasures from the Dream Factory" is the third collaboration of Turner Classic Movies and Bonhams auction house in presenting Hollywood memorabilia at auction. The past two auctions have sold at record prices the Maltese Falcon from the eponymous movie for $4.2 million, and the piano from Rick's Cafe in Casablanca for $3.2 million. This year's golden lair will be auctioned in New York on November 23, 2015, and many treasures are offered as the title implies.
Along with the five extremely lucky children that got a Golden Ticket to Willy Wonka's Chocolate Factory in that famous movie, you could be a proud owner of a ticket too. The Golden Ticket at auction is from the 1971 Paramount classic starring Gene Wilder and Peter Ostrum. The ticket was owned by film set Construction Manager Hendrik Wynands. Estimate of $10,000 -15,000.
The Golden Ticket sold for $28,000
From the movie considered by many to be the best movie ever made – Citizen Kane, is the childhood "Rosebud" sled of Charles Foster Kane. It was given to the film's screenwriter Herman Mankiewicz. Estimate of $100,000 -200,000.
The Rosebud sled sold for $149,000
From the classic The Wizard of Oz comes the costume worn by Judy Garland throughout the entire movie. The blue and white checked pinafore and off-white blouse with rick-rack trim was designed by Adrian. Several "test" versions were designed before this final dress was used throughout the film. A solid blue "test" version was sold at the Debbie Reynolds auction in 2011 for $1.1 million, although the heavy promotion for the auction had much to do with that price. The pinafore being auctioned here is one previously owned by Kent Warner, the costumer who had "liberated" many costumes from MGM including several pairs of the Ruby Slippers. He always picked the most important items, with his rationale being to either preserve them, or in the case of the 1970 MGM auction, as payment for organizing costumes for the auction. Kent Warner first had this costume up for auction at Christies in 1981.  Labels in this costume have Judy Garland's name and the number 4461, a sure way to trace its provenance. Estimate $800,000 – 1.2 million
The Judy Garland Dorothy pinafore sold for $1,625,000 including commission
Several great posters are featured in the auction. This one caught my eye and is significant as a symbol of early Hollywood – and also a symbol of silent films as the film it advertises is considered a "lost" film. This is a French version of the poster, besides the list of actors that featured in the vignettes were Charles Chaplin, Douglas Fairbanks, Gloria Swanson, Mary Pickford, and many others. Estimate $30,000 -40,000.
The poster sold for $37,500
Screen favorite Natalie Wood's Estate is being auctioned, with many significant items from her career going on the block. A few highlights include these:
A Golden Globe for "International Stardom" awarded in 1957, her first major acting award. Estimate $10,000 – 15,000
The International Stardom Golden Globe sold for $17,500
A Golden Globe for "World Favorite Actress" in 1965.  Estimate $7,000 -9,000.
The "World Favorite Actress" Golden Globe sold for $12,500
Natalie Wood's "Director's Chair" stamped "From the MGM Crew 1959" She used this on several film sets, including This Property is Condemned and Love with a Proper Stranger.  Estimate $500 -700.
The Director's Chair sold for $1250 
This costume was worn by Marilyn Monroe in Gentlemen Prefer Blondes,  20th Century-Fox, 1953. Dark gray wool jacket and skirt, jacket has cream-colored patterned-linen collar and lining., designed to show decollete. Designed by her regular designer at 20th Century-Fox, William Travilla. Estimate $350,000 – 500,000.
The Marilyn Suit sold for $425,000
A Judy Garland costume worn in Easter Parade, MGM, 1948. Designed by Irene. The gown was worn in the scene with Fred Astaire where they sing the number "It Only Happens When I Dance with You." Estimate $8000 -10,000.
The Judy Garland Easter Parade costume sold for $10,625
Steve McQueen's racing suit from the movie Le Mans, National General, 1971. This is one of three suits worn by McQueen during the car racing scenes in the movie.  Estimate $200,000 – 300,000
The Le Mans suit sold for $425,000
Stephen Boyd as Massala's costume from Ben Hur, MGM 1959. Worn in the famous chariot race scene. With gold embroidery and gold leather applique on the black belt.  Estimate $8000 – 12,000.
The Stephen Boyd Ben Hur costume sold for $20,000
Am original Mickey Mouse animation cel, circa 1940. Shows signs of wear. In the recent past a flood of reproductions and limited editions have been on the market. It's nice to see a vintage cel from the golden age of Disney animation. Estimate $800 – 1200.
The Mickey Mouse cel sold for $10000
A World War I photo of Walt Disney in Red Cross uniform, inscribed and signed to a friend. Estimate $25,000 – 35,000. A scrapbook that includes drawings from Disney during that period is also on the block for $150,000 -200,000.
This item was withdrawn along with several other Disney photos
Sam Spade's chair used in The Maltese Falcon, Warner Brothers, 1941.The chair was in the apartment used by Humphrey Bogart as Sam Spade. This same chair was previously sold at auction by Christie's in 1997 for $32,200. Estimate $75,000 -100,000.
The Sam Spade chair sold for $87,500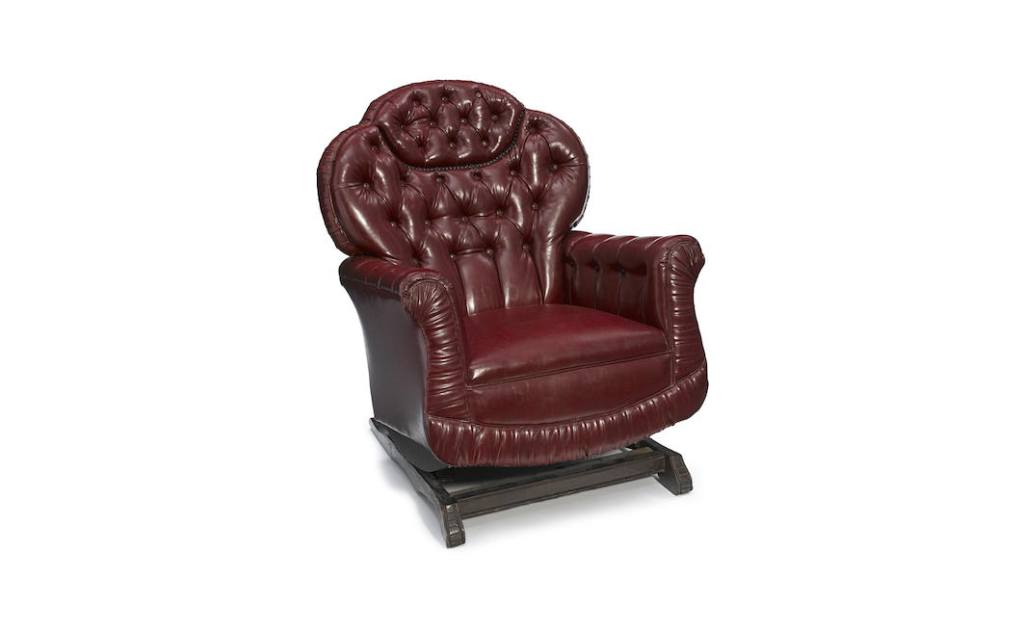 Here is an interesting document, a contract signed by Barbara Stanwyck to borrow a 16mm film copy of Double Indemnity in 1945, the year after she made the film. In the days long  before videocassettes, movies could only be screened in 16mm formats for home use. Ms. Stanwyck wanted to show the film to friends, a film she was particularly proud of, and had to sign a contract with her own studio Paramount to borrow it.
The contract sold for $812.
Frank Capra's Golden Globe Award for It's a Wonderful Life, Columbia, 1946. Awarded at the 4th Golden Globes held in 1947 for Frank Capra as Outstanding Director. This was for Frank Capra's favorite film and a seasonal favorite. $40,000 – 60,000.
Frank Capra's Golden Globe sold for $60,000
There are many other gems in this auction, a treasure chest of Golden Age Hollywood memorabilia. What is your favorite? I collect costume sketches, of which there are a few in the auction. But my favorite item has to be Judy Garland' s dress from the Wizard of Oz. Of all the items in this auction, this is the item that, for me, is the one most sprinkled with stardust.
I'll update this post with some of the prices realized after the auction.