The Ist Coronado Island Film Festival will be held from January 15 – 18, 2016 in Coronado California. This Film Festival has been a long time in the planning, something I remember talking to its founder Doug St. Denis about doing at her dining room table back in 2012. After all, there is no lack of film festivals around the country, but why not here? Before Palm Springs, Coronado was Hollywood's playground, and remained so through the 1940s. And filmmaking in Coronado had its own rich history.  Allan Dwan, then of the American Film Co. began shooting short films in Coronado in 1912, and by 1915 was working for Paramount Pictures directing America's sweetheart Mary Pickford for a Coronado shoot of A Girl from Yesterday.  America's heart-throb  Rudolph Valentino had his first starring role in The  Married Virgin , made in 1918 with scenes shot on the Coronado beach and the Hotel del Coronado. In 1915 Siegmund Lubin opened up a short-lived Southern California branch of his Lubin Studios in Coronado, which cranked out 2 and 3 reelers. And with the opening of Coronado's  North Island Naval Aviation Base/Rockwell Field in 1917, a series of aviation pictures were made there, starting with The Flying Fleet in 1929 starring Ramon Navarro and Anita Page, the latter taking up residence in Coronado.
Leonard Maltin will be serving as Honorary Jury President for the Coronado Island Film Festival (CIFF) which opens Friday January 15th with a screening of  Disney's The Finest Hours. The film, directed by Craig Gillespie, stars Chris Pine, Casey Affleck and Ben Foster in the true story of the greatest small-boat rescue in Coast Guard history.  The closing evening will feature the awards contender 45 Years, which stars actress and one-time super-model Charlotte Rampling and Tom Courtenay as a married couple who experience relationship issues leading up to their 45th wedding anniversary.
A Meet the Producers panel will be led by Lisa Bruce, producer of  the Oscar winning The Theory of Everything, and a Meet the Critics Breakfast and Panel Discussion led by renowned film critic and author Leonard Maltin.
Enjoy an informal breakfast and find out what critics actually look for when reviewing  movies. Leonard Maltin is also known in the film industry as the consummate authority on animation and its history. His book on the subject, Of Mice and Magic: a History of American Animated Cartoons, has been called "The Old Testament of Animation." He will be leading a panel discussion on this subject.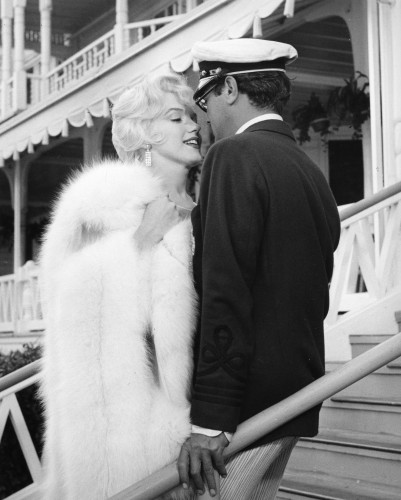 CIFF's other highlights include a special bonfire and evening screening of the iconic 1958 movie Some Like It Hot, starring Marilyn Monroe, Jack Lemmon, and Tony Curtis,  shown on the beach in front of the Hotel del Coronado where parts of the movie was filmed. Separately, Chris Lemmon, son of Jack Lemmon, will give a special performance called A Twist of Lemmon, playing a Steinway piano, telling stories of Hollywood's Golden Age, and and showing photos and home movies on the screen. Dive Bomber will also be shown, along with special guests Rory Flynn, Errol Flynn's daughter and Sean Flynn, his grandson, Sean is an  actor in his own right. Rory Flynn will share her reminiscences  of her father. and will have copies of her book, The Baron of Mulholland, for sale.
The Coronado Island Film Festival will continue through the Martin Luther King Day holiday on January 18, and as a special tribute will feature Emmy-Award winner Laurens Grant, with a screening of two of her award-winning documentaries: Jessie Owens and the gripping Freedom Riders. Ms. Grant will be in attandance for a question and answer session following each screening. The Film Festival has many outstanding documentaries in its lineup, with several up for awards. The Head Juror for Documentaries is Ira Wohl, Oscar-winner for Best Boy.
Another special documentary screening will be Occupation Dreamland, co-directed by Coronado's own Garrett Scott, with Ian Olds, a documentary about US soldiers in Falluja, Iraq, which won awards at Full Frame and Independent Spirit. Just as this filmmaking star was beginning to rise, Scott died suddenly of a heart attack in 2005 at age 37. Coronado Island Film Festival has named their Garrett Scott Documentary Film Awards in his memory. Ian Olds will be on hand to introduce the film.
The Stunt Man, 1980, with many scenes filmed at the Hotel del Coronado will also be featured. This brilliant, quirky film starring Peter O'Toole, Barbara Hershey and Steve Railsback was the film Peter O'Toole said was his best movie.  Written, produced and directed by Richard Rush, the film garnered three Oscar nominations, including best Director for Richard Rush. Rush, now in his 80s, will be with at the festival to introduce the film and conduct a Q and A afterwards.
Unique back-to-back award-winning documentaries featuring two political icons of the same era, Senator Barry Goldwater and California Governor Pat Brown, as seen through the eyes of their granddaughters will also be shown.  Goldwater on Goldwater, produced by Coronado-raised Tani Cohen, featuring CC Goldwater, granddaughter of Sen. Goldwater, and California State of Mind: the Legacy of Pat Brown, as seen through the eyes of his granddaughter, award-winning filmmaker Sascha Rice, whose family lives in Coronado. Meet the granddaughters and the makers of these two documentary films.
Another unique documentary is Wampler's Ascent, a heart-stopping film about Coronado's own Steve Wampler, who was born with Cerebral Palsy, and his astonishing climb of Yosemite's El Capitan. Directed by Elizabeth Wampler,produced and edited by Coronado's Jacques Spitzer. A true triumph of the human spirit. The Wamplers and Spitzer will be on hand for a Q and A.
Daydream Hotel is the world premiere of a feature film produced by the widely-recognized Coronado School of the Arts, and written and directed by filmmaker and CoSA instructor Tony Perri. Filmed on location at the Hotel del Coronado, the first movie to be made there since Steve Martin's My Blue Heaven in 1990. Look for local Coronado talent, including an appearance by Andre Zotoff, real-life Vice President and General Manager of the Hotel del Coronado, who plays the part of the Daydream Hotel General Manager.
Exhibit: Filmed in Coronado. In the Coronado Library Gallery. A special exhibit of original studio photographs,  posters, and memorabilia of Coronado's 100-plus years of moviemaking history, curated by author, collector and film historian Christian Esquevin, who is also Director of the Coronado Library and a CIFF Board member. Several films with scenes shot in Coronado will also be screened, including, The Married Virgin, The Flying Fleet, Devil Dogs of the Air, Coronado, and Wings of Eagles.
The Coronado Island  Film Festival is led by Co-executive directors Doug St Denis and Andy Friedenberg, with Mary Sykes as CIFF Board President. The Board has much talent and dedication and great sponsors, donors and volunteers. A receptive audience to appreciate the work of the submitted films is what is needed now.
See more about the Coronado Island Film Festival, including parties and event passes at: http://coronadoislandfilmfest.com/events/
Follow @CEsquevin