The late Oscar-winning costume designer Mary Wills created  wonderful movie costumes as well as exuberant and beautiful costume sketches in the process. That her work is largely forgotten today is unfitting for such a great artist and costume designer. This especially and for someone who made so many  contributions to significant movies in Hollywood history. Posted here are some of the costume design sketches that show her amazing talent for the notable films that she designed.
Mary Wills was the first  woman admitted to the Yale Art and Drama School, where she earned a Master's Degree. She was born in Prescott Arizona, and moved to Los Angeles after receiving her Master's degree. She started designing costumes in 1944 at RKO with Belle of the Yukon. She then designed Song of the South for  Walt Disney. She then began working for Samuel Goldwyn in 1948, where she designed costumes for Enchantment starring Teresa Wright and David Niven. Soon she was being referred to as The Fabulous Miss Wills at the Goldwyn Studio. The above sketch is for another film, and shows a smart linen travelling suit she designed. She was equally at ease designing contemporary or historical costumes, and for men as well as women.  The first big production that Ms. Wills worked on at Goldwyn, and a critical success, was Our Very Own, released in 1950. The film starred Ann Blyth, Jane Wyatt, Farley Granger,  Ann Dvorak, and a young Natalie Wood. A costume sketch for Jane Wyatt is shown below.
The costume sketch below is a design for a swim suit for Ann Blyth in the same movie.
One of Miss Will's most memorable films was Hans Christian Andersen.  For this film she designed the costumes for Danny Kaye and the rest of the cast, excepting the ballet costumes. Shown below is a costume design sketch for Danny Kaye in the leading role. Using her artistic talent, Mary Wills was able to add subtle background scenery to many of her sketches, presenting a vignette for the context of the costume.
Since filming took place on a Hollywood sound stage, her colorful and realistic costumes for the market scene in Copenhagen helps bring to life the sights and sounds of the old city. Shown below is a costume design sketch for a flower seller and her daughter. Miss Wills' sketches give the appearance of living characters, as if she had actually painted them seated at an easel in the market square. The film was nominated for a Best Costume Oscar in 1953.
And another pair of  characters bringing their milk and goat to market.
Mary Wills was also a skilled designer of historical costumes for film. After moving to 20th Century-Fox, she began working on a  major historical costume film.The sketch below is for a costume worn by Joan Collins in the role of Beth Throgmorton in the 1955 film The Virgin Queen, starring Bette Davis. The fabric swatches selected for the costume are still attached to the sketch. Mary Wills received a Best Costume design nomination for this film, as did Charles Le Maire who headed costume design at 20th Century-Fox.
Below is a remarkable costume sketch for Bette Davis as Queen Elizabeth in the same film.
Mary Wills also designed the  Rogers and Hammerstein musical film Carousel, from 1956. The costume sketch below is the design that Shirley Jones wore in her first scene with  Gordon MacRae when they each sang "If I Loved You."
Below is the deign for Shirley Jones' friend Carrie played by Barbara Ruick, also from the first scene where they go to the circus and meet Billy Bigelow ( Gordon MacRae ).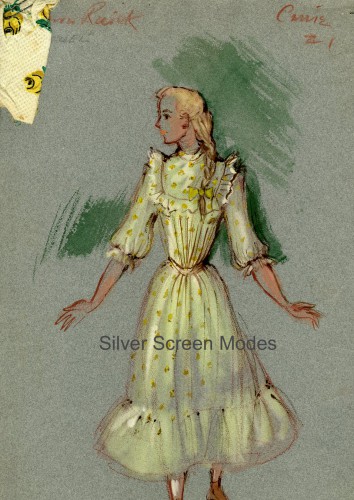 And a design for one of the many characters in the movie.
Mary Wills won her costume design Oscar for the 1961 film The Wonderful World of the Brothers Grimm. This was a Cinerama production starring Yvette Mimieux, Russ Tamblyn, Laurence Harvey, Claire Bloom and many others. The costume sketch shown below was created for Yvette Mimieux in the Dancing Princess sequence. Miss Wills had a flair for designing dance and folk costumes, a talent she used later in her career designing for the Shipstad & Johnston Ice Follies
Also below is another sketch for Yvette Mimieux as the Gypsy.
And Mary Wills could also design costumes for films that had a darker side, such as the first Cape Fear, and The Diary of Anne Frank. The costume sketch below is for Polly Bergin in Cape Fear, co-starring Gregory Peck and Robert Mitchum.
Mary Wills worked on two major films that she didn't get film credit for; Funny Girl and Camelot. In Funny Girl, she designed the spectacular Ziegfeld show-girl Brides costumes and the costumes for Omar Shariff . Her last film work was for The Passover Plot in 1976, for which she also received an Academy Award nomination.
Before her final retirement to Sedona, Arizona in the mid-1980s, she designed costumes for special productions such as the The New Buffalo Bill Wild West Show and The Nutcracker on Ice. Mary Wills died on February 11,1997 in Sedona Arizona. Her work lives on in film, and her name should live on too. She brought a high level of artistic talent and integrity to her creations, breathing life into the costumes she designed.
Thanks to Marri Champie for these sketches.