Joan Crawford was already working at MGM when costume designer Gilbert Adrian arrived with Cecil B. De Mille in 1928. MGM had gone through a succession of designers, including Erte, but it quickly contracted Adrian as the head designer.  Greta Garbo, already a major star, was thereafter dressed by Adrian and became an international fashion influence. Joan Crawford had been at MGM since 1926 and would also  become a major star. Dressed by Adrian, she would become as big a fashion influence as Garbo.
Joan Crawford's first big starring role came with Our Dancing Daughters in 1928,  the movie that made her a hit with young women.  This film's costumes had been designed by David Cox. Adrian designed her costumes for the sequel films, Our Modern Maidens,  and  Our Blushing Brides. He designed her next 28 films at MGM, creating her look both on  and off screen. About Adrian Joan Crawford later said, "Dear Adrian, he was the greatest costume designer of them all. There will never be a greater one."
This post is part of the Joan Crawford Blogathon hosted by In the Good Old Days of Classic Hollywood
Joan realized early the importance of the star-making machinery with costume design as a foundation. Adrian's talents extended beyond the art of fashion. He understood the needs of the role, and importantly, the psychology of the actress and what it takes to create that extra spark of creativity on the screen. In Joan's flapper days, such as in Our Dancing Daughters and in Our Blushing Brides, shown above, Joan embodied the notion and look of the flapper. Later, when she played the sophisticated "kept woman" in Mannequin, Adrian dressed her in a completely different style for that role. Joan absorbed these lessons in style and stardom eagerly. She wanted to pattern her stardom after Gloria Swanson, the greatest star from early Hollywood. Gloria Swanson was a fashion icon – always well dressed – always the star – a role played on and off  the lot.
Adrian found Joan Crawford fascinating. Like Greta Garbo, the MGM star he most loved to dress, Joan presented him with the androgynous beauty that sparked his creativity. She had a beautiful figure with broad shoulders that Adrian admired, a "regular Johnny Weismuller" he said. She had normal hips, not wide as has often been reported, so there was no need to widen her shoulders in order to balance them. Greta Garbo had wide shoulders too and Adrian used wide-shoulder costumes for both of them from 1929 on.  He did this just because he liked a wide-shouldered look on these two powerful women. Indeed, Adrian was always fascinated by polarities, and the contrast between the beautiful yet strong, forceful face of Joan Crawford  illustrates that characteristic.
The costume designed for Joan Crawford that made Adrian famous was the "Letty Lynton" dress, named for the 1932 film of the same title. It has not been publicly screened in decades due to a copyright dispute. The puffed-sleeve (or shoulders) white organdy dress was worn by Joan on a ship's deck when Robert Montgomery compares her to an angel and asks her to marry him. The dress was knocked-off by many  American designers and sold at every price-point. Parisian couturiers copied it too, as did other costume dessigners. Edith Head stated it was the single most important fashion influence in film history. The Cinema Shop at Macy's has often been cited as selling 50,000, or even 500,000 copies of the dress, although both figures are gross exaggerations stated at the time for marketing purposes. Versions of the dress can be seen as wedding gowns in every decade since.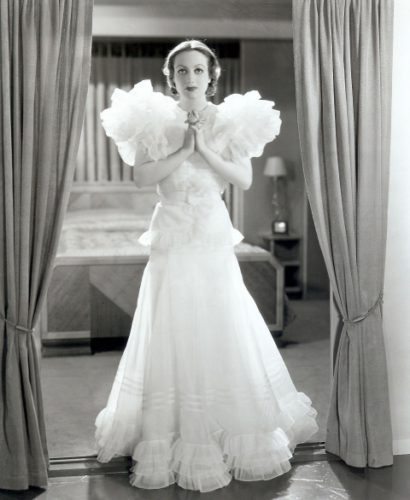 The photo below is another gown from Letty Lynton, although it was shot on the set of Grand Hotel.  The gown is made of white crepe and black bugle beads, with one section forming a wrap tied at her hips. The other, forming a true assymetry on her left side. The image itself is a master-work of Hollywood set photography, with Joan forming a crucifix at the swinging art-deco doors of the Grand Hotel.
In Grand Hotel, 1932, Joan played a secretary. Adrian dressed her  simply in black dresses. Her predominant costume was the one shown below. Its large white collar emphasized her face, always desirable in film, and its open structure symbolized her vulnerability to the advances of Preysing.
Greta Garbo also starred in Grand Hotel, although they did not share a scene. Garbo was notoriously reclusive and Joan had never talked with her on the MGM lot, and was rather intimidated by her. One day during the filming of Grand Hotel, Joan ran into Garbo on the stairs of the old MGM dressing rooms. Joan, locked in place and spellbound by Garbo, just said hello. Garbo put her hand to  Joan's face and said, "What a pity, our first picture together and we don't work together.  I am so sorry. You have a marvelous face." Years later in retelling this story Joan said, "If there was ever a time in my life when I might have become a lesbian, that was it."
Adrian used the symbolic power of the modified trench-coat on Joan Crawford, just as he had with Greta Garbo ever since 1928  in A Woman of Affairs. Below Joan is shown in Possessed, 1931. The Coat is only slightly feminized with the bow at the collar and at the belt, which is neutralized by a floppy cloche hat serving as a sort of fedora. She wears this outfit as she stands up to hecklers admitting that she's the mistress of Clark Gable as the character Mark Whitney. He's running for governor, she says, but he is an honorable man that once belonged to her but now belongs to the people.
Joan Crawford, like many young actresses at MGM, had gone through voice class to lose her native twang and regional accent. While Joan had developed a beautiful speaking voice, there was no mistaking that she was a working class girl, and always seemed natural in the many rags to riches roles she played. This was also a factor in her popularity with the many young women moving into the cities and who were entering the workforce in the late 1920s and 30s. Many movie and fan magazines and newspaper articles marketed the fashions she wore in the movies to this demographic. This was a lure to the movies themselves, and  with the implied message that if you wear the right clothes you get the right breaks.
Sadie McKee, has the plot  where Joan starts out as a household maid, then becomes a dancer, and finally the wife of a rich man. This is  not the man she loves, however, played in the film by Gene Raymond.  This was another film where Joan co- starred with a future husband, in this case Franchot Tone. She had previously co-starred with Douglas Fairbanks Jr. in Our Modern Maidens (1929), whom she first married. And then there was Clark Gable, with whom she co-starred in eight films. They never married, although they carried on an affair that lasted many years. They always seemed well paired in their roles together, and their chemistry was always hot. Sadie Mckee features a rare Adrian-designed gown that bares Joan's shoulders. The sequined halter adds a  lot of dazzle to the long black gown.
For I Live My Life (1935) Adrian designed a gown for Joan that let his wide-shouldered look run wild. It is shown below, but at three-quarter view the full effect is not grasped. It was referred to at the time as the "Mutiny on the Bounty" dress because of the sail-like appearance of the bodice – and that the "Mutiny" film had just been released.
The film where costume plays its most important role ever, in my opinion, is The Bride Wore Red (1937), directed by Dorothy Arzner and starring Joan Crawford with Franchot Tone and Robert Young. Simply, an aristocrat bets that he can take a tavern singer played by Joan and through a good wardrobe can pass her off as a high-society heiress at an exclusive mountain resort. His theory is that only luck separates the characteristics of the rich from the poor, so change the appearance and you change the person. and thereby ensnare the affections of the Robert Young character who disbelieves this theory. So he gives "Anni" enough money to buy an expensive wardrobe, and she chooses the most eye-popping brilliant-red bugle-beaded gown with matching cape in the store. So in this fractured-Cinderella-fairy-tale she goes off on the train to the Alps, where the postman played by Franchot Tone picks her up in a donkey-cart, her taxi to the resort. The costumes continue to play their significant part in this movie,  not to make the actress feel comfortable in her role, but in this Dorothy Arzner film, to always make her feel like she has chosen the wrong wardrobe for the occasion.
It's a bit of an irony that The Bride Wore Red was a black and white film, so who would have known what color the bride was wearing, even though she was not to be the princess bride? The gown was  miraculously preserved and is now in the collection of the Museum of the Fashion Institute of Technology,
The Women was released in 1939, with its complete wardrobe for Norma Shearer, Rosalind Russell, Joan Fontaine, Paulette Goddard, Hedda Hopper, and of course Joan Crawford, including all the other all-female cast including the fashion show models, all designed by Adrian. The years-long rivalry between Norma Shearer and Joan Crawford was paralleled in the plot, and Adrian had to impose a rule that none of the actresses would get to see what the other was wearing before scene-shooting began.  Although the outfit below covers Joan's navel (necessitated by the censor) its partially exposed mid-riff was still considered risqué at the time.
The roles Joan played after World War II satisfied her less and less. Change was taking place at MGM. Garbo had left, and after that  Adrian. Even her long-time rival Norma Shearer has retired. New stars were getting the choice roles: Katharine Hepburn; Greer Garson; Hedy Lamar; and Lana Turner. After a  long review of her options, Joan had a meeting with Louis B. Mayer and asked to buy out the rest of the time on her contract. So on June 29, 1943, Joan left MGM, her home for eighteen years. Her last task was to clean up her dressing room, not just to pack up her personal belongings, but to physically clean it as well. No farewell party was held to see her off.
Her agent Lew Wasserman got her a contract at Warner Brothers., where a new phase of her career began.  She was once again given more serious roles in this new age of film noir. There was Mildred Pierce in 1945 for which she won a Best Actress Oscar. With new clout, she returned to Adrian for her wardrobe, selecting costumes from among his designs at his new  fashion salon in Beverly Hills. Thus did her next two films, Humoresque, and Possessed, get costumed by Adrian. Joan is magnificently  dressed in Humoresque, showing a mature beauty in an elegant and classic wardrobe.  Possessed calls for a simple wardrobe. In the film Adrian used a technique of reversing a white collar on a black dress, having the points of  the collar turned to the back of the dress. The look has been copied many times since.
Joan Crawford went on to a long career, embodying what it was like to be a star in Hollywood's Golden Age, and beyond. Adrian's star burned bright while it lasted, but his health failed him. A heart attack forced him to give up his own influential fashion line in 1952, and a planned comeback was stopped by a terminal stroke in 1959. Fortunately we have those many films to see for ourselves on TCM and elsewhere the art that was created in this collaboration and under the talented umbrella of many at the Hollywood dream factories.
This post is part of the Joan Crawford Blogathon hosted by In the Good Old Days of Classic Hollywood