Silver Screen Modes' Most Glamorous Gown Award for the 2017 Oscars stars and their most glamorous red carpet gowns is designated again. I started this award in 2010  for my previous blog The Silver Screen Modiste  and have been awarding it annually ever since.This award celebrates the glamour of old Hollywood  and the best new (and vintage) designs.
The gowns this year have been a combination of classic glamour and creative flights of fashion fancy, with beautiful results. We see more and more gowns from couture designers and from the runway, with occasional vintage examples. There were many beautiful dresses and fashions at the Academy Awards. Some were very elaborate and  even overpowering. Among the beauties, here are my selections.
The Most Glamorous Gown Award goes to:
To Emma Stone  in a bare-shouldered gold fringed and beaded Givenchy Haute Couture gown. This was a beautifully fitted and visually stimulating gown, with the fringe providing movement and the silver bugle-beads adding sparkle. While I'm not usually a fan of pale coloration that matches flesh-tones, this gold-silver combination worked perfectly.    
As notable mentions, Jessica Biel wore a stunning gold sequin and crystal Kaufman Franco form-fitting gown. It is accented by slits throughout, accessorized with a serious necklace.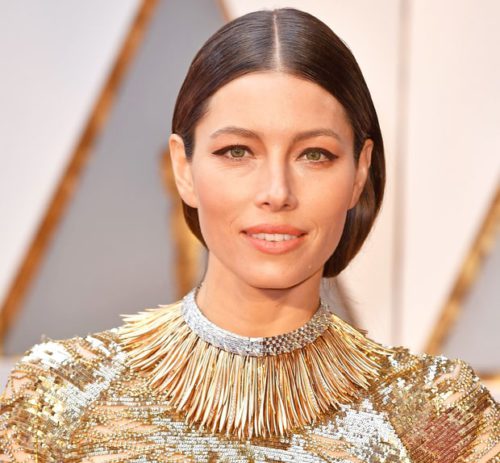 Taraji P. Henson also looked beautiful and classy in a deep décolleté  black velvet by Alberta Ferretti.
And the beautiful Brie Larson was also in black velvet décolleté, this gown by Oscar de la Renta, including  a ruffled train.
Fashion trends have their place on the red carpet, although the bigger trend over the last several years has been the interplay between actor, stylist, and fashion designer. As stylists have taken on more influence, there have been fewer "what was she thinking" moments on the red carpet. The result has been an over-all improvement in the beauty (and glamour)of the gowns. But as some stars become more daring in their fashion choices in  a sort of revolt, we see gowns and outfits that don't quite work.
The Golden Globes have also become more formal in recent years, increasingly competitive with the Academy Awards for the glamour of the red carpet gowns.  The January event showed the perennial glamour favorite looks of  the plunging bust line, backless gowns, or exposed leg exposing daring views and ample skin. This can be worn on a gown of satin, chiffon, or most popular of all, sequins of various colors and especially in gold or silver. Silver and gray in metallic finishes was popular this year, followed flashes of color in yellows,  reds and scarlet colored gowns. And there's still nothing like sparkle. These trends continued at the Academy Awards of 2017.
The Oscar for Best Costume Design was awarded to Colleen Atwood for Fantastic Beasts and Where to Find Them. This is the movie I had predicted would win, but my predictions are 50-50, so this doesn't mean that much. I couldn't have predicted however, the debacle at the end of the Awards ceremony. To be honest. I had favored La La Land.