After Greta Garbo left MGM,  Adrian did too. It was 1941 and he could see that glamour was over at his old studio. It wasn't long before Joan Crawford and Norma Shearer, once bitter rivals on the lot, were gone as well. He had dressed them all – created their very image. He had created the movie costumes and styles that had been copied around the world, even by Paris couturiers. But now he wanted to start his own fashion line. But the times were getting tough.
Adrian launched his line in January 1942, with the U.S. then officially in World War II. Not having been in the garment business, he hired business manger Woody Feurt.  Woody travelled to the leading department stores around the country, and offered them exclusive rights to carry Adrian Ltd. Adrian's name was already legend and this was not a hard sell.  Women  would want the chance to dress like the stars they'd followed on the silver screen. At the time, it was these department stores that sold both custom and the high end ready-to-wear apparel, stores like Neiman-Marcus, Marshall Field, Dayton's , Bonwit-Teller, Goldwater's, Filene's and Garfinfinckel's, among many others. Adrian also opened his own fashion salon in Beverly Hills at 233 North Beverly Drive.
Adrian, however, did not design gowns in his line for women to think they could look like Garbo. But he put every bit of style, wit, and panache at his disposal. And deep in WW II, with fabrics under rationioning, he gave something to women that they could feel good about. Amidst all the blacks, grays and browns of wartime women's garments, Adrian stated he wanted to "shock the American women into color consciousnesses." His spring 1943 collection was full of magenta, purple, blue, green and yellow. One example is his "Crackling Flame" design shown below. In true Adrian asymmetrical fashion, only one sleeve is adorned with gold embroidery.
Adrian combined his love of prints and asymetry with a print design of his own in "Roan Stallion," shown below, also from 1943. It was so bold that few women dared wear it. And it was not cheap, at the ready to wear price it was marked at $365 (in 1943!).
Adrian's two-piece outfit from 1944 shown  below, had a print of pink flowers on black, its fabric made at Bianchini of Enka rayon. It has the 3/4 length "bracelet' sleeve. It was worn by the kind of stylish woman that wanted to make a splash amidst all the wartime monotones.
Adrian, along with Irene,  was a master of suit design. He always had several in his collections and no two were alike. Wearing them gave women added confidence in the wartime workplace, and they were always stylish. From afar you first noticed Adrian's striking and characteristic V-line silhouette. But up-close there were always amazing details; buttons were unique, and some were placed just for decoration; pockets too were placed asymetrically; tailoring was lean, to meet rationing limits, and lapels were eliminated. and he often used invisible hooks and eyes for closures. He emphasized the figure with curving jacket insets or V-lines and seams at the back to emphasize the shoulders. He sometimes used flaps on the sleeves or bodice to give a sense of movement to the suit.
Adrian's V-Line suit shown below from 1944, had been drawing critical praise since 1942.
This checked wool suit by Adrian uses a pocket flap device as decoration, matched on the sleeve but with a real pocket lower on the jacket.
Below is the jacket for a suit made of a Pola Stout woven woolen.
Adrian so admired Pola's textiles that he named one of his suit designs, Woven Joy. He named the suit above, Symphonic Traveler. Adrian said of her woolens, "Often the complexity of the material is a challenge and I try to simplify my approach as well as retain as interesting a use as I can possibly make of the fabric." He would usually cut and miter the fabric into interesting angles.
Pola began designing for Botony Mills in 1940, where she designed the "Botony Perennials" collection each season. She would also design limited edition textiles for several fashion designers, those that she worked closely with through Botany Mills. Thus, the designers could have their own custom look and color palette designed by Pola. 
Pola would begin her design process by drawing lines on paper with color crayons. The vertical warp yarns would be in two or more colors and the horizontal weft yarns would often be woven in the same color sequence. But with all her color variations, Pola always had in mind the functionality, durability, and timeless appeal of her textile designs. She stated, "In developing Botany Perennials I visualize all kinds of American women interested in building a sound wardrobe, and I try to make that wardrobe something basic in style and wearability, something they can depend on." And indeed the idea of the "Perennials" was that you could match skirts, jackets and coats in the same five-color harmonies, and from one season to the next.

Pola subsequently started her own company in 1946 with a mill in Philadelphia. She would design her own textiles for these looms, where she would have multicolored wool yarns woven into "blankets" that would be sold to the various designers and exclusively to certain   department stores. The textile workers were very devoted to her and her artistic vision. Adrian and Irene both regularly used Pola Stout woolens in their suits, jackets and capes.
Adrian also loved printed fabrics, some of the prints he painted himself. Florals were always popular, but with Adrian, he had to make his own mark on these too. The beautiful dress advertized below is striking, even more so when one notices the peek-a-boo leaf poking out of the sleeve,
This bodice of an Adrian dress is also characteristic, a beautiful if bold and asymetrical design.
Adrian had been fascinated with Africa and its wildlife since childhood. The tunic below from 1946 shows a leopard skin on a zebra ground .
From his spring 1947 line he used a North African inspiration for his "One thinks of Algerian Streets" shown below.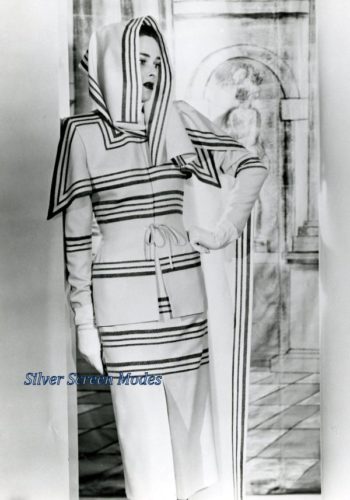 In 1947 Adrian commissioned surrealist artist Salvador Dali to paint scenes for two fabrics to be used on Adrian outfits. The print below is on a ground of turquoise with rocks in rose and green, the rocks have faces on them.
Adrian's second "Dali" gown below has a short cape. Adrian added to the face motif by including a separate black face outlined and appliqued at the wearer's left shoulder (not shown).
The striking silhouette shown below is an Adrian design from 1949. The black velvet suit had a cape embroidered at the shoulder that could also be shaped into different looks.
Adrian's wit was always appearing in his designs, letting the air out of the pomposity of much of the couture monde. He named every one of his fashion creations, and one can almost see him smiling as he came up with names for his designs: Dinner with a Dash of Gold; Drama in the Tropics; Doctor I See Spots; Fish and Chips: To be Talked About; Complications Set In; Cat Nip.  And nobody but Adrian could be inspired by nuclear bombs to create fashion looks. One of two is shown below, using "blasts" of tulle and taffeta  to form a pannier. The other was called "Atom Smashed" it was a full dress and cape decorated with large gold and black polka dots.
Adrian loved stripes. From one of his earliest striped costumes for Greta Garbo in The Single Standard in 1929, he had used stripes in his creations. The outfit below shows a masterful use of stripes in an exotic creation he called "Smallest Pleasures." Its colors were brick and gold and it featured a sleeved "harem" stole. It was from his fall 1951 collection.
Adrian never ran out of ideas. He drew inspiration from nature and from all around him and from his foreign travels. His health could not keep up, however. He suffered a heart attack on May 1, 1952 while working on his fall 1952 collection. The collection was mostly finished and production continued, but Adrian LTD. would close its business. Adrian had always designed everything alone, and never even used a sketch artist, so he would not take on another designer. Nor would he sell his name to become a coprparate trademark. It is for this reason that Adrian, a name that almost every Western woman recognized, is so little known today.
But for those with a discerning eye, and those who love classic film, "gowns by Adrian" still resonates.
The Adrian collection's last program for fall 1952, cover designed by Tony Duquette.
Significan collections of Adrian LTD. garments are held at the Museum at FIT in New York and at the Los Angeles County Museum of Art.
An Adrian exhibition was recently held at the Museum at FIT. More information, see their website: http://exhibitions.fitnyc.edu/adrian-hollywood-and-beyond/#grid-page