The film noir classic The Killers, like the Ernest Hemingway short story it was based on, got right to the point. Two men get out of a car at a gas station and enter Henry's lunchroom. They take a seat. "What's yours," George the waiter asks, in the clipped diner-speak of the day. So began a bad night for George, the cook,  and Nick Adams,  the Hemingway "stand in" for his stories. We could tell things would go badly by the mugs of the two men: actor Charles McGraw, the Dick Tracy-faced heavy who plays either cops or criminals, and William Conrad, who later played TV's detective Cannon, in his film debut.  In true film noir style, the two had emerged from their car in near total darkness, walking into a pool of light at the gas station. They made no pretense of their visit to the lunchroom as they harass the staff and the guest. They were there to kill the "Swede."
This post is is part of the Classic Movie Blog Association Femme/Homme Fatale of Film Noir Blogathon. See here for more entries.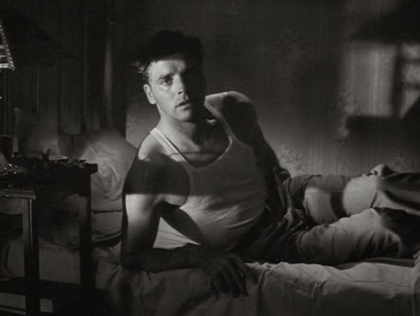 Nick Adams worked with Ole "Swede" Anderson, played by Burt Lancaster in his first film. Freeing himself from the lunchroom, Nick dashed to Swede's lodging room to tell him two killers were after him. Swede was in bed. He didn't feel well. He wasn't going to run – he was tired of running. "Why do they want to kill you," Nick Adams asked? " I did something wrong once." he says matter of factly.  In true noir style, the end comes at the beginning of the film. Footsteps are heard on the steps (SPOILER). The men come in the room. All you see are their faces and torsos as they blast away, two pistols flashing in the darkness.
This classic is a study in film noir techniques. Ole Anderson aka Pete Lund the Swede's life is retold in a series of flashbacks. Indeed, Hemingway's short story went no further than the killers episode at the lunchroom. That was powerful enough that Russian filmmaker Andrei Tarkovky made Hemingway's The Killers as a student film. Our 1946 version was produced by Mark Hellinger and directed by Robert Siodmak at Universal.  Anthony Veillor wrote the script, with the uncredited assists by Richard Brooks and John Huston. Elwood "Woody" Bredell was the cinematographer. Vera West designed the beautiful women's wardrobe and the powerful score was composed by Miklos Rozsa. The score opens the dramatic arrival of the killers, one of the most effective in film noir. Many may recognize it as the theme music of the old TV series, Dragnet.
We the audience are left to discover what the "the bad thing" that Swede had once done . This is accomplished in a series of flashbacks, viewed as his story is investigated by Insurance man James "Jim" Riordan – played by Edmond O'Brien. He starts interviewing Swede's beneficiary, "Queenie" Doherty. Queenie had kept Swede from jumping out of a hotel window when he got out of prison. "She's gone," he screamed in the flashback. Jim then interviews Swede's arresting officer, Swede's old school friend, Sam,  a retired cop played by Sam Levene. Swede had been a boxer, a good one, until he broke his hand. He was used to the high life, and with his career over, he needed another source of cash. Turns out Sam's wife was Swede's old girlfriend, Lilly.  It was on their final date at a party given by Jake "the Rake" that Swede met Kitty Collins (Ava Gardner) and from then it was curtains for Swede. Kitty Collins – dark hair in a liquid black gown.  They were introduced and she only had to say a few words to him. He was speechless and spellbound. Then she sang at a piano (Ava's own voice). Her siren's song completed his bewitching. The problem was, she was  "Big Jim" Colfax' girlfriend, the big-time crook.
The Killers has all the hallmarks of the American film noir: the protagonist doomed by his past; a life re-told in flashback; a crime caper turned bad; jealousy and double-crossing; an insurance man and a former cop investigating the case; the film shot in dramatic black & white cinematography, scored with pulsating music. And there's the femme fatale. Ava Gardner joined the best of the 1940s femmes in her role as Kitty Collins. One never knows whose side she's on, who  her true love is, or whether she ever loved anybody. The Alpha males will fight over her, or try to beat her. "You touch me and you won't live till morning," she tells Big Bill Colfax. And you know she means it, if the Swede doesn't kill him first. Her motives are shrouded, her eyes always veiled or looking somewhere else. While the Swede can only look at her.
Swede was the  one that took the wrap for her when his old friend Sam the cop wants to bust her for stolen jewelry. And it's when he gets out of prison that Kitty has vanished on him, and left him holding the bag. Ready to jump out a window.
A big caper will give them all something to settle down with, with Big Jim planning the heist. And with a crew of guys like Dum-Dum and Blinky, it can't go wrong. Swede should have pulled out when his old cell-mate Charleston pulled out. But Kitty was still in. That was an explosive mix.
There are few heroes in film noir. Its characters largely lived with the deep wounds of  World War II and its aftermath. The heroes were left on the battlefield. And no one at home knew what returning GIs were talking about. Many of the women had been living on their own. Everybody seemed to have an angle. Like  the returning vets, the Swede was stoic, he had failed as a boxer, though his manager and trainer did nothing for him when he was injured, he tried making money as a robber but Kitty double-crossed him and broke his heart. So when the killers came he had nothing to lose – he was already half-dead. But all the others involved in the caper had something to lose.  When insurance man Jim Riordan catches up with Kitty near the end of the film, she says, "I'd like you to believe something; I hated my life, only I wasn't strong enough to get away from it. All I could do is dream of some big payoff that would let me quit the whole racket."
The Killers was a hit when it opened at the Winter Garden Theatre in New York. The theater took in $300 more than it ever had previously for this 1946 opening.  The movie made an instant star out of Burt Lancaster, who previously had been a circus acrobat. Ava Gardner would from now on appear in A movies with important roles. The Killers received four Academy Award nominations and is #11 on Edie Muller's Top 25 Noir Films.  The Killers was remade in 1963-64  as a TV movie that was instead released in 1964 theatrically because of its "sex and violence". It was directed by Don Siegel and starred Lee Marvin, John Cassavetes, Angie Dickinson, and Ronald Reagan in his last film role. Reagan played the Big Jim character and John Cassavetes played the Swede although their names were different in this version, as were their role backgrounds. Lee Marvin and Clu Gulager played the "killers. " Both versions of The Killers are available on the DVD set. The 1964 version of The Killers was screened at the 2019 Turner Classic Movies Film Festival on April 14, 2019, with Angie Dickinson being interviewed by Ben Mankiewicz.