Audrey Hepburn and Hubert de Givenchy  – together they made film fashion history, and more, were devoted friends from 1953 when she was about to make her movie Sabrina , until her death in 1993. As Audrey said of Givenchy, "His are the only clothes in which I feel myself. He is far more than a couturier, he is a creator of personality."
This post is reprinted from my previous blog the Silver Screen Modiste from 12/15/2013
Audrey had been a smash in Roman Holiday, not only winning a Best Actress Oscar, but launching the new look of the gamine. Vogue magazine called her at the time, "today's wonder girl…This slim little person with the winged eyebrows and Nefertiti head and throat is the world's darling."
 Audrey's first meeting with Givenchy is often retold. She went to his Paris salon looking for a stylish wardrobe for her starring role in Sabrina in 1953. She was announced as movie actress Miss Hepburn. Givenchy met her, somewhat shocked that this was clearly not Katharine Hepburn, but smitten by her charm and impish beauty, highlighted by her capri pants, flat shoes, tee-shirt tied at the waist and wearing a gondolier's hat. He was also impressed that she spoke to him in French. She asked him to make her wardrobe for Sabrina. Givenchy had worked for Lucien Lelong and Schiaparelli, but had just started his own line and  was working on his second collection.. He had a small staff, he explained to Audrey, and there was no way he could take on the job of designing and producing a movie wardrobe. He did tell her, however, that she could look at the finished models, and she could have whichever ones she wanted. Audrey was very pleased and excited by what she saw. Several outfits were exactly what she wanted for her role. According to Givenchy she took the black satin dress with the "bateau' neckline (which Givenchy would henceforth call the "decollete Sabrina") shown above; the charcoal gray suit with fitted waist that she wears at the train station on her trip back to the U.S.; and the white strapless silk organza gown embroidered with floral decorations and with the detachable train, Audrey wears this Cinderella gown to stunning effect at the Larabee party.
Sabrina went on to be another hit for Audrey Hepburn. She had invited Givenchy to the Premiere, but they were both disappointed that his name appeared nowhere in the film credits.There were reasons of course, guild rules, of which Givenchy was not a member, and contractual obligations that, as Paramount Head Designer Edith Head's name always appeared as the costume designer. Audrey told Givenchy that his name would never be left out again.
There are various versions of why Audrey went to Givenchy in the first place instead of having all her wardrobe designed by Edith Head. The two had gotten along well during the design phase of Roman Holiday. But Audrey had her own ideas about her look.  While Edith Head was usually very accommodating to the taste of her star actresses, she had started off on the wrong foot with Audrey. Audrey's thin, tall, flat-chested physique and long neck led Edith to either hide or compensate for these features. Audrey by contrast wanted to emphasize them. Billy Wilder claims credit for sending Audrey to Paris to find her wardrobe at a couturier's. But I would bet that it was Audrey that asked for this. She had kept up with fashion news in Paris and had heard of Givenchy while filming Monte Carlo Baby in France. No doubt she wanted to go to a young couturier who used simple lines and had modern ideas compatible to her own, and therefore picked the young Givenchy. 
There is an alternate version of what happened with the Givenchy Sabrina costumes. Billy Wilder claims that Audrey returned from Paris with only sketches of the Givenchy creations, and that they were fabricated under Edith Head's supervision at Paramount. French costume designer Jean-Pierre Dorleac, who had worked with Edith Head, has also stated that Head had modified the Givenchy sketch for the black dress and its neckline by adding the bows (the ties) at the shoulders. In either case, numerous "Edith Head" costume sketches have subsequently appeared, purporting to be from Sabrina. Many of these are of costumes that never appear in the movie, and others were those that Edith Head had created years after Sabrina came out and Head had retired, done solely for her fashion shows, and even for those that had been designed by Givenchy. Some of the fault here lies with over-zealous sketch owners that attribute unknown sketches to famous movies, and auction sites that believe them.  As for Edith and Sabrina, she stated in her book The Dress Doctor that, "The director broke my heart by suggesting that while the 'chauffeur's daughter' was in Paris she actually buy a Paris suit designed by a French designer." 
The murkiness of the design credit for Audrey's wardrobe disappears starting with Funny Face in 1957. While Edith Head is still credited as the Costume Designer, Givenchy is given credit for the first time, thus, "Wardrobe: Miss Hepburn, Paris:" Hubert de Givenchy. Roman Holiday won Audrey an Oscar, Sabrina, showed us her beauty, Funny Face turned her into a fashion model. It was in this movie that she is transformed from a New York bookstore clerk into a Parisian fashion model for the Avedon character played by Fred Astaire. Givenchy designed a series of couture gowns and outfits for her to wear in a variety of Parisian scenes. Above she descends the stairs at the Louvre, resembling the classic statue of the Victory of Samothrace.  And not only is she a fashion model, but in this movie she shows us that Audrey can dance, alone or with Fred Astaire. Another highlight of this film is the irrepressible Kay Thompson, singer, dancer, vocal director, actress, and children's book author.
And then there was Breakfast at Tiffany's, providing, next to Marilyn Monroe in the subway dress, the most iconic movie star/fashion image in history. Givenchy's long black gown with the demi-lune cut-out at the back, accessorized by the over-the top huge costume pearls, is a touch of genius. The whole scene works, Tiffany's window, the croissant and coffee, and of course Audrey's long neck and articulated shoulders, a look which would be spoiled had she been wearing her coat. And Moon River. Believe it or not Paramount's Head of Production said Henry Mancini's song would have to go. "Over my dead body," replied Audrey. Now, years later, Audrey and the song, the cat and the gown, come as a package. A gift to us, all wrapped up in a bow.
Hubert de Givenchy was born 1927 in Beuavais, France, born to titled parents whose family owned the Gobelins and Beauvais tapestry factories. This association with tapestry must have given him an affinity with fabric, which he always considered of primary importance in couture. He attended the Ecole des Beaux Arts in Paris and then apprenticed under couturier Jacques Fath before working for both Lucien LeLong and Schiaparelli. But it was Balenciaga that influenced his style the most, and the two became close friends. Givenchy opened his own house in 1952. Givenchy designed for Audrey's personal wardrobe as well as for her movie costumes. He stated that her measurements changed little throughout her life: 32-20-35. Givenchy would also design for Grace Kelly and Jacqueline Kennedy.
The photos above and below show Audrey in the murder mystery Charade, where she co-starred with Cary Grant. The film was directed by Stanley Donen and was released in December 1963, only two weeks after the assassination of President Kennedy and just over 50 years ago. It was very popular at the time and seemed like a diversion from the sadness of the newscasts.
Givenchy's designs were very classic but in the modern straight lines of the early 1960s. Like other costume designers, he liked to emphasize the face of the star, and with Audrey, he also showed off her neck – as she liked. Coats, smart suits, and trenches were also popular – simple of course, but always worn with a hat or scarf. Audrey always made her leading men look better (although that formula didn't seem to help Bogey in Sabrina). Cary and Audrey really clicked.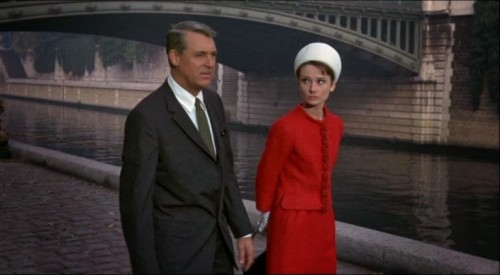 Another movie where Audrey darts around Paris is How to Steal a Million, directed by William Wyler and co-starring Peter O'Toole. Although uncredited in this film, Givenchy again designed Audrey's wardrobe. This led O'Toole to quip, in character, during a scene when Audrey is disguised as a cleaning lady,"it gives Givenchy the night off". This fun romantic comedy is based on art forgeries and mixed-up museum heists. Released in 1966, it showed the height of the well-dressed 60s woman – chic, modern and sexy, as shown below.
 Audrey Hepburn in How to Steal a Million (1966), above and below. In the Givenchy outfit shown here she is dressed all in white: white hat, white suit, white hose, white shoes, and even sunglasses. But she drives around in a red car.
The white collar is always a great way to frame a face, especially when accessorized with a white hat. The contrasting black only adds to that emphasis. The short pixie hairstyle fit her personality and the styling of the clothes.
Audrey is shown below with Peter O'Toole on the set of How to Steal a Million. William Wyler had directed Audrey in her first major film Roman Holiday, and was happy to direct her again late in his career. The pairing with Peter O'Toole had very good chemistry and the movie never loses its charm.
As Audrey aged and film roles no longer occupied her time, she turned her attention to various charitable causes. She proved that her inner beauty was equal to her physical beauty. She launched an international appeal for ill-treated and suffering children around the world, and served as Goodwill Ambassador to the United Nations International Children's Emergency Fund.
She remained close to Hubert de Givenchy for the rest of her life. Late in her life, when Audrey had terminal cancer, the paparazzi circled her residence awaiting news. Givenchy spoke to his client and their mutual friend Bunny Mellon to see if she could lend her personal jet to transport her to Switzerland where Audrey wanted to be in peace.. Mrs. Mellon came through and her jet flew Audrey and her two sons to Audrey's Swiss home. She died there a month later on January 20, 1993.
Today, her charitable work continues under the Audrey Hepburn Children's Fund.