In the dual portraits of film noir couples, the tension is not just sexual but existential. Fate was in command, and the film titles said it all: Detour; Kiss of Death; Cornered; Criss-Cross; D.O.A; Fallen Angel: Out of the Past; Possessed. In film noir, the games were played for keeps. This photographic essay of film noir lovers tries to convey that brooding quality, that moment of tenderness or passion, that brief moment before fate comes calling.
Film noir twisted the normal expectations of movie plots. A happy ending was not in the cards, and everyone had an angle. The couples danced around each other's schemes, or lost themselves in an obsession with the other. In Leave Her to Heaven, a film noir in Technicolor, the beautiful and bewitching Gene Tierney smothers her love of Cornel Wilde with jealousy.
In The Killers, Burt Lancaster's past comes calling, and there is no escape. Whereas cars and trains previously represented escape and freedom in the movies, in film noir they became metaphors for confined spaces and one-way tracks to destiny. As the character  Barton Keyes (Edward G. Robinson) says to Walter Neff (Fred MacMurray) in Double Indemnity, "They're stuck with each other and they've got to ride all the way to the end of the line."
Susan Hayward and Bill Williams star in "Deadline at Dawn," 1946. Photo courtesy Photofest.
During and after WWII, soldiers, marines, and sailors from all over the country passed through big cities like New York and Los Angeles. After the war ended, tens of thousands returned and were cast adrift there, looking for an illusive normalcy.  These veterans had developed a sense of fatalism, a reality born of the seemingly random and instantaneous death that so many saw all around them. Film Noir's perspective matched their own, while women's views were born from making it on their own.
The black and white film and still photograhy, perfected in the 1930s, was ideal for the  film noir atmospherics. Deep shadows and strong contrasts of light and dark became film noir trademarks. These settings were perfectly represented by light streaming through venetian blinds and the patterns of prison bars and stair case rails casting long shadows.  These patterns were also mimiked in the criss-crossing of rail-road tracks, a name itself carried into film titles. The haunting settings were mostly of urban nightscapes, and the cinematography emphasized claustrophobic rooms, adding to the pressure-cooker effects of whatever plot-points were at play.
Noir films often start at the end, their story played out in flashbacks. There is no mistake that destiny rules over the protagonists. The only question is, what road will get them there. And whatever the road, the main characters are always looking  back over their shoulders or in the rear-view mirror. In Out of the Past, even returning to normal life in a small town provides Robert Mitchum no escape from the clutches of his big city past. And a similar fate traps Burt Lancaster in its spider-web in The Killers.
In Night and the City, even London provides the setting for film noir, and the hard-to-explain love of the beautiful Gene Tierney for a professional schemer like Richard Widmark. But even he draws our pity at the end, due to his tour-de-force acting in the role of Harry Fabian.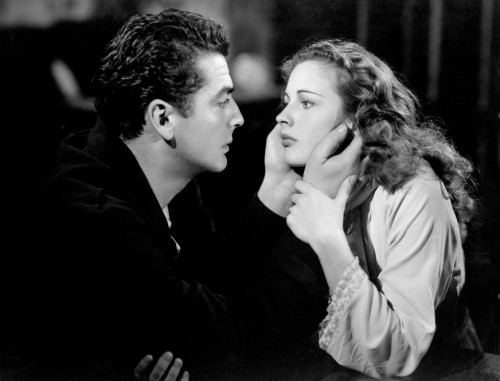 Film noir combined great acting talent with great stories and screenplays. Outstanding film directors were also responsible for the classics of film noir. It seemed that the European directors working in the U.S. appear to have best captured the film noir aesthetic. They seemed to have understood the malaise of the post-war years. They included Robert Siodmak, Jules Dassin, Jacques Tourneur, Fritz Lang, Billy Wilder, and Otto Preminger. But film noir lives on, not only in these classics, but in more modern but stylish hits such as Chinatown,  Body Heat and L.A. Confidential. We could hope for some more – but bad endings are never very popular. This much is certain – there was no bad ending for Film Noir itself – it lives on in its masterly films and in its influence on filmmaking through today. And that moment, that special moment of movie love was captured forever in those movie stills.