Have you seen this boat bed? It appeared prominently in five movies, and was originally owned by a French entertainer.  Its status is now unknown.
Although it won't come to mind as a famous movie prop,  it resonates in culture, entertainment, and film history like no other object. This boat bed was made for Gaby Deslys, the turn-of-the-last century dancer, singer, and star. The native of Marseille France was a star of the Folies Bergère  in Paris, where the King of Portugal and Sir James Barrie both fell for her.  She also introduced the first striptease in a Broadway musical. She was also  played by Tamara Toumanova in M-G-M's Deep in My Heart in 1954.  While still in her prime she was infected by the influenza, and died in 1920. She left her Villa off La Corniche in Marseille, a few hundred yards from where my grandparents lived, to help the poor. The City owns it now for civic purposes.
Deslys  had the boat bed made in Marseille. It is carved and gilt, with Cupid as a figurehead on its bow. The whole is based on the  "Grotto of Venus" scene from Wagner's opera Tannhauser.  And Cupid is based on painter Francois Boucher's model.  Wagner's opera had elements of medieval stories of Lohengrin and the Swan Knight, and images of a swan-bowed boat are also mixed in with the one above. Tannhauser and the Grotto of Venus were such powerful images that King Ludwig II of Bavaria (1845-1886) the "Mad King," built an extravagant copy of the grotto in his castle's grounds. It was so extravagant that any Hollywood movie or amusement park would envy it today. Ludwig had been fascinated by Wagner's opera Lohengrin ever since he saw it as a prince. Not long after he inherited the throne he became Wagner's patron. Ludwig built at his sumptuous Linderhof castle a reproduction of the Venus Grotto  –  with a 33 foot high ceiling, complete with a cascade, false stalactites, garnished grout, a pond, a faux moon, and arc-lighting. The Grotto itself was made to resemble the Blue Grotto of Capri. Ludwig had one of his servants row him on a boat around the pond – the boat that served as the model for the bed, with Cupid as its figurehead.
At the death of Gaby Deslys, her furnishings were auctioned. Director Rex Ingram was about to make Trifling Women starring Barbara La Marr as a vamp and had Metro Pictures buy her boat bed as a prop for the movie. Thus Cupid's boat bed made its cinematic debut  in 1922.
Ingram considered the film, now believed lost, to be his best. It made a big star out of both the beautiful La Marr and her lover Ramon Novarro. La Marr had a short life as a brilliant star as she died of tuberculosis in 1926 at age 29. Louis B. Mayer, the head of the combined Metro, Goldwyn, and Mayer companies considered Barbara La Marr so beautiful that he gave the last name to Hedy Lamarr, when he signed her to M-G-M in 1938 as "the most beautiful woman in the world."
Soon after,  producer B.P. "Bud" Schulberg and director Louis Gasnier made Daughters of the Rich in 1923, which featured the Boat Bed.  The film starred Miriam Cooper, Ethel Shannon, and Ruth Clifford.  Famed cinematographer Karl Struss did the photography. Below is Ethel Shannon as Mademoiselle Giselle posing in the Boat Bed.
It wasn't long before the boat bed was being slept in by Mary Philbin as Christine Daae – with Lon Chaney as the Phantom of the Opera pursuing her. Universal's 1925 classic set the model for both "horror" movies, following the studio's Hunchback of Notre Dame in 1922, and its emphasis on droll characters.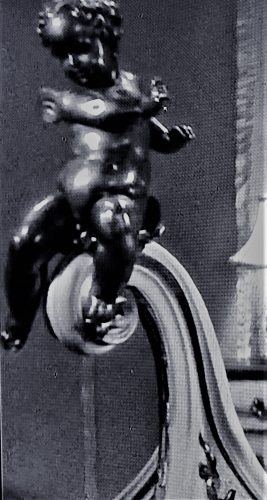 Movie studios would rent props and costumes to other studios, and it appears  the Cupid boat bed went to M-G-M where it appeared briefly in the 1949 version of Madame Bovary with Jennifer Jones. It can be seen in the Hotel de Boulogne room where Madame to Bovary has a meeting with Leon just as she enters the room. The Boat Bed then went to Paramount.  It stayed at Paramount however, where it next appeared in the most retro of movie set designs for Sunset Blvd. Norma Desmond, star of the 1920s should have no other bed than Cupid's boat bed, even though another vamp  had already slept in it, not to mention a dance hall striptease artist.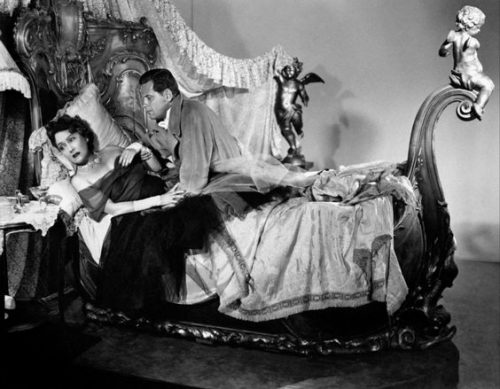 Cupid's boat bed next went to Columbia Pictures to appear in a lightweight comedy titled Good Neighbor Sam in 1964. The movie starred Jack Lemmon, Romy Schneider and Dorothy Provine. It is shown below in a partial view in a dream scene with Romy Schneider and Jack Lemmon.
By the 1960s the Hollywood studio system was starting to fall apart, and with it, the warehouses full of props and costumes that each studio  had amassed over the decades. M-G-M auctioned all of their props and costumes in 1970, with their back lots of standing sets following. 20th Century-Fox  sold off their props and costumes in 1971.
Under unknown circumstances, Cupid's boat bed was auctioned or sold to James (Jim) Buckley. Buckley had an interesting background as a window display artist for Bloomingdales, Saks Fifth Avenue and Bergdorf Goodman in New York and later at Saks in Beverly Hills. He attended the Royal Academy of Dramatic Art in London after World War II and by that time had married Olga. He was also a set decorator for M-G-M.  The couple founded the  Pewter Plough Playhouse in Cambria California. Jim also wrote the book, The "Drama of Display: Visual Merchandising and Its Techniques."  Olga ran an antique store there as well and Jim planned to open a museum for his collection of movie props and memorabilia, including Cupid's boat bed.  Jim continued to run the theater with his second wife and artistic director Rebecca Buckley until his death in 2015. The Boat Bed had been sold, however, and according to one of our readers,  made its way to an Antique dealer in New Jersey. From there  it was sold and was in a house that in turn was also sold.
The location of Cupid's boat bed is not publicly known at this time. While it may not feature in another movie, its centennial in movies would be wonderful to celebrate, or in a film-oriented museum.
Acknowledgments to the following for their informative resources:
recicyledmoviecostumes.com
Michelle Facey for research on Daughters of the Rich.
Joseph Nevchatal on King Ludwig and Linderfof Castle
Sherri Snyder, "Barbara La Marr: Life on Her Own Terms." Guest Post in Classic Movie Hub. December 11, 2017
Sarah Linn. Passion in the Pines: Jim Buckley Brings Theater to Cambria. White Hot Magazine, November 18, 2012