Marlene Dietrich's image jumps off the screen or the page with that look. Beginning with her first Paramount film in 1930, she was dressed by Travis Banton. He was the right designer to give her the "Marlene look" that she would carry throughout her career. What was it that made her image so unique?  Whether dressed as a man or dressed as a woman, Marlene's image remains iconic.
Marlene's name is a combination of her first and middle name – Marie Magdelene Dietrich, born in Berlin on December 21, 1901. She was raised in an upper bourgeois family with a military heritage, where obedience, suppression of emotion, and discipline were ingrained in the two daughters. Her father died when she was six. After being raised in this proper bourgeois setting, she was released into the chaos and madness of post World War I Berlin, once described as the "Babylon of the World." While then too plump to be considered attractive, she used her early musical training, her drive steeled by her discipline, her flair for getting noticed, and her already shapely legs, to get roles on stage and film, leading to the starring film role in UFA's The Blue Angel, 1930, directed by Josef von Sternberg. Sternberg had seen Marlene on stage where she played the lead in Zwei Kravatten (The Two Neckties). Her detached disdainful stage manner seemed to match his own, and he cast her in the film and got her a contract with Paramount in Hollywood.

Once in Hollywood, von Sternberg controlled her steps through the studio system. He is commonly considered to have both created and dominated Marlene and her image. Their story in this phase of her career seems to bear resemblance to the myth of Galatea and Pygmalion, and if anyone was under a spell it was von Sternberg. His particular manner of fixation to the star and her appearance would not be seen again in Hollywood until Hitchcock..
Their first American film would be Morocco in 1930. In addition to wardrobe, an important part of the studio system was the portrait and stills photography process, used heavily for film publicity. Here too von Sternberg directed the photo sittings. Paramount portrait and set photographers Eugene Richee, Don English, and William Walling shot dozens of stills, this at the time when single-negative cartridges were hand-loaded. The lighting used for Dietrich was a high spot, creating shadows under her cheekbones, with others to accentuate her forehead, this to create a shadow under her nostrils and thus emphasizing the triangle of eyes and nostrils, perched above her beautiful lips. With Marlene Dietrich more than with any other actress, she looks directly at the lens, and thus straight at the viewer. You are brought into her world – whether to join her in the role – or as viewed in today's more cynical world – just to play along with her tease.
 Travis Banton would find out immediately that Marlene Dietrich was no prima donna. Her ingrained discipline and suppression of emotion or of any complaint steeled her for every hardship. The production of Morocco was rushed before some of her costumes could be completed. With Sternberg's late filming habits, Banton was forced to take costume fittings late in the evenings. Nevertheless, Dietrich would come into wardrobe late after her shooting schedule, and she would stand stiffly upright while Banton, the seamstresses and fitters would work, exhausted, until the early hours of the morning. Dietrich's costume fittings became legendary as to the lengths she would go to have everything perfect. Dietrich's role in Morocco as a cabaret singer gave Banton liberty with a variety of provocative costumes. The top-hat of Blue Angel is changed to Dietrich dressed in white tie and tails based on an idea of Dietrich's.  In this famous scene, shocking at the time (in the U.S.) for a woman dressed as a man, Dietrich sings and entertains while strolling into the audience up to the table of a pretty woman, takes a flower from her hair, hesitates, then kisses the woman on the mouth. 
Marlene playing the role of Amy Jolly quickly falls for the Foreign Legionnaire Tom Brown, played by Gary Cooper. Travis Banton discovered that Marlene's style of cool, almost disdainful style of acting, a product of her upbringing and suppression of emotions, was best served by costumes that were hot and punchy, even over the top and more than most actresses could wear. Feathers and fur, sequins and beads were immediately put into his inventory for her. The last scene in the movie is memorable, as Marlene walks into the desert sands in heels, which she quickly discards, as she trails the camp-followers that follow Tom Brown and the rest of the the legionnaires into the horizon.
Gary Cooper would become one of the leading men with whom Marlene had affairs. Others included John Gilbert, Douglas Fairbanks Jr., Maurice Chevalier, John Wayne, Yul Brynner, Jean Gabin, as well as Joe Kennedy and General Gavin, and those were just the men.
Marlene's next film was Dishonored, 1931, written and directed by von Sternberg. Here she plays a WWI era Viennese prostitute that is turned into a spy against the Russians. Only she falls in love with the Russian agent she is supposed to be working against and is tried for treason. The costumes designed by Banton go from the cheap and tawdry look of a poor prostitute to those sure to grab the attention of any man (see below). The studio and Banton had been working with Marlene to lose weight. In Dishonored, she appears as the slim sex goddess that she would forever be remembered as.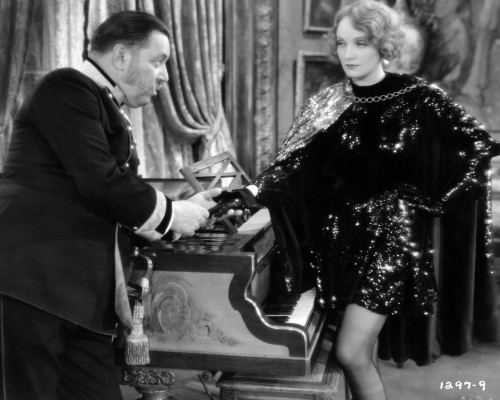 Blonde Venus followed in 1932, and is notable for several things. For one, Marlene co-starred with Cary Grant, the only film they made together. Another is the musical scene where Marlene comes out of a gorilla suit that she was dancing in with a revue – the whole number is amazing and is indelible as a film memory. The plot involves a wife and former night club singer played by Marlene that returns to the stage in order to pay for treatment for her sick husband. She later takes up with the rich Cary Grant character with whom she falls in love and that supports her. But she has a son and goes on the run when her husband wants to take him. Although this was a pre-code film, the censors still had the final say in the film's ending.
Travis Banton again used beads and sequins to give Marlene plenty of flash in her night club act. The blonde afro wig is worn during her gorilla suit Hot Voodoo number.The extravagant feathered  hat and trim shown below is pure Banton/Dietrich.
Then came Shanghai Express, and Marlene knocked our eyes out. Banton had already proved that he could go over the top with Marlene – and it worked. Here she plays another exotic role: Shanghai Lily. Banton dresses Marlene in a black dress exploding at the sleeves, shoulders, and collar in black coq feathers. Her scull cap is veiled to add to her aura of mystery. Her accessories of deco black and white gloves and purse are by Hermes. The long string of pearls provide another white accent on the black. Her look is devastating.
Much of the action in the movie takes place in the Shanghai Express train, or in train stations in China. The confined spaces of the train cabins magnify the appearance of Marlene and her co-stars. Von Sternberg uses many close-ups of Marlene with the same expressive chiaroscuro lighting he favored in their photo sessions. One can't help but being mesmerized by her, and the camera as directed by von Sternberg clearly is. The film is also notable for the beautiful Anna May Wong as co-star.
Marlene's next movie was The Scarlet Empress, whose original working title was Her Regiment of Lovers. Here she plays a German Princess selected by Queen Elizabeth of Russia to marry her son  "the royal halfwit" Peter, become Catherine II, and to produce an heir. Things don't go well between the married royals but rather better between Catherine and various regimental officers. For her first historical film, Travis Banton dresses her in 18th century court dress. To play on Marlene's masculine/feminine polarity, he designed a particularly fetching Hussar's uniform in white, with white fur trim on the pelisse and shako headpiece. Marlene's daughter Maria played her as a child in the movie.
The last film that von Sternberg and Dietrich did together was The Devil is a Woman, a story of a femme fatale and her two lovers. The story's early scene is of a baroque carnaval, a visually intoxicating street scene set in 1890s Spain. Marlene considered this her favorite film, and the "the most beautiful film ever made." It is based on the book The Woman and the Puppet by Pierre Louys, the title an indication of its subject matter, and a title used in some if its later European film remakes. The costumes by Travis Banton were as over the top as the rest of the film, but here he used the Spanish costume accents and rich textures of lace, fringe, mantilla combs, and shawls, as well as embroidery, flowers, large sequins, and over-sized veiled hats.He used mostly black or white for her costumes.
A variety of factors led to the professional separation of von Sternberg and Dietrich. He faced problems at Paramount, but she certainly felt the separation difficult. In her memoirs she stated that she considered von Sternberg both a master and a genius.
Marlene's first American movie without the direction of von Sternberg was Desire, where she was reunited with Gary Cooper, the film directed by Frank Borzage. In it she plays a jewel thief and Cooper plays an unsuspecting co-conspirator. It's no surprise that they both fall in love.
Banton's styling for Dietrich provided the usual glamour but also varied her look. Shown above is her typical bombshell look in a fur-trimmed negligee. She also wears a stunning decollete black gown with fanned out coq feathers at the shoulders, but Banton also dressed her in a very sporty but chic double-breasted black jacket over a white skirt with black & white pumps.
Travis Banton is shown above with Marlene, viewing costume sketches for Desire. Banton had been the brilliant costume designer at Paramount Pictures since 1925, and head designer since 1929. He also dressed Louise Brooks, Clara Bow, Mae West, Carole Lombard, Claudette Colbert, and many others, and where he also served as mentor to Edith Head.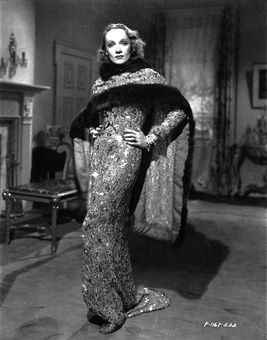 Marlene's next film was Angel, directed by Ernst Lubitsch and released in 1937. It would be her last film under contract for Paramount. This was a romantic comedy, co-starring Melvyn Douglas and Herbert Marshall. It received mixed reviews at its opening and remains a little seen classic considering the talent used in its production. One of the jewels of its production, and indeed of the entire Hollywood studio system, is the gown Marlene wore in the film and shown above. It was made from chiffon and laced with thousands of hand-sewn sequins and beads, and encrusted with semi-precious jewels. The stole is trimmed in Russian sable. Marlene wanted very badly to keep this gown as a souvenir as she left Paramount, but this was refused her by the studio. Amazingly, the gown survived the decades. It was restored by Larry McQueen and has been part of the Hollywood Costume Exhibition originating at the V&A Museum in London.

Travis Banton did not last much longer at Paramount either, and Angel would be the last film he designed for Marlene Dietrich. Alcohol had been the way that Banton tried to cope with the pressures of his job, and eventually this made things worse. His contract was not renewed in 1938, and he was gone shortly after Marlene, replaced by Edith Head. 

Marlene went on to star in many other movies. After Banton she chose her costume designers very carefully so as to preserve her "a la Dietrich" image. For several years this would by Irene (Lentz Gibbons), and later when Marlene went on stage, her wardrobe was designed by Jean Louis.

So what was so unique about the look of Marlene Dietrich? Her upbringing had given that air of Nordic cool, yet her direct gaze invited you into her world. She displayed abundant sexuality yet could appeal to masculine or feminine tastes. She was bold in her dress, a model for later generations of film stars and stage performers, and she always owned her looks. She knew the best costume and fashion designers to use, and likewise, she used the best make-up artists, lighting technicians, and photographers there were. And she always worked as hard or harder than they did. During World War II, Marlene entertained the U.S troops on the European front.

Marlene Dietrich died in Paris on May 6, 1992. Her films will live forever.