Mary Ann Nyberg was one of those talented young women destined for Hollywood: she was pretty, she was artistic, and by 23, she was dating movie star and singer Rudy Vallee. By that time in 1946 she was illustrating for magazines, designing fashions, and aiming to be a costume designer for movie stars.  She was already designing costumes for Vallee-Video, Rudy's TV productions. Not bad for a girl from Tulsa Oklahoma, born February 7, 1923. She achieved many of her dreams, but her sunset came all too soon.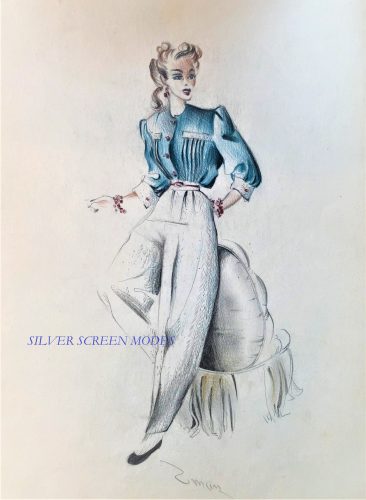 Mary Ann Nyberg and Rudy Vallee never married, as was rumored for years, although they were seen dancing at Ciro's in Hollywood, and he took her to the Palm Springs Tennis Club in January, 1948. It was there that she met costume designer Jean Louis, who she would later illustrate for at Columbia Pictures. But since her affair with Vallee wasn't going anywhere and he wasn't getting her any roles in films, she found a job working for Arthur Freed at M-G-M in 1949. Nyberg wasn't credited for any movies for several years, although she designed costumes for Leslie Caron in  An American in Paris, released in 1951. But then she designed the costumes for Lili, including for its star Leslie Caron, released in early 1953. Here Caron played a  teenage orphan taken in by a traveling magician and carnival troupe of puppeteers. Mary Ann Nyberg dressed Caron in simple dresses and sweaters. But Nyberg showed her talent for glamour and verve with the scene at the carnival cabaret by dressing  Caron in the imaginary dance number with Marc, played by Jean-Pierre Aumont and his wife played by Zsa Zsa Gabor. Caron is dressed here in a sexy scarlet-colored waitress/dance tutu in part of the number with Marc, but when his wife enters in a sequined gown and grabs his attention, Caron too reappears in the same burgundy and gold-trimmed sequined gown with a deep leg slit.  Nyberg also designed Mel Ferrer's shirt with it's shoulder straps. These have become common but at the time the film's producer Ed Knopf loved it so much that he ordered dozens of them in various colors and took them to Paris.  Caron was told at the beginning of filming that she was foolish for taking on the role of a waif. But the film was a big hit and received several Oscar nominations – and her song "Hi-Lili, Hi-Lo," became very popular.
Nyberg's next assignment was the one she is best known for, and, her first Oscar Best Costume nomination: The Band Wagon (1953), one of the best musicals of the classic era. Vincent Minnelli directed, featuring stars Cyd Charisse, Fred Astaire, Nanette Fabray, Oscar Levant, and Jack Buchanan.  Although it goes off on a tangent in the story about impresario Jeffrey Codova's modernist play ideas,  all the other musical numbers and story are a delight. And Nyberg's costumes are perfect for showing off Cyd Charisse in alluring outfits in the "Girl Hunt Ballet" and the "Dancing in the Dark" numbers. Cyd's simple white pleated skirt from that scene was copied from one that Nyberg herself wore. But since none like it could be found off the rack, it was duplicated at a reported cost of $1000.
Nyberg endeared herself to Charisse by fixing her favorite "lucky" sweater. She cut squares out of colored cotton prints, hemmed the edges, and sewed them onto the worn spots in her sweater. Charisse loved the look and had her do the same to a new sweater. Fabray also had a creative and colorful costume for the "Louisiana Hayride" number.  Nyberg also designed Fred Astaire's look of gray suit, white tie, and dark blue shirt used in the Girl Hunt Ballet.  The look was adapted by Michael Jackson for his 1988 "Smooth Criminal" music video.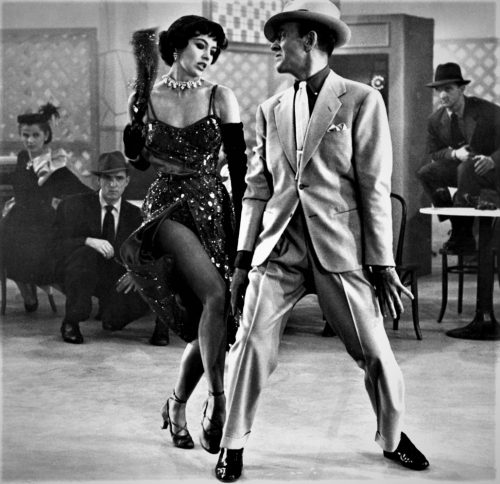 Mary Ann Nyberg next went on to design costumes for the problematical A Star is Born in 1953-54, starring Judy Garland and James Mason and directed by George Cukor. The remake of the 1937 film that had starred Janet Gaynor and Frederic March started smoothly at Warner Bros., but Judy Garland became moody and sick. Garland's version is that she disliked the costume that Nyberg had designed for her at the Malibu party scene. Garland claimed it was not flattering to her figure. But in preparations for the previous scene for the Academy Awards, Garland had so loved Nyberg's white gown that she decided she wanted it for her personal wardrobe. So she said to Cukor that the gown made her look like a white whale and she couldn't wear it.* The result was that filming stopped and costume designer Jean Louis was called in as Mary Ann Nyberg's replacement. But Nyberg also served as sketch artist for Jean Louis in designs he made for the film.  Designer Irene Sharaff did the costumes for the "Born in a Trunk" scene. All three designers were nominated for Best Costume Design Oscars.
Mary Ann Nyberg was then hired by Otto Preminger to design the costumes for Carmen Jones, the musical based on  Carmen. Preminger reverted to the original story by Prosper Mérimée, but kept Bizet's music. The cast consisted of all black actors, including Dorothy Dandridge as Carmen, Harry Belafonte as Joe, and Pearl Bailey as Frankie.  Diahann Carroll made her film debut as Myrt. Nyberg used pinks and orange rather than the usual red coloration for several of Dandridge's costumes. "Red denotes passion, fire, and sex," said Nyberg, "and I am relying on Miss Dandridge to project those qualities in her performance." The contemporary setting used the dress of the 1950s, and a much pictured orange wrap dress and black peasant top for Dandridge. Nyberg also designed a bold look for a hotel room scene,  where Dandridge takes off her robe to reveal a black bra and zebra-striped panties, which she then covers in a pink dress. Dorothy Dandridge was the first African-American to be nominated for the Academy Award for Best Actress in a Leading Role for this movie.
Otto Preminger hired Mary Ann Nyberg for  his next movie, The Man with the Golden Arm, 1955. This movie starred Frank Sinatra as a heroin addict, with co-stars Kim Novak, Eleanor Parker and Darren McGavin. The black and white movie with a downbeat theme didn't give much range for Nyberg.  Kim Novak was dressed in simple outfits, with one  gown decorated in gleaming sequined scallop-shaped outlines. The beautiful Eleanor Parker's role was played in a wheelchair mostly in house robes.
The Man with the Golden Arm was Mary Ann Nyberg's last costume designing job. For whatever reason, either because she had had enough of Hollywood, or the assignments dried-up  for her (this was happening as the studio system was coming to an end), it is not clear. In any case, she didn't need the paycheck. She was married at the time to Don J. Koch and painted oils on canvas.  It was the world of Hollywood costume design that lost a first class talent. One of the very few whose top skill in the illustration of costumes matched her skill at designing them. After her first marriage she married the influential film critic and University of Southern California professor Arthur Knight. They lived in Malibu and had lively parties where people from from L.A.'s entertainment industry and the arts attended.
Mary Ann Nyberg died on September 19, 1979  of a cerebral hemorrhage. She was only 56 years old. Perhaps she got to see That's Entertainment! which released in 1975, where her costumes were flashed on the screen. If only her name had been honored as well, or for that matter, any of the costume designers.
James Stratton. A Star is Born and Born Again: Variations on a Hollywood Archetype.