The death of Debbie Reynolds on December 28, 2016 was a sad loss to classic Hollywood and show business. Her many movies and well-known starring roles in Singing in the Rain,  and the The Unsinkable Molly Brown among others are a lasting legacy. Her personality and bravery were matched to the subject of the latter film, her personal favorite.  Although oft-mentioned, her collecting of movie costumes and memorabilia is usually glossed-over. But this too is one of the sagas of her life, its own roller-coaster of tragedy and triumph. Yet ultimately she never reached her goal, and her loss has also become our loss.
How did Debbie Reynolds begin collecting Hollywood's treasures and what happened to them? Collecting movie memorabilia really began when MGM auctioned off its fabulous collection of props and costumes in 1970. Before then the studios kept their props and costumes for re-use so there was very little supply and low demand to encourage collecting. The late 60s was a sad period for MGM and the other studios due to shrinking revenues. The new owners of MGM decided that there was more money to be made in selling off its assets than in keeping the studio's traditions alive. MGM was Debbie Reynolds' home studio, and she understood the value of the props and costumes as historical objects, not just as accessories of movie-making.  
Debbie was aghast when she learned that the new owners of MGM were going to sell off the back lots with the old standing sets where so many movies had been filmed. And along with these, warehouses full of props and costumes: from antique furniture and carriages to iconic costumes from films like The Wizard of Oz and her own Singing in the Rain. Debbie tried in vain to save the lots by convincing the management to turn them into an amusement park, much like Universal City was to become later on. They wouldn't hearof it. Then she tried to get a loan to buy the properties herself. She failed. She did manage to get enough money to be prepared when the inevitable MGM auction arrived.
And so Debbie attended the MGM auction every day of its nearly three weeks duration from May 1 through May 18, 1970. And she bought and she bought: Adrian-designed gowns for Norma Shearer from Marie- Antoinette and Romeo and Juliet; an early version of Judy Garland's Dorothy pinafore from The Wizard of Oz;  Greta Garbo's velvet gown from Anna Karenina; her own Walter Plunkett designed "Good Morning" flapper dress from Singing in the Rain; Elizabeth Taylor's riding outfit from National Velvet; Leslie Caron's peacock-feathered dance dress from An American in Paris, and dozens more. Over time, Debbie bought from the other studios as well while building her collection.With her name and status she had entre to those studios. But Paramount and 20th Century-Fox were also to hold auctions. And she also bought from the underground market in costumes from such sellers as Kent Warner.
Debbie was a discriminating collector and a far-sighted one. It was easy enough to select the wardrobe from award winning pictures, but Debbie also selected several costumes from the same film to give a better representation of the movie. And she went after set props too to enhance the original backdrop, all while envisioning a museum setting. When there were obvious duos, like the costumes from both Romeo and Juliet, she bought both of them. Two bold green-striped "Fit As a Fiddle" costumes worn by Gene Kelly and Donald O'Connor were also bought as a pair. Debbie Reynolds also showed her important connoisseurship by acquiring the costumes that were not just beautiful, but the ones that  became truly significant in defining the leading film character in the role portrayed. So in her collection was the Mildred Pierce coffee-shop waitress uniform worn by Joan Crawford, the rose and white-striped dress worn by Shirley Jones in the memorable "If I Loved You" scene with Gordon MacRae from Carousel, Elizabeth Taylor's jockey uniform from National Velvet, Leslie Caron's school-girl outfit from Gigi, Grace Kelly's rose-colored skirt and white-embroidered sleeveless top from To Catch a Thief, Betty Hutton's rose-embroidered cowgirl outfit from Annie Get Your Gun, Basil Rathbone's caped overcoat from The Adventures of Sherlock Holmes, and on and on. 
But as most of us know, The most amazing collection of historic Hollywood movie costumes ever assembled will never become the core of an American museum. Try as she might, Debbie Reynolds failed at building a museum based on her collection of costumes and treasures spanning the history of Hollywood movies. One would think it could not be so hard with someone of her talent, name, and resources. She tried first by incorporating a small museum within the Debbie Reynolds Hotel and Casino. But that Las Vegas venture ultimately failed. She was even forced to have an auction of some 400 lots from her collection in 2003 at the Julien Auction House. Lots included costumes from Marilyn Monroe, Gloria Swanson, Judy Garland, Fred Astaire, and many other stars. Then she tried developing a museum within the new Hollywood and Highland complex in Hollywood. This failed effort also placed her in debt. (along with her last marriage). And finally, she tried to open a museum at Dollywood in Pigeon Forge Tennessee, another money-losing plan. All of these plans left her in deep debt with no alternative but to auction off her treasured collection. All along the way she had approached the Academy of Motion Pictures Arts and Sciences with the idea of starting a museum and offering her collection at a then reasonable price. The CEO at the time was uninterested.
So on June 11, 2011 the first of a scheduled three auctions held by Profiles in History was held at the Paley Center in Beverly Hills to disburse the legacy of Golden Age Hollywood, from Charley Chaplin's bowler hat to Elizabeth Taylor's Cleopatra headress to Marilyn Monroe's subway dress and hundreds of other costume icons. In the auction catalog Debbie wrote, "I used to spend my spare time in the wardrobe department, watching the most talented people create costumes for the actors. I loved everything that went into the process – the sketches, the fabrics, the construction."
Weeks before the event a publicty campaign had placed stories in broadcast news and print media everywhere. The Paley Center had displayed many items in Debbie's collection for the public to see two weeks prior to the auction. A line formed before opening on auction day. Debbie Reynolds was beside herself. She was accompanied by Carrie Fisher and Todd, along with her grandchildren.  Inside, Carrie was vaping what was then the new electronic cigarette. Profiles in History President Joe Maddalena introduced Debbie to the audience of bidders.  Debbie put her best face on the event, joking with the audience and prodding the bidders, all in the long tradition of "the show must go on." But she choked up in her opening remarks, and indeed it was a melancholy day for Los Angeles and the rest of the country. We will never see the likes of this collection again.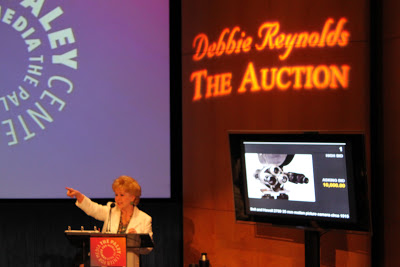 Bids came from phone callers and the Internet as well as the audience. I sat behind a Korean gentleman that seemed to bid and win most of the choice items. During a break Debbie herself asked for his card in a friendly manner. He said he didn't have one and wouldn't give his name.
Other items sold like Judy Garland's screen-tested gingham dress from The Wizard of Oz, and a version of the Ruby Slippers. They were rumored to be destined for Saudi Arabia. The audience held its breath and then clapped when the Dorothy dress was hammered down for $920,000. We knew it was going to be a big day when item number 2 in the auction, Rudolph Valentino's matador costume from Blood and Sand went for $200,000.(prices without premiums and taxes).
It was no surprise that the biggest items in the auction were worn by Marilyn Monroe. What was shocking though was their hammer prices: Marilyn's William Travilla-designed cream rayon "subway" dress from Seven Year Itch, $4.6 million. At this point Debbie knew she was doing well financially and started buying back a few of her sentimental favorites like Harpo Marx's hat with its wig. When one lady was biding against her she asked her to stop and the woman did. Then more big prices came in: Marilyn's Travilla-designed red-sequined gown shown above from Gentlemen Prefer Blondes, $1.2 million. And there were two more, including the stunning Travilla-designed "Tropical Heat Wave" costume from There's No Business Like Show Business, a mere $500,000. It is shown below. But the second most expensive item in the auction was not a Marilyn Monroe costume but rather Audrey Hepburn's Ascot gown from My Fair Lady. It was hammered down for $3.7 million. By that point Debbie couldn't stand it and had gone home but was following the auction on the computer.  "Holy shit," she texted Todd.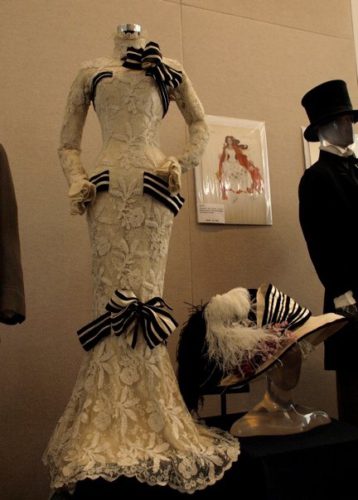 The auction at the Paley Center was packed, with a small auditorium and a separate hall used for the occasion. There was also a row of phone-bid handlers, two on-line auction handlers, absentee bids, floor bidders, and an auctioneer that masterfully handled the whole operation. Bidding began just after noon. It didn't finish until after 1:00am. The audience consisted of devoted classic movie fans, the curious, some serious collectors and those representing institutions or having a professional interest. Several long-time costume devotees were there, including noted costume collector Larry McQueen, and costume designer-turned UCLA Copley Center for Costume Design director Deborah Nadoolman Landis. I had waited in line with author Virginia Postrel.
An early auction indication that the prices were reaching the stratosphere was demonstrated in Judy Garland's Adrian-designed pinafore from The Wizard of Oz, hammered down for $920,000. And this was for an early wardrobe test version that was never worn in the film.    
A result of seeing the costumes up close is a heightened  appreciation for the skill of the dressmaking and tailoring. The costumes were fabricated to provide a 360 degree view of the garment. Exact camera angles were unknown in advance, and most every costume had to be ready for a possible close-up.  And the gowns themselves are in vivid color, like the one Norma Shearer wore in Romeo and Juliet, also designed by Adrian,  shown below. This was the case even when the movie was filmed in black and white. The detailing on the bodice is incredible, with gold embroidery and cascades of tiny silver sequins
Evidence of the high quality of the film costumes is shown above in the coronation robe designed by Rene Hubert for Merle Oberon as Empress Josephine in Desiree. The silk gown is embroidered with gold floral decorations. The red velvet train is also embroidered and trimmed in ermine. Debbie began her collection with the MGM auction of 1970. Most of the studio's wardrobe at that time consisted of period costumes, which is by and large reflected in the strength of Debbie's collection. That MGM had many years earlier dumped many costumes in its wardrobe collection is little known. Due to the small value that was ascribed to contemporary fashion of the day, and the lack of its re-usability in later films, many crown jewels of costume were destroyed. By the time of the 1970 MGM auction, many of those late 1920s and 1930s costumes were already gone. These had been the costumes that created the very image of glamorous Hollywood movie-stars, and that started fashion trends around the world.  The Adrian-designed gowns worn by Jean Harlow, Greta Garbo, and Joan Crawford that defined the look of glamour were mostly discarded. It is informative to consider the sale of Debbie's collection as reflecting the earlier MGM auction and the even earlier destruction of those movie costumes.
The costume below was designed by Mary Wills for Joan Collins playing Beth Throgmorton in The Virgin Queen. The costume sketch  some others designed by Mary Wills from the movie are shown on my blog post The Costume Sketches of Mary Wills
Coming in second place in price to Marilyn Monroe's Seven Year Itch dress was Audrey Hepburn's Ascot gown from My Fair Lady. It was hammered down for $3.7 million. Having the huge original hat along with the gown added much to the value of the ensemble.
Debbie also liked the costumes from classic Rome and Egypt, and who wouldn't when they were worn by the likes of Elizabeth Taylor and Charlton Heston. The breast plate below is from Ben Hur. With the big-budget movies of that era, the costumes were works of art. The one below is hand-hammered metal. It was one of many such costumes and props in Debbie's collection
The second of the three planned auctions of the famed Debbie Reynolds collection of Hollywood film costumes and props was held on Saturday December 3, 2011 by the  Profiles in History auction house. While the auction didn't have the same frenzy as the first one in June, there was still plenty of competition for the iconic costumes of Hollywood's Golden Age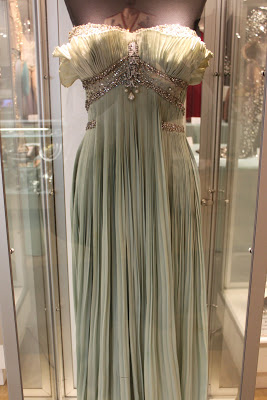 As was the case with the first auction, the Marilyn Monroe worn items fetched the most money. The gown above was designed by Dorothy Jeakins for Marilyn Monroe in Let's Make Love, (1960). It is made of a pale green pleated silk decorated with rhinestones at the bust and at the Empire waist. It was hammered down for $240,000. Marilyn's green show-girl leotard designed by William Travilla for Bus Stop, (1956), decorated with black sequins and beaded fringe, went down for $230,000. In addition, Marilyn's pale-green suit from Niagara sold for $210,000, and her embroidered gown and bolero jacket from Gentlemen Prefer Blondes designed by Travilla sold for $260,000. These were among the top five big ticket items of the sale.
Above is a fabulous show-girl costume designed by Adrian and worn by Eve Arden in Ziegfeld Girl, (1941). The gown is made of a silver lame with silver sequin stars embroidered on to a nude chiffon. The silver lame has tarnished to appear a golden color. The gown was sold for $5,500.
This striking dress was also designed by Charles LeMaire for Katharine Hepburn in Desk Set, (1957). It is a wool dress of black, gray, and cream-colored stripes with red accents. It sold for $6500.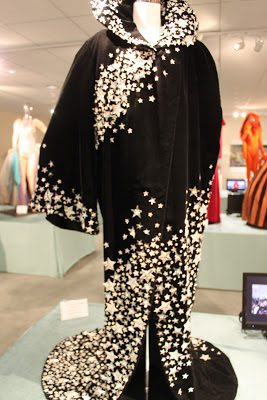 One would definitely say that the costume above was designed for a star. Indeed it was, Donald Brooks designed it for Julie Andrews in Star! (1968). The coat is black velvet adorned with plastic silver stars. A silver lame top and pants were worn underneath, also decorated with stars. I should add that the Studio system was no longer in place when this costume was made. By 1968, the stars on the costume were no longer being made of sequins, fastidiously sewn onto the garment – the stars were now plastic. The famous line from The Graduate, "Plastic!" seems to have already  grabbed hold in the wardrobe department. The three piece costume sold for $7000.
Debbie Reynolds never realized her dream of a Hollywood memorabilia museum. A new movie museum organized by the Academy of Motion Picture Arts and Sciences is now being constructed. Alas, Debbie's fabulous and historic costumes and props collection won't be part of it. And probably harder to bear, the costumes, including sets from a single movie, have been scattered. One Internet bidder seems to have won many of of the choice costumes. It would be great if it was for a local collection or institution. More likely, these will go overseas along with the cream of Debbie's first auction held last June. The Unsinkable Debbie Reynolds was vindicated by the very high prices her collection got. She was for several years free of debt and could make her children comfortable. If only Hollywood and Los Angeles had cared as much about its history as she had.
Thank you for inspiring the rest of us Debbie .RIP