Skin and beads, the name I gave this post, is based on what Marilyn Monroe called her Jean Louis-designed gown from 1962, the one where she sang Happy Birthday Mr. President to John F. Kennedy at Madison Square Garden. Indeed, the main advantage of a dress made of glass bugle beads is that their weight presses against the skin. You either see the skin left exposed, or you clearly see the contours of the wearer since the beads hug the figure with from the gravity of their weight. And the beads not only reflect light, but are themselves translucent, and sewn onto the sheerest of silk chiffons. They are made of cut glass, an can be colored or lined in silver or gold. Marlene Dietrich below knew how to pose in a gown made of bugle beads. This one was designed for her by the costume and fashion designer Irene. Little skin actually shows, yet you feel that all of her is showing.
The tubular bugle beads can be sewn solidly on a dress, or they can be used sparingly for decoration. Bugle beads shared the same limelight as sequins in the 1920s, when glitter was in favor (did it ever go away?). Sequins don't let the light through, and they are much lighter in weight, an advantage in cost of production and wearability. But sequins don't flatter the screen figure like beads do. Below a young Joan Crawford wears a fur wrap and nude souffle (not pronounced soufflay) dress bodice, both decorated in bugle beads and sequins, here in a photo by Ruth Harriet Louise from 1926.
With Jean Harlow, Adrian had the perfect figure on which to mold a nightgown made of bugle beads, accented with ostrich plume sleeves. The contrast of the shiny, reptilian skin of the beads, along with the fuzzy-nest sleeves of the nightgown, provided the perfect symbolic duality of the good-bad girl that was Jean Harlow. The photographer Harvey White captured this essence perfectly in the photo below from Dinner at Eight. 
While rarely paired on film, Jean Harlow and Clark Gable made a compelling couple in films like Red Dust. The chiaroscuro of black and white photography by Hurrell captures their radiance. The Adrian-designed gown of bugle beads reflects the light as it reflects her figure.The two stars are perfectly comfortable with each other. This type of dual portrait photography is a lost art. The photo below is from Saratoga, her last film.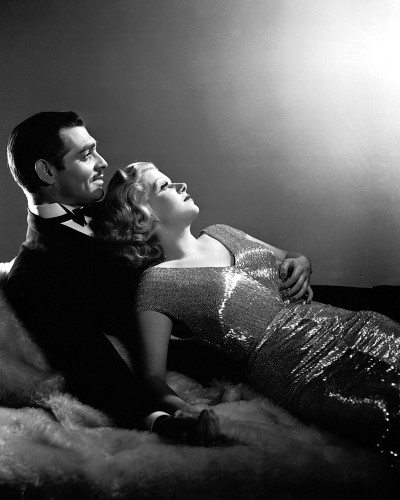 Adrian designed another knock-out gown of solid bugle beads for Joan Crawford in The Bride Wore Red, 1937, It was made of red bugle beads, and provided a key role in the plot of the film. Vintage beaded movie gowns rarely survived.  Due to their weight, they would rip apart if left on hangers for long. This one miraculously survived at MGM because a wardrobe lady had placed it in a drawer where it was forgotten for decades. It is now in the collection of  the Museum at the Fashion Institute of Technology.
The Bride Wore Red gown in all its red glory is shown below in London at the V&A Museum's Hollywood Costume Exhibition from 2013. The exhibition went on the road and finished its tour in 2015 at the future site of the Museum of the Academy of Motion Picture Arts and Sciences.
The photo  below shows Carole Lombard in a beaded gown designed by Robert Kalloch for Brief Moment, 1933, from Columbia Pictures. Travis Banton had designed her Paramount movies and then Irene took over her wardrobe designing until Lombard's untimely death in 1942. She was always photogenic and looked great whether in glamour or everyday clothes.
The bugle beads these fabulous gowns were made from were usually silver-lined, which gave them their highly reflective quality. But the beads could be made of colored glass. Jeanette MacDonald below wears an Adrian designed gown of blue bugle beads in the film Sweethearts in 1938. The back of the gown shows just enough skin to be tantalizing, and with Jeanette's back framed with a yoke and swags of beading, it emphasizes Adrian's favored V-line silhouette. The front was very close-fitting like Joan Crawford's red-beaded gown in The Bride Wore Red.
Lana Turner, another platinum blonde, always looked smashing in black. Irene designed her wardrobe after Adrian left MGM, including this black bugle-beaded gown for Slightly Dangerous in in 1942.
Things became more colorful in the 1950s, especially when Marilyn Monroe was on the scene. Blonds were still popular, which Marilyn cast in cement for several more decades, especially in Gentlemen Prefer Blondes, 1953. Jane Russel was the brunette serving as contrast. The gowns were designed by Travilla. Marilyn's gown sold at the Debbie Reynolds auction in 2011  for $1.44 million.
Marilyn Monroe had some fabulous designers working with her: Charles LeMaire, Travilla, Orry-Kelly, and Jean Louis. The black souffle dress below is decorated with strands of bugle beads. It was designed by Orry-Kelly for her in Some Like it Hot, 1958.
Pictured below is the famous 1962 Happy Birthday Mr. President dress designed by Jean Louis, otherwise known by her as the "skin and beads" dress. Actually it was made of a flesh-colored souffle, and decorated with rhinestones, not beads. But Marilyn's point was that it was tight enough to be her skin. It sold at auction at Christie's New York for $1.2 million in 1999.
Glass beads are expensive but ever in style. The famous model Verushka of the 1960s wears this outfit in the legendary film Blow Up, in 1966. In this outfit, which is actually a short nightgown with open sides, Verushka poses for the photographer played by David Hemmings.
The glamour of beaded gowns has moved from the screen to the red carpet in recent years. Two striking examples are shown below.
Selena Gomez wears a gold beaded Pucci at a 2014 Oscars after-party. The Pucci runway gown was modified to add the cutaway at the bust and to reveal more skin along with the beads.
Blake Lively wears a figure-hugging Zuhar Murad Couture nude- colored gown with black bead stripes  at the movie premiere of Savages. The stripes are wild and not many could pull off this look but Blake Lively is one of them.
Glamour never dies, nor does the influence of classic Hollywood costume and fashion design.
This post was modified from the 100th post of my former Silver Screen Modiste blog. It's now my 48th of Silver Screen Modes.