Turner Classic Movies held its 6th Annual Classic Film Festival in Hollywood over four days ending Sunday night March 19, 2015. The festivals keep getting bigger and better, which I can attest, having attended all previous festivals. The theme of this one was "History According to Hollywood," with film screenings and programs fitting into this or several sub-themes. As in prior years, the TCM staff was everywhere present and graciously introducing movies or tending to logistics, the needs of talent, and those of the attendees. And this year talent was very prominent, with Julie Andrews, Christopher Plummer, Dustin Hoffman, Sophia Loren, Shirley MacLaine, Alec Baldwin, Ann-Margret,  Spike Lee, Peter Fonda, Keith Carradine, Robert Morse, William Daniels, Ken Howard, and others.
In keeping with prior years, and in order to keep some 20,000+ attendees busy, multiple movie showings  and other events were taking place concurrently. This also made it possible to have a different personal experience of the TCMFF, as it is known in shorthand, than someone else. This is probably the case with me, as I sometimes pick the less popular movies to watch.
In the photo above, the TCMFF Red Carpet is being set up on Thursday, with its step and repeat backdrop. Years earlier the Red Carpet was fairly open to watch and photograph. Now you need credentials and you can't get close to it.
Directly across the street, if you picked the right position, you could get some good photos of the limousines arriving with the stars attending the 50th anniversary screening of The Sound of Music.  It helped  to be standing next to autograph hunters with loud and adulatory voices.
Julie Andrews  attended, as did Christopher Plummer, who would later set his hands and feet in cement at the TCL Chinese Theatre. The ever-lovely Shirley Jones also attended, as seen below.
Michael Tucci, who starred in Grease, and lately in The Heat, crossed  Hollywood Blvd. with police escort to sign autographs, as did Barry Pearl also from Grease. That movie was playing poolside at the Roosevelt.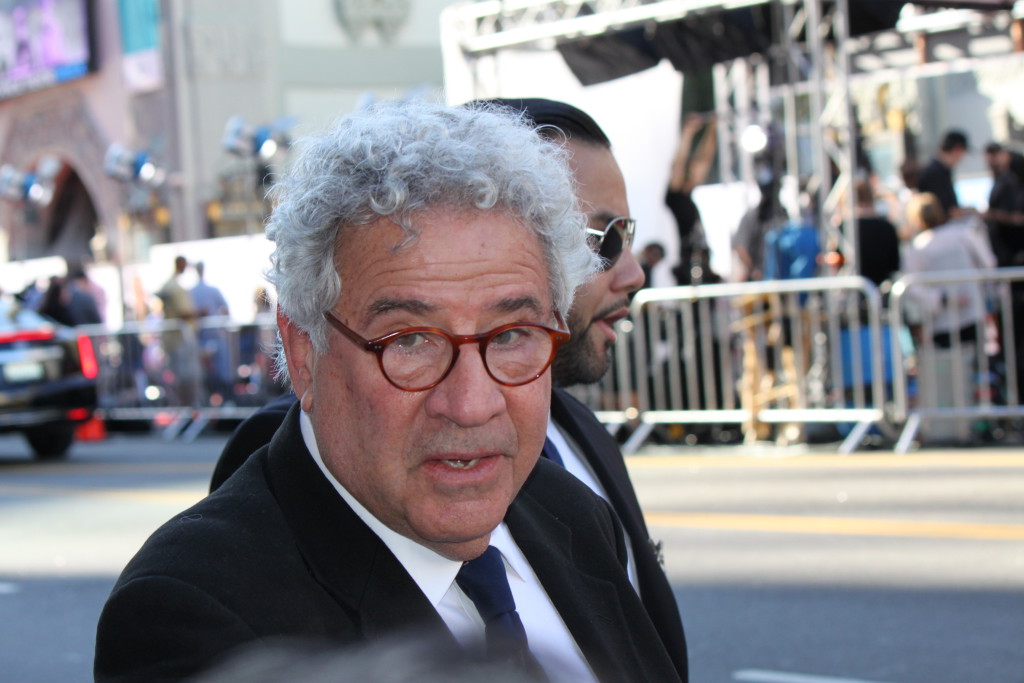 I attended the  simultaneous screening of Queen Christina, the Greta Garbo classic with costumes designed by Adrian, which included both a phenomenal court gown but also her many masculine garments. This was also the film that brought back John Gilbert to the screen before his early death.
The next morning featured a special showing of Lenny, about the radical stand-up comic Lenny Bruce, starring Dustin Hoffman. Dustin Hoffman was interviewed, after the screening, by Alec Baldwin, but "interviewed" is really a misnomer as this was a wandering dialogue that was as fascinating as it was funny as each actor took turns mimicking comedian Buddy Hackett and trading show business lore.
In the same Egyptian Theater, and with seemingly the same line length, The Cincinnati Kid followed. The Steve McQueen/Edward G. Robinson movie also starred Ann-Margret, who was in attendance and interviewed by Ben Mankiewicz. She let out that what was special about McQueen was his "animalism." She shared his love of fast motorcycles.
Another quick hop to the next screening back at the Chinese for Rififi,  a French film noir classic directed by the American Jules Dassin. TCM's  film noir buff Shannon Clute introduced Eddie Muller who in turn  introduced the film, starting by complementing the audience for attending what he thought was the best movie of the whole festival, and "as perfect a movie as you can get." Indeed, it was a great film with a taut plot about a reunited gang out to do a big jewelry store heist. Its climax robbery scene , almost silent, lasted 28 minutes and had you on the edge of your chair the whole time.
For something completely different, there was the mostly forgotten movie musical 1776, itself based on the successful Broadway musical which Jack Warner produced as his swan song in 1972. Its book and plot centered on the Second Continental Congress – and its raucous debates on whether to declare independence which eventually led to the Declaration of Independence. It was surprisingly good history, fine music, and great acting. Its original stage and movie director Peter H. Hunt was there as were cast members Ken Howard (John Adams) and William Daniels (Thomas Jefferson). The three were interviewed by Ben Mankiewicz, and William Daniels got a surprise birthday cake. Director Peter H. Hunt said that Richard Nixon saw the movie and then personally asked Jack Warner to cut out the number "Cool, Cool, Considerate Men"  about Representative Dickinson and the Conservatives. The number was cut from the release but was added back in this director's cut.
A traditional program at the TCMFF is the Hollywood Home Movies shown in the Club TCM  at the Roosevelt Hotel. This program features a collection of home movies mostly shot by movie stars, their family members, or others, showing scenes of early Hollywood or the stars enjoying  their leisure hours. Many of the films are in the Academy of Motion Pictures Arts & Sciences and the Academy Film Archive. On hand were Jane Withers, Bob Koster, and Neile Adams McQueen talking to Randy Hauberkamp and Lynne Kirste of the Academy about their home movies, featuring Steve McQueen, the indefatigable Jane Withers, and "home movies" from director Henry Koster of Gary Cooper in the early 1930s.
The Club TCM is also graced with displayed costumes and memorabilia on loan from Bonham's auction house. Bonham's also holds an appraisal session during the festival if you bring in your entertainment memorabilia. These items may also end up in the TCM/Bonham's Auctions if you are inclined to consign.
Sunday morning started out with a long line for the screening of The Hunchback of Notre Dame, that 1939 classic among a packet of other remarkable films from that year. This was Maureen O'Hara's first U.S film and starred Charles Laughton as Quasimodo. It also starred a young, good-looking and almost unrecognizable Edmond O'Brien as Gringoire. The movie was a big production for RKO at the time, and it has remained an excellent film.
Madeleine Stowe graced the stage to open The Philadelphia Story, the Katharine Hepburn/Cary Grant/Jimmy Stewart classic. I never get tired of seeing it, and here on the really big screen, I can appreciate even more Adrian's remarkable costumes. They are not only eye-popping in their own right but they thoroughly do their job in defining her character from steely goddess to humbled bride-to-be.
In her interview with IIleanna Douglas, Madeleine Stowe let-on that her early ambition was to become a film critic – luckily for us she was "discovered" and became an actor.
The photo below shows the second part of three sections of the line for The Philadelphia Story at the TCL Chinese. The lines were well managed and things moved along.
I also attended the thoroughly charming The Smiling Lieutenant with Maurice Chevalier, Claudette Colbert and Miriam Hopkins. Ernst Lubitsch directed this 1931 musical. Lubitsch fell for Hopkins, and starred her in several of his films.
The Reign of Terror, or The Black Book as it's also know by was a film noir set in revolutionary France. It was a very good movie although it was not good history. Anthony Mann directed Bob Cummings and the beautiful Arlene Dahl.
The documentary program The Dawn of Technicolor was excellent. this presentation was based on the book by David Pierce and James Layton, and clips from the early musicals of 1929-1930 were shown. After the advent of sound, the studios spent money on adding color to attract larger audiences into their expanding markets. Rare clips were shown as many films thought lost are recent discoveries and in some cases only segments survive.
It was also a thrill to see 42nd Street on the big screen. The combination of wise-cracking chorus girls, great Busby Berkeley numbers, and the wonderful lead of Warner Baxter in a cast of Ruby Keeler, Bebe Daniels, Ginger Rogers, Dick Powell, George Brent and Una Merkel was real pleasure.
Many more movies were outstanding, including the Diary of Anne Frank, Breaker Morant, Roman Holiday, Rebecca, The Proud Rebel, My Man Godfrey, My Darling Clementine, Marriage Italian Style, and The Apartment among many others.
I was happy to have started out the 6th Annual TCMFF with friend and fellow bloggers Kimberly Truhler and Kellee Pratt. And here's to TCM for bringing these great movies to us on the large screen and in great prints or fine digital copies. So here's looking forward to the 7th annual TCMFF and a recovered Robert Osborne.