The grand 20th Century-Fox studio has a long history of producing notable films supported by great costume design. The 20th Century Fox studio has been part of 21st Century Fox Corp, but has now become part of the Walt Disney Company since the buy-out of most of that corporation's assets in December 2017. The studio had its roots as the Fox Film Corporation, started by William Fox in Fort Lee New Jersey, then the film capital of the U.S.  Fox sent his rep Sol Wurtzel to Hollywood to set-up a west coast studio in 1917. With the advent of sound pictures, Fox bought the Movietone system of sound on film. Later when the studio expanded to some 300 acres west of Beverly Hills between Pico and Santa Monica Boulevards in 1928, it was named Movitone City. But William Fox lost control of Fox after the crash of 1929, and the studio ultimately merged with 20th Century Pictures in 1935. 20th Century Pictures had been formed in 1933 as a production company by Joseph Schenck and Daryl Zanuck. They were leasing studio space at Samuel Goldwyn's studio until the merger when they took over the Fox lot and Daryl Zanuck became head of production.
Whether as Fox or 20th Century-Fox, a variety of costume designers worked at the studio, and usually left before creating a distinctive studio style. There was no Adrian/MGM, Orry-Kelly/Warner Bros., or Travis Banton or Edith Head/Paramount, combinations here.  Fox started with Sophie Wachner, a former teacher turned  Broadway costumer.  The noted English designer Dolly Tree came in to design films for Greta Nissen and Conchita Montenegro, then David Cox joined her from MGM in 1932. Earl Luick , an accomplished designer followed. Adrian gave him his first job as an assistant designer on C.B. DeMille's King of Kings. He designed many of Fox's notable films, including Cavalcade, Black Swan, Springtime in the Rockies, and The Oxbow Incident. He stayed through the merger and for 10 years in all.  Costume designer Royer (Lewis Royer Hastings) also came to Fox in 1933 . At about the same time, Gloria Swanson made a movie for Fox: Music in the Air (1934). She brought in her own costume designer that she met in Paris: Rene Hubert. He ended up staying for several years. Meanwhile, Rita Kaufman became "fashion creator." She mostly had her sketch artists or young designers do the designing while she selected gowns and dresses from Hattie Carnegie.  A major new star but former movie bit player came to the studio, discovered when dancing in a movie lobby by songwriter Jay Gorner: Shirley Temple. The movie she would star in was  Stand Up and Cheer!   Rita Kauffman was credited with the costume designs but for Shirley's big "Baby Take a Bow" number, her mother had her wear her own polka-dot and ruffled dress. The combination of Royer or Gwen Wakeling designed most of Shirley Temples costumes after that.
A talented newcomer also joined the ranks in 1936, Helen Rose, future head designer of MGM. She wasn't there long as Kaufman and most of her staff were swept away along with Fox production chief Winnie Sheehan with the merger, but she did get to work on some notable films.
With the merger of Fox with 20th Century, Daryl Zanuck put Arthur Levy in charge as general manager of the wardrobe department.  The manager was not a designer but ran the department: its finances; hiring personnel; purchasing supplies; workflow, etc. Costume designer Royer had came to Fox in 1933 and stayed until 1939. He designed for Loretta Young who had come along with Daryl Zanuck. Royer's  beautiful costumes for her appeared in  Love is News, Cafe Metropole, Suez, and Wife, Husband and Friend.  He was now doing most of the designing with newcomer Gwen Wakeling, whom Zanuck hired.. They both designed the costumes for the biggest star on the lot – Shirley Temple. Costume designer Gwen Wakeling, had started in the mid-1920s with C.B. DeMille, and had become  one of 20th Century's key designers. The two designers got along well, especially in their complaints about Zanuck's wardrobe budget and having to remake old clothes rather than making new. It seems the merger had put the studio in debt and the Depression hadn't helped. In 1939 both designers left. A replacement was found in Travis Banton, the brilliant but alcoholic former designer at Paramount. He designed some notable films during his tenure in 1940-1941: The Mark of Zorro (with Tyrone Power and Linda Darnell); Tin Pan Alley (with Betty Grable & Alice Faye); That Night in Rio! (with Alice Faye, Don Ameche & Carmen Miranda); Blood and Sand (Tyrone Power, Linda Darnell & Rita Hayworth);  and Moon Over Miami ( Betty Grable & Don Ameche). One designer that stayed was Herschel ( Herschel McCoy). He was at Fox from 1935 until 1943. He designed mostly B pictures early in his career but got better assignments in later years. A costume sketch by Herschel for Carole Landis in Cadet Girl (1941) is shown below.

Men's costume design for period or genre films also had a nebulous history at Fox. The Samuel Goldwyn studio had designed costumes for the 20th Century studio, and Omar Kiam had done a couple of their big productions including male costumes. After the merger Sam Benson, a costumer, handled most of the men's costumes. Fox had hits with two movies in 1939, The Adventures of Sherlock Holmes and The Hound of the Baskervilles. The films starred Basil Rathbone and Nigel Bruce, and their distinctive costumes, especially Sherlock's "deerstalker' hat and Inverness cape, were designed by Marjorie Best. A costume sketch for Basil Rathbone as Sherlock Holmes is below.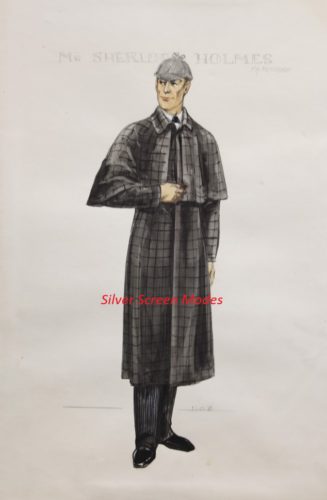 A new era began at 20th Century -Fox when Charles LeMaire took over as general manager of the wardrobe department. LeMaire had been designing costumes on Broadway since the 1920s. He had even turned down Adrian for a job on Broadway. When he took over in 1943, Fox (hereafter the shortened term for 20th Century-Fox in this post), was down to one designer. As head of the department, Le Maire brought in several designers. One was the versatile Yvonne Wood who could do men's costumes, musicals, or Carmen Miranda's silly hats. Kay Nelson designed the beautiful and symbolic Leave Her to Heaven with Gene Tierney. William "Billy" Travilla would design Marilyn Monroe's sexy outfits. Mary Wills, previously at Goldwyn, would design a variety of films, and Emile Santiago would do biblical films like The Robe. 
A rising star named Lena Horne was loaned to Fox from MGM to make Stormy Weather (1943), one of the first films with an all black cast: including Bill Robinson; Fats Waller; Cab Calloway; Dooley Wilson; Ada Brown, and the NIcholas Brothers. Helen Rose designed knock-out gowns for Lena Horne and the film had great musical numbers by Cab Calloway and the Nicholas Brothers.  Lena returned to MGM and Helen would soon join her  there.
After Shirley Temple's heyday, Alice Faye made consistent hits for  the studio. She started her career there in 1934 and both sang and starred in her films through the early 1940s. She was often paired with either Don Ameche or Tyrone Power and with the latter made musical romantic comedies.  She starred in several hits including; You Can't Have Everything; In old Chicago; Alexander's Ragtime Band; Hello Frisco, Hello; and Lillian Russell.  Alice Faye had a figure more typical of the (or more popular) 1950s. Still, she was well served by The designers that dressed her in most of her films: Royer, Gwen Wakeling, Travis Banton. and Helen Rose.
Betty Grable  came to Fox in the 1940s. She had a number of hits including:Tin Pan Alley (1940); Moon Over Miami (1940); Coney Island (1943); Pin-Up Girl (1944); and The Dolly Sisters (1945). She ran the gamut of Fox designers, using, in the same order as the listing above: Travis Banton, Travis Banton, Helen Rose, Rene Hubert, Orry-Kelly, and Orry-Kelly. She would also use Rene Hubert for When My Baby Smiles at Me, and The Beautiful Blond from Bashful Bend (both 1948).
Bonnie Cashin was one of the costume designers that worked a few years at Fox. She had a different aesthetic that most, and her style would make a fashion trend starting with Laura (1944), starring Gene Tierney. She created a relaxed, sporty style of dress, and Gene Tierney's cloche-like rain hat started a fashion trend. The costume sketch above is for Gene Tierney in Laura. Bonnie Cashin went to New York in 1949 to design sports clothes, starting her own line in 1952.
Charles LeMaire is shown with costume designer Emile Santiago at his left above after both won Best Costume Design (Color) for The Robe.  Gene Tierney is at right, and a model at left wears a classically draped gown inspired by the costume designs for  The Robe.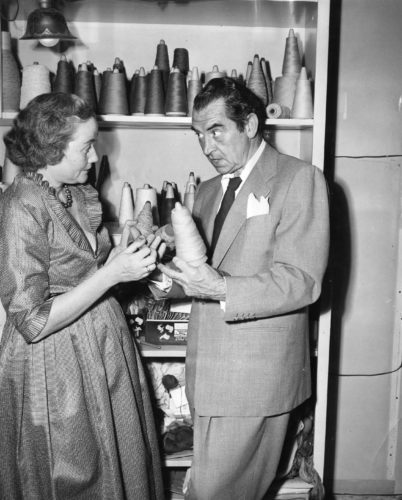 Charles LeMaire at right confers with Dorothea Hulse about the right yarns to use for costumes in The Robe. Below is a costume sketch by Emile Santiago for a character in the movie.
Costume designer Mary Wills was another very talented designer who could work in historical periods as well as contemporary. She had a Master's Degree in Art and Drama from Yale. Below is one of her costume sketches for Bette Davis in the role of Queen Elizabeth in The Virgin Queen (1955).
Costume Designer Dorothy Jeakins also joined the designer staff at Fox in 1952, during the seemingly bulging staff period of the 1950s. She had been the first designer to win a Best Costume  Oscar when that category was first launched in 1948, this for Joan of Arc (for Walter Wanger Productions). She shared the award with Barbara Karinska. At Fox Ms. Jeakins designed several notable films, including: My Cousin Rachel; Niagra (with Marilyn Monroe); Titanic; Three Coins in the Fountain; and South Pacific. Ms. Jeakins later received  the Women in Film Crystal  award in 1987.
When Marilyn Monroe started getting popular, with Don't Bother to Knock in 1952, William Travilla (Travilla) started designing her wardrobe. Her outfits got sexier and sexier as she became more and more popular. Her dresses have became iconic, and have set records on the auction market ( see https://silverscreenmodes.com/the-10-most-expensive-movie-star-gowns/ ).
Marilyn Monroe's The Seven Year Itch (1955) "Subway" rayon crepe halter top dress with pleated skirt designed by Travilla sold at the famous Debbie Reynolds-Profiles in History auction in 2011 for $5.5 million. Travilla could not only design sexy dresses and gowns for Marilyn, but also wild stage costumes like the costume in the Tropical Heatwave number from There's No Business Like Show Business, shown below.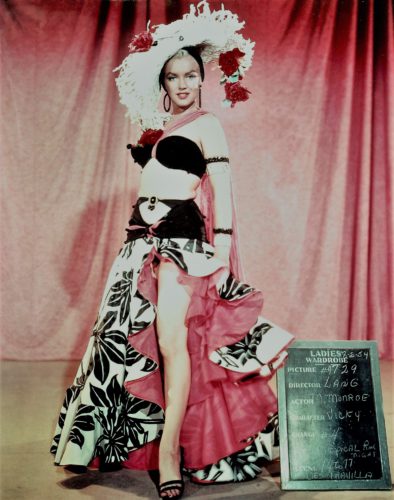 Fox continued producing musicals, after early hits with the Betty Grable films. In1956, Fox produced Rodgers and Hammerstein's Carousel, starring Shirley Jones and Gordan MacRae. The costumes were designed by Mary Wills, depicting the characters of a 19th century New England fishing village. Below is a Mary Wills costume sketch for Shirley Jones  for the scene where they sing "If I Loved You."
The serious theme of Carousel hindered its popularity at the box office, but Fox's next musical proved to be a hit. The King and I, based on Rodgers and Hammerstein's  musical play, starred Yul Brenner and Deborah Kerr. Irene Sharaff had designed the Broadway stage production's costumes, and she was brought in to design those for the movie. This included the Siamese (Thai) costumes and the mid 19th century outfits for Deborah Kerr. Miss Kerr's skirts were filled out with real iron hoops, held in place by fabric stringers.
Fox films were not all musicals. In 1959 they made a very serious movie directed by George Stevens – The Diary of Anne Frank. The role of Anne was played by Millie Perkins, with a cast including Shelly Winters, Ed Wynn, and Joseph Schildkraut. Mary Wills designed the costumes. She was nominated for a Best Costume Oscar.
As television started eroding movie attendance, the studios started experimenting with various methods of attracting an audience with which TVs could not compete. In the 1960s, such means included increasing use of 70mm film, Panavision, and the Cinerama theater. Another method was to produce lavish spectacles. Thus Fox embarked on the huge undertaking of producing Cleopatra. Producer Walter Wanger began the project in 1958, with some footage started in England with Rouben Mamoulian directing and starring Elizabeth Taylor as Cleopatra, but with no male lead determined. Elizabeth Taylor fell ill and and this footage was scrapped with production moving to Italy in 1961.  A new director was hired in Herbert Mankiewicz, and two new male leads: Richard Burton as Mark Antony and Rex Harrison as Julius Caesar. Shooting began in the spring of 1961, with the budget now at $12 million. Filming was done on  sets constructed at Cinecittà studio in Rome, sprawled over eleven acres of the back lot, and shot on seven soundstages. Villages up and down the coast of Italy would also be used for location shooting. The total cost of production when finished was said to be $32 million, the most expensive movie ever made. Marketing costs would be extra. Elizabeth Taylor had 62 costume changes, a record, with her winged gold ceremonial entrance costume costing some $4,700 (worth $37,800 today).
Costume designers Irene Sharaff, Renie, and Vitorio Nino Novarese won Oscars for Best Costume design for Cleopatra. As was common for the period (then and now?) producers insisted that female costumes be made sexy, even if dubiously accurate for the period.
Although Cleopatra did pretty well at the box office, it was far from making back its costs. The result in fact was that it practically bankrupted Fox, and production of several films was halted at the studio.
Fox had another conventional musical hit with The Sound of Music in 1965, but the times were changing for the studios, for audience expectations, and in moviemaking. Travilla was one of those designers that moved easily into the 1960s fashion scene. Fox was looking for a best-selling book to produce as a movie and landed on the lusty, pop-culture hit Valley of the  Dolls, Jacqueline Susann's first book about three brassy and ambitious young women on the make in Hollywood, fuelled by pills and dreams.
Travilla is shown below amidst his costume sketches for Valley of the Dolls (1967) a cult favorite starring Sharon Tate and Barbara Parkins. Judy Garland was slated for the role of Helen Lawson, but was replaced when she showed up drunk on set.
One of Travilla's costume sketches, below, is for Sharon Tate at a scene at the once famous but now gone Chassen's restaurant. It is also shown at bottom left in the photo (with hair later modified). Travilla started a line of clothing based on Valley of the Dolls that were merchandised in several department stores.
The following year, Fox went out on a limb making a movie based on  a story by Pierre Boule called Planet of the Apes, the movie became a surprise hit. Another movie where Fox went out on a limb was Myra Breckinridge (1970), starring Mae West and Raquel Welsh. This notoriously camp movie involves the sex change operation of the film critic Myron Breckinridge (played by real critic Rex Reed), into the post-op Myra, played by the sexy Raquel Welsh. Nobody on set seemed to get along, especially with the director Michael Sarne, and even less between Mae West and Raquel Welsh. West had costume approval for her own costumes, designed by Edith Head, but also those of Raquel Welsh, which irked Welsh considerably. Raquel's costumes were designed by Theadora Van Runkle. The costume sketch below is a costume sketch for Raquel Welsh from the movie.
On its release the reviews stated it was one of the worst movies ever made and it was a complete flop.
20th Century-Fox had lost money from 1969 through 1971. Years earlier in 1961, under then head Spyros Skouros, Fox sold  their 260 acre L.A. westside backlot (the old Movietone lot) for $43 miliion. The area is now known as Century City, a commercial property-rich environment worth tens of billions today.
Like MGM did in 1970, Fox would also hold a big auction of their costumes, props, art, and vehicles in 1971. The costumes included many of Marilyn Monroe's, which were bought by Debbie Reynolds. These and other costumes from the auction have since been sold and resold, and we hope are being well cared for.
20th Century-Fox  went on to profitability in 1974 with Towering Inferno (which  it co-produced with Warner Bros.) and then with a block-buster called Star Wars in 1977. By  then, the studio system had disappeared, and costume design and fabrication was done outside of the studios. Costume designers and their talent persevere, but the collaboration of studio designer and star is long gone.
READ MORE ABOUT COSTUME DESIGN AT THE STUDIOS IN MY FORTHCOMING BOOK: