An Honorary Academy Award was  given to Piero Tosi on November 16,  2013  after a career of fifty years as a costume designer, and with five Best Costume design nominations.  He has worked on major international films and with stellar film directors, yet few people know his name.  He is now 87 years old and fears flying, so he did not attend the Academy's Governors Awards ceremony, where fellow winners included Steve Martin and Angela Lansbury, with Angelina Jolie receiving the Hersholt Humanitarian Award.  Claudia Cardinale accepted on his behalf. The Governors Awards are presented in advance of the regular Oscars.
Piero Tosi's career spans back to the 1950s. His first significant period film was Senso, directed by Luchino Visconti, with whom Tosi would work on many films. It co-starred Alida Valli and Farley Granger. She plays an Italian countess, he plays Austrian lieutenant Franz Mahler. Tosi was born in Florence amid art, and studied at Florence's Accademia di Belle Arti.  Both his appreciation for art and his knowledge of art's history as a living and breathing heritage is evident in the design of his costumes.
Senso was an early preparation to tackle Italy's own Gone with the Wind: Il Gattopardo or The Leopard, based on the masterpiece novel by Giuseppe di Lampedusa. The film version was also directed by Luchino Visconti. The story is set in Sicily in the early 1860s during the Risorgimento, a time of political upheaval.  The story centers on the patriarch of an aristocratic Italian family played by Burt Lancaster, who  sees the arrival of the passing of his way of life. Lancaster's voice was dubbed in Italian. His role was questioned at the time, but it helped get financing from 20th Century-Fox. And to his credit, his gravity and maturity, matched by his still evident masculinity, were perfect for the role.  The director, Visconti was himself of noble Italian birth, even though he had become a communist, thus making a movie of this novel was one where his artistic  eye and understanding of the old aristocracy added the needed depth.  Martin Scorsese called the film, "One of the greatest visual experiences in cinema."
The time period when the story opens is 1860, a period that is generally known as the Victorian era, and that would shortly lead to the Civil War in the U.S. Italy had its own political and military upheavals in efforts to unify the country, which had been divided into territories ruled by separate monarchs and invading countries.  The full Victorian style of dress we know from Gone With the Wind and other period movies is fully developed in The Leopard, only with more vivid color and detail. At the time of GWTW's filming, many restrictions were placed on the colors of the costumes because of the demands of Technicolor. This is well documented in the frustrated memos from David Selznick and costume designer Walter Plunkett.
Claudia Cardinale and Alain Delon in "Il Gatopardo" or "The Leopard," 1963.
Claudia Cardinale plays Angelica Sedara, the beautiful Mayor's daughter, though she was still a commoner. Alain Delon plays Tancredi Falconeri, Prince Don Fabrizio Salina's (Burt Lancaster's)   handsome and dashing nephew.
Piero Tosi designed 300 costumes for the Ball  scene alone. The Tirelli costume workshop in Italy fabricated all of the costumes for the film. We usually think of dark colors when picturing the 1860s, which is mostly based on all the mourning dress worn during the Civil War in the U.S. and the fashion set by Victoria after the death of her husband in 1861. But on the continent the styles where vivid and full of lively patterns and textures. The women's  costumes designed by Tosi are magnificent.
The entire Ball scene was filmed in Sicily, during August in full summer heat. "Everything was melting under my eyes," said Tossi when interviewed for the Hollywood Reporter.
 While the film has many incredible scenes including battles, the Ball scene is a spectacle, lasting 45 minutes and a joy to watch. It is actually a party and has its own tempo, from arrivals,  through group conversations, to dances and a crescendo including the dance of the Prince and Angelica. These two are made to appear as a perfect pair, yet so much divides them – age, class, and more. The theme of the entire movie is reflected in this ballroom scene, indeed as it is in the contrasting bravura and sense of mortality shown on Burt Lancaster's face. 
Piero Tossi received his first Academy Award nomination for Best Costume Design for The Leopard.
The same year Tosi got to work on a very different picture, a contemporary movie directed by Vittorio De Sica starring Sophia Loren and Marcello Mastroianni; Yesterday, Today ,and Tomorrow. This made for a very sexy film pairing Sophia and Marcello, and it won an Oscar for Best Foreign Language film.
The following  year Tosi got to work on another contemporary movie directed by Vittorio De Sica and also starring Sophia Loren and Marcello Mastroianni;  Marriage Italian Style. Sophia Loren would become one of his favorite leading ladies, along with Claudia Cardinale, Silvana Mangano, and Anna Magnani.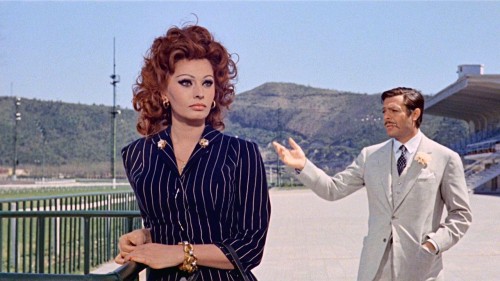 And then for something completely different, there was working with the great Federico Fellini, only this was for Fellini Satyricon – that 1969 episodic movie of the absurd set in the Roman Empire.
Tossi paired again with Visconti in The Dammed (1969). The movie was a beautifully filmed and very well acted but haunting and decadent depiction of the rise of Naziism in pre-war Germany. It starred Ingrid Thulin, Charlotte Rampling (shown below), Dirk Bogarde, and Helmut Berger.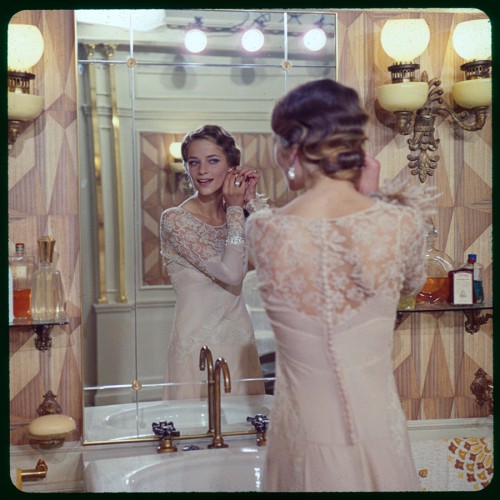 Charlotte Rampling in The Dammed
 Piero Tosi was paired again with Luchino Visconti in Death in Venice, the film based on Thomas Mann's novella but with the protagonist changed from a writer to that of a character based on composer Gustav Mahler, whose symphonies form the movie's soundtrack.  The lead actor is Dirk Bogarde, who travels to Venice and the Lido with his wife, played by Marisa Berenson, after the death of their son. Thus the film has an air of melancholy. Bogarde enters into a fascination with the young son of another hotel guest, played by Bjorn Andresen, whose mother is played by Sylvana Mangano. It is a very slow-paced but beautiful film that people either love or can't bear to sit through.
Below is a costume sketch by Tosi for Sylvana Mangano's character in the film from 1971.
 In the photo below, Piero Tosi adjusts the costume for Sylvana Mangano  near the beach at the Lido during filming of Death in Venice.
 Sylvana Mangano at left below is shown with Bjorn Andresen who plays her son. Tosi received his second Oscar nomination for this film.
Piero Tosi's technique for sketching costumes is displayed again below in a design for the film L'Innocente, in 1976. Tosi believed in capturing the essential features of the costume in the design sketch without laboring over it in trying to impress directors or stars. The sketches nonetheless convey style, beauty and an air of mystery that remains for the film to fully develop.
Piero Tosi's range and talent was further put on view in the Franco-Italian  film La Cage aux Folles (1978 ), which was the forerunner of the American film Birdcage. The costume designs were not only for Michel Serrault at left and Ugo Tognazzi, the "Cage aux Folles" Cabaret owner and his partner, but for all the entertainers and straight characters too. Tosi received his fourth Oscar nomination for this very funny but heart-warming film.
In 1982, Tosi designed the costumes for Franco Zeffirelli's La Traviata, a film-based opera production starring Placido Domingo and Teresa Strata. For this film he received his fifth and last Oscar nomination for Best Costume design. He has designed costumes for nearly 70  films, most recently for a short in 2009. He teaches his craft in Rome at the Centro Sperimentale di Cinematografia.
Piero Tossi has been most deserving of an Academy Award for his several nominations, most especially for The Leopard. That he received an Honorary Award this year is his due. But for the first year the Costume Designers have their own branch of the Academy of Motion Pictures Arts and Sciences. And thus for the first time the Costume Designers Branch are represented by three members on the Board of Governors of the Academy (all branches have three representatives). One Board Member, costume designer and Chair of UCLA's Copley Center for Costume Design, Deborah Nadoolman Landis, has in particular lead the effort to recognize Tossi's work. The other two Costume Designers Branch representatives are Jeffrey Kurland and Judianna Makovsky. When Piero Tossi won his award it was a great day for all costume designers.