The era of classic men's fashion heard a notable crack to its foundation with the announcement that Carroll &Co., Beverly Hills, clothiers to Hollywood stars and professionals for 70 years was closing by the end of January 2019.  Carroll and Co., was the last of the quality men's stores in Beverly Hills, squeezed out by a variety of economic factors. Company President John Carroll's father opened the store after World War II because  he loved fine clothes and there was no availability on the West Side of L.A.  He was a Publicist for Warner Brothers,  and it wan't long before movie stars that liked  dressing well became regular customers: Fred Astaire; Cary Grant; Gary Cooper; Clark Gable; Gregory Peck; and Frank Sinatra, among others.
Store founder Richard Carroll made buying trips to England for fabrics and collections. He preferred the English gentleman's look, a style he wore himself.  This was a connection with Gary Cooper, Fred Astaire, and Cary Grant: three style setters among American actors of the 1930s, 40s, and beyond.
Gary Cooper was one of the most contradictory figures in Hollywood. His childhood was split between a cattle ranch in Montana and "proper" schooling in England where his parents were from. He broke into film as an extra and stunt horseback rider. Better looking than the lead actors, it didn't take long for him to get good roles in the late 1920s. His first major role was starring in The Virginian in 1929. His stardom was cemented the following year, 1930, in Morocco opposite Marlene Dietrich. With Valentino's passing some years earlier, Gary Cooper was now the major heartthrob in Hollywood.
Cary Grant was another dapper Englishman and customer of Carroll & Co. He learned by aspiration how to dress as a gentleman. He was born in Bristol England to poor working class parents and was in Vaudeville at an early age. He re-made himself in America and his good-looks and put-on charm moved him quickly from New York to Hollywood.
Cary Grant always had a keen sense of his own style, both in clothing and in his film roles. He rarely swerved from either romantic or humorous leading man. His few exceptions in character still had him looking good ( I Was a Male War Bride's gag scenes an exception). He paired well with Katharine Hepburn, Ingrid Bergman, and Sophia Loren (to whom he fell in love with).
In addition to his custom suits from Carroll & Co., Cary Grant had his suits made at Dunhill in London, and his sporting and leisure clothes  from  Abercrombie & Fitch. In spite of his solid blue gray suit from North by Northwest, most of his suits were of a plaid woolen.
The actors mentioned in this blog, especially the first three, were all equally talented at dressing well in leisure as in formal clothing. This is a style that has virtually disappeared, regrettably.  Cary Grant below shows one example. Carroll & Co., supplied handsome casual attire to these customers.
Fred Astaire was an early example of an American gentleman always well-attired. Despite his frequent  "black-tie and tails" look in the movie musicals, he never enjoyed wearing tuxedos. He grew up on the stage in vaudeville, in an act with his older sister. She retired from the stage when she married Lord Charles Cavendish, Duke of Devonshire. Fred traveled frequently to England and learned the dress and manners of the English upper class. He still maintained contacts with the diverse world of dancers and musicians of Vaudeville, Broadway and Hollywood.
Fred Astaire had his own style of dress based on fine tailoring and quality clothes. On film he liked colored socks that drew attention to his feet in dance. Always slim, he used ties as belts.
Fred liked three-piece suits, and was bold enough to wear both a pocket handkerchief and a boutonniere.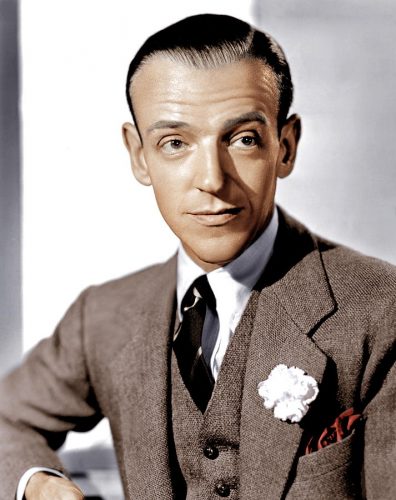 Gregory Peck came up from the stage, in New York and in his native La Jolla California. His career developed slowly in the 1940s, despite his obvious good looks. He had a string of hits with Spellbound in 1945, The Yearling in 1946, and Gentleman's Agreement in 1947. Peck was of the post-war generation of actors that had a more relaxed style of dressing, yet still looked smart. Below Gregory peck wears a tattersall shirt with chino pants.
Paul Newman could also looks great in relaxed yet stylish casual outfits. Here he wears a Navy blue cardigan over a t-shirt, with chinos. The photo cuts off the shoes, which were blue Converse sneakers. Suede loafers would also be stylish. The I.D. bracelet or "slave bracelet" that Newman wears was always a stylish man's accessory. It's too bad they went out of fashion. 
I keep hearing that men's style is coming back (as in more stylish). Granted I live in Southern California where dressing has been very relaxed for a long time. I'll keep looking, and hoping, that the perennial popularity of these actors' films will have an influence.