The role of fabric in the work of costume and fashion designers is always crucial. One textile designer was often seen but rarely heard. This post will feature the textile designer Pola Stout, and how her exquisite woolen designs were used by designers Adrian and Irene, as well as Edith Head, Pauline Trigere, Mainbocher, Bonnie Cashin, Muriel King, Valentina, and others.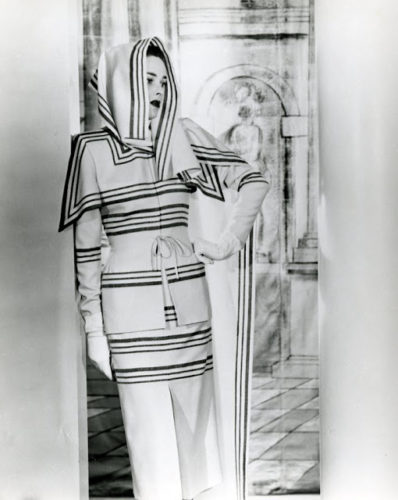 Pola was born in Poland but defied her parents by going to Vienna to study art at the Kunsgewerbe Schule. She studied textile design and hand-looming under Professor Joseph Hoffman. At one period, out of money, she slept on a park bench for six-weeks. But she shortly joined the famed Wiener Werkstatte where her works were exhibited and sold. Subsequently she received a special mention for hand-looming at the 1925 Paris Exposition des Arts Decoratif (from where the term Art Deco was coined). The young Pola was well on her way to making a name for herself.
Always looking for the new frontier, Pola visited the U.S. and soon after moved here. She then began designing textiles for Dunhill in 1934. In the U.S. she also met and married the best-selling author Rex Stout, famed for his Nero Wolfe mystery stories. They had two daughters, Rebecca and Barbara.
Both Adrian and Irene (Lentz Gibbons) began using Pola Stout fabrics in the late 1930s. Irene was still designing for Bullock's Wilshire, and Adrian was at MGM when they began using Pola's woolens. Soon after, the two costume and fashion designers traded places. Irene took over Adrian's job at MGM and Adrian joined the fashion industry when he opened his own fashion line. Adrian then began using Pola Stout fabrics extensively for his suits, capes, and coats. Adrian so admired Pola's textiles that he named one of his suit designs, Woven Joy. He named the suit above, Symphonic Traveler. Adrian said of her woolens, "Often the complexity of the material is a challenge and I try to simplify my approach as well as retain as interesting a use as I can possibly make of the fabric." Looking at some of Adrian's suits, one isn't sure if this is one of his facetious comments or not as far as simplifying goes. He certainly made them interesting.
Pola then began designing for Botony Mills in 1940, where she designed the "Botony Perennials" collection each season. She would also design limited edition textiles for several fashion designers, those that she worked closely with through Botany Mills. Thus, the designers could have their own custom look and color palette designed by Pola. These new textile designs were so beautiful that the upscale B. Altman's 5th Avenue store in New York devoted all its windows to the Botany Perennials one season.

Pola would begin her design process by drawing lines on paper with color crayons. The vertical warp yarns would be in two or more colors and the horizontal weft yarns would often be woven in the same color sequence. But with all her color variations, Pola always had in mind the functionality, durability, and timeless appeal of her textile designs. She stated, "In developing Botany Perennials I visualize all kinds of American women interested in building a sound wardrobe, and I try to make that wardrobe something basic in style and wearability, something they can depend on." And indeed the idea of the "Perennials" was that you could match skirts, jackets and coats in the same five-color harmonies, and from one season to the next.

Pola subsequently started her own company in 1946 with a mill in Philadelphia. She would design her own textiles for these looms, where she would have multicolored wool yarns woven into "blankets" that would be sold to the various designers and exclusively to certain department stores. The textile workers were very devoted to her and her artistic vision.
The suit shown above was designed by Adrian and made from a Pola Stout striped woolen. Both Adrian and Irene loved to use stripes in various patterns in their suits. Adrian needed his stripes to be unique in order to avoid looking common. They both insisted on impeccable matching of lines in their creations. Adrian liked to cut the Pola Stout blankets into mitered patterns that would then be re-assembled into right-angles and other patterns in his suits. He also liked to use large color-blocking elements from those bolder sections of Pola's blankets in his suits.
The innovative use of stripes in women's suits by both Adrian and Irene using Pola Stout woolens has not been matched in the sixty plus years since their last design collections.
The Adrian suit below of Pola Stout woolen  is a marvel of checks, with four different sizes. The jacket has an asymmetrical "slashing" of checks, increasing slightly in size as they go right to left and cross to the sleeve. They also go around to the back of the jacket. The skirt is also checkered.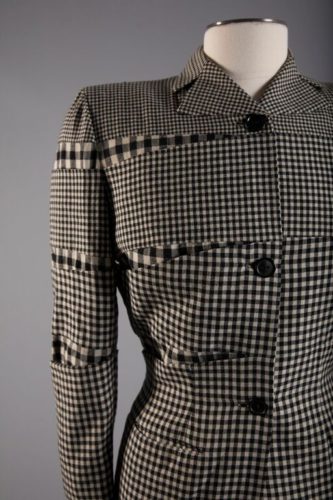 The image below shows an Adrian design for a hooded cape in the Grand Canyon colors of a Pola Stout woolen. In addition to the bold stripes are small polka dots in complimentary colors.
Pola generally believed in using five basic colors in her designs: blue; green; brown; black; and red. Combining these colored yarns, however, could create multiple effects. She would also  add white yarns to these basic colors to produce her varying shades. Adrian stated about one of his capes made from Pola's blankets in his 1950 collection, "In the case of a dramatic cape in my present collection…I did use the blanket – 54 inches wide by 3 yards in length, in its entirety."  Adrian's cape matched the colors and stripes of the suit underneath it, all from Pola's woolens. 
In addition to suits, Adrian also used Pola's woolens to make dresses. Above is one example made entirely of Pola's fabric, with various horizontal striping and blocking elements to create a unique design.
Pola Stout fabric swatches above are shown from Irene's fall collection, 1948. Irene designed fabulous suits and also used the mitering technique to form interesting geometric patterns.
Below are several photos of sections from Pola Stout woolen designs. The variety in her designs was fascinating and endless. It should also be recognized that these are fine woolens, though they may appear as shear cottons or flannels and each photograph represents approximately 30-36 inches across.
Pola Stout continued her life-long commitment to the design of high quality textiles. She was also devoted to the promotion of the textile industry in America. She would no doubt be saddened by the fate of that industry in recent times, although hand-weaving on looms is currently a thriving art and craft. Pola was recognized by an exhibition of her work at the Bennington College of Vermont in 1957. She gave numerous lectures at industry groups and at colleges and museums. She also became a lecturer and consultant at the Fashion Institute of Technology.
Growing up with their illustrious parents, Rebecca and Barbara knew they lived in somewhat unique circumstances. As school girls, Rebecca recalls that their mother made the clothes that she and her sister wore. They were no doubt the best-dressed girls in school, but Rebecca  now recalls that at the time they wished they could just be dressed just like all the other girls. The sisters are now very proud of their mother's artistic contribution to their lives and to that of her adopted country .
My thanks to Rebecca Stout Bradbury for sharing these amazing woolens with me and allowing me to photograph some of them shown here. The legacy of Pola Stout has uniquely enriched the heritage of fashion design and textiles in the United States.