The eighth annual Turner Classic Movies Film Festival and the eighth one I've attended was held April 6-9 2017 in Hollywood. Each year has been different, but with the consistency of great classic films shown in the same venues, and with as much of the talent as TCM can gather together, each year is very much the same. True, we have missed the great Robert Osborne as MC the last couple of years. And this year TCM officially paid homage to him after his death just the month prior on March 6. Without irony, and perhaps as Robert would have wanted it, the theme this year was Make em Laugh: Comedy in the Movies.
With only the Classic Pass this year, I missed the Feature Premiere of In the Heat of the Night with Sidney Poitier, Lee Grant, Quincy, Jones and director Norman Jewison in attendance. After spending some time at the Academy's Mary Pickford Center with Anne Coco I dropped in to the Roosevelt Hotel and the "Club TCM" where  Bruce Goldstein was hosting "So You Think You Know Movies" quiz and team competition. This annual event is fun. On hand to pay homage to Robert Osborne was Diane Baker. his dear friend and Hollywood star. Clips were shown of her co-starring with Joan Crawford in Strait- Jacket.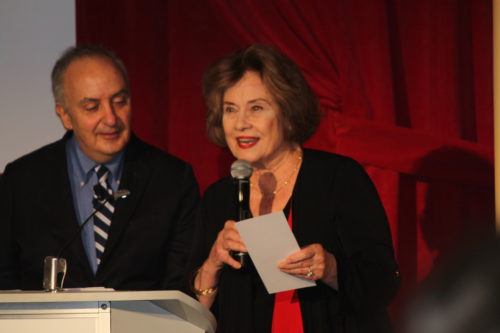 My choice for the Thursday night movie was the romantic-comedy Love Crazy (1941) with Myrna Loy and William Powell, their tenth and zaniest film made together. With co-stars Gail Patrick and Jack Carson it's a fast-clipped and wacky movie where love and marriage is tested but eventually wins out. As a student of film costume, although this film's costumes were uncredited, I would bet they were designed by Adrian. The film screened at the wonderful Egyptian Theater.  Beautiful interior and lots of seating so you can always get in. I ran into fellow blogger Kellee Pratt of Outspoken and Freckled and her husband Gary waiting in line. We talked more about dogs than movies, however.
The next morning started with the TCMFF's theme  of Make 'em Laugh on the big screen with the biggest assemblage of comedians ever cast for a single production: Stanley Kramer's It's a Mad Mad, Mad Mad World . It was screened at the fabulous Cinerama Dome, built in 1963.  This crazy comedy of a film was beyond analysis, so instead the discussion was about the technical aspects of filming the climactic last scene of a supposed public square with lots of  traffic  and a tall building and a ladder fire truck rescuing people. All of this was actually shot on a studio back lot. Craig Barron and Ben Burtt were on hand to talk about the making of the film. Ben Burtt is a legendary movie sound designer, having created the voice of R2-D2 and Darth Vader, among many others.  They talked about another legend: Linwood Dunn, the special effects designer of the Mad Mad World  that made the above possible. He started at RKO way back with King Kong.
I met fellow blogger Patty Schneider of The Lady Eve's Reel Life for lunch before we headed to a French film noir: Panique. This little known film gem is based on a Georges Simenon novel and stars the great French actor Michel Simon in the title role (the French title is Les Fiancailles de M. Hire). This is a very dark noir with an unblinking depiction of the cruelty of  mob mentality.
After the darkness of Panique, a comedy with W.C.Fields was welcome. He was featured in Never Give a Sucker an Even Break. This was a film from near the end of his career. The plot is a satire on Hollywood movies, with its best part being a car chase through Hollywood, Downtown L.A., and the current area where the Pasadena freeway merges into the I 5 north. This was in 1941 and looked much different. The movie was preceded by a hilarious short, The Barber Shop, from much earlier in his film career. I always enjoyed his satiric barbs, one-liners, and double-takes. Nothing like the tough training of Vaudeville to sharpen your skills.
After this was I was on to a pre-code classic starring Jean Harlow: Red-Headed Woman (1932), back at the Egyptian Theater. Cari Beauchamp introduced this as one of her favorite movies, even though it's one of the least feminist movies you'll ever see. Similar to Barbara Stanwyck's Baby Face, Jean Harlow starts at the bottom of society and sleeps her way up. Not without a few rough patches. but she always comes out ahead. Directed by Jack Morris, and co-starring Chester Morris. Harlow's slinky costumes were designed by Adrian.
One of of the films I didn't want to miss, a favorite of mine, is The Last Picture Show.  Director Peter Bogdanovitch was on hand to talk and answer Illeana Douglas' questions about the 1971 film. It starred Timothy Bottoms, Cybil Shepherd, Ellen Burstyn, and Jeff Bridges among others and was a multi-Oscar nominee including Best Picture and Director. It won Best Supporting Actor Awards for Ben Johnson and Cloris Leachman. Bogdanovitch related how he had wanted to make the the film using deep-focus cinematography, like Citizen Kane. Orson Wells told him not to film it in color. And besides, he added. "All the best performances are in black and white."  So Bogdanovitch asked the producer and was told he could. Bogdanovitch was also a fan of the John Ford westerns, and wanted Ben Johnson to play the role of Sam the Lion. But Johnson turned him down. "Too many words," he said about his part in the script. So Bogdanovitch turned to Ford for help. Ford said Johnson always said that about a script. But after Ford called him, Johnson accepted and called to tell Bogdanovitch he would accept – in what would become the most iconic role of his career. The director's cut was screened.
Another trot to the Egyptian to see a little known film noir, The Underworld Story (1950), Starring Dan Duryea and Gale Storm (the star of TV's My Little Margie). This film came out a year before Ace in the Hole and scooped that film's theme of a big-city journalist moving to the hicks and using scheming ways to drive up business to make a name for himself. This was a very good film and worth seeing. Eddie Muller of the Film Noir Foundation introduced the film, and  a newly struck 35mm print  courtesy of the Film Noir Foundation Collection at UCLA Film & Television Archive was shown.
Another film I didn't want to miss was The King of Hearts (Le Roi de Coeur) 1966. Directed by Philippe de Broca and starring Alan Bates and Genevieve Bujold along with a strong supporting cast. I hadn't seen the movie since the late 60's and I remembered it as a gem of social satire. During World War I the Germans occupy a small French town and leave munitions timed to blow it up as they leave. The locals get wind of this and leave town. Only those left in an insane asylum are left. When a lone Scots Black Watch "bomb disposal expert" is sent in he manages to escape the Germans by entering the asylum. After they leave, the inmates get out and find costumes to wear and assume roles they always wanted in life – from the mayor and firefighters, to whores and hairdressers. I was again enchanted by the wit and alternate world view of this film – where, in the end,  the inmates, and at least one of the soldiers,  prefer to live in the asylum than in the real world beyond the gates – where men continue to kill each other in warfare. Genevieve Bujold was interviewed before the film was screened.
The next film screening was a special event even by TCM standards. Sharing the experience with fellow blogger Patty Schneider of The Lady Eve's Reel Life, was the screening at the Egyptian Theater of The Black Narcissus. The fuss was about the projection of this Powell & Pressberger classic on nitrate film stock – a great early Technicolor copy owned by the Academy of Motion Pictures Arts and Sciences. In order to show it, the projection room at the Egyptian had to be retrofitted, courtesy of the Hollywood Foreign Press Association, TCM, the American Cinematheque, Academy Film Archive and George Eastman Museum. This work included having the room meet fire codes and installing a panic button in case of fire that would stop the projectors and drop metal louvers to encase them. The film itself was magnificent. It's a gripping story of a group of nuns sent to the other-worldly Himalayas to open a convent. They are challenged on all-fronts, including by the sensual lure of the Englishman who is the estate manager. Conflicts and jealousies also arise among the nuns themselves. The cinematography by Jack Cardiff is outstanding and the special effects by matte painters and other process work fill in the backgrounds for this outstanding film..
On Sunday I started off with Lured, a little known film noir/murder mystery/romantic melodrama /directed by Douglas Sirk starring Lucille Ball,  George Sanders, Charles Coburn, and  Boris Karloff, among others. Its a very well made and entertaining movie, with Lucille Ball playing a beautiful and alluring dance-hall girl turned Scotland Yard officer serving as bait for a serial killer. Boris Karloff's daughter Sara Karloff was present at the screening to talk about what a perfect English gentleman her father was.
I finished out the festival, before a long drive home, with one of the best screwball comedies, The Palm Beach Story by Preston Sturges. Although I had seen it multiple times, its showing on the big screen at the Chinese Theater was too hard to resist. I was not disappointed. With outstanding ensemble acting by Claudette Colbert, Joel McRae,  Mary Astor, Rudy Vallee, and character actors like William Demarest, Robert Dudley and Robert Warwick. not to mention the hilarious Sig Arno, the film is a jewel. The costumes for Claudette Colbert by Irene are worth the price of admission, and are some of the best contemporary fashions on film. And ending the TCMFF on this high note was definitely the way to go, especially missing out on the Closing Night Party. So until next year, so long and remember:
"Just us, and the cameras, and all those wonderful people out there in the dark."              Norma Desmond