The 9th annual Turner Classic Movies Film Festival was a full-card of film screenings and other events that thrilled every classic movie fan in attendance. This was my ninth year attending. The first couple of years were a bit chaotic in movie-line management, but now all has been ironed out. Every staff member and usher is helpful and knowledgeable  and one need only know what event one wants to attend (and that is hard enough). The one thing that remains constant is to remember to occasionally eat and sleep. If you have a smart phone, using the TCMFF app will be easier than carrying the program around, plus you get regular updates to changes and added screenings.
My 2018 TCMFF actually started early as I participated on a panel discussion at the Hollywood Heritage Museum for the program  Feud: Costuming Bette Davis & Joan Crawford. This was all about the TV mini-series FEUD, and featured Jay Jorgensen and me talking about the costumes of the stars and the show moderated by Louise Coffey-Webb.
The first film screening I attended was a surprise hit at the Fesival: Finishing School. I was relaxing at the Roosevelt/TCM lounge when fellow costume historian and blogger Kimberly Truhler told me a line had already formed for the screening. I chugged my drink and dashed accross the street (the long way around the block since the Chinese Theatre was blocked off). This film is  little known and stars the beautiful Frances Dee and Ginger Rogers. This was an RKO production, where Dee met Joel McRae and the two subsequently married. The film is about a "Girls" finishing school, or boarding school, where high school aged girls learn manners and refinement. Ginger is already a student and Frances learns rebelliousness from her, but after Dee gets all the blame, she adapts some attitude of her own. Soon she meets Bruce Cabot, a medical student and intern. As she gets restricted, her ability to see him gets more and more difficult. Wanda Tuchock wrote the screenplay and co-directed this 1934 film. Great acting by Frances Dee. Her grandson Wyatt McRae, shown below at right, was on hand to talk about the film and his grandparents.
The classic  Stage Door was the next film I attended Thursday night. Gregory LaCava's adaptation of George S. Kaufman and Edna Ferber's play, with Anthony Veillor's script (and ad-libbing), is a gem of a movie that everyone should watch – more than once. Hold your breath at the starring roles: Katharine Hepburn; Ginger Rogers; Lucille Ball; Eve Arden; Gail Patrick, Ann Miller; Andrea Leeds (steals your heart) Constance Collier; and Adolphe Menjou (the cad Broadway producer). This was The Women before there was The Women. It played at the American Cinematques's GRAUMAN'S EGYPTIAN Theatre. It was preceded by The Letter, One of Bill Morrison's unique films made of edited deteriorated remnants of silent films.
The next morning  I stood in line to see another favorite, the lesser known but wonderful The Miracle of Morgan's Creek, directed by Preston Sturges. It stars that spark plug on legs Betty Hutton (as Bob Hope used to call her), with Sturges regulars Eddie Bracken, William Demarest, and Brian Donlevy. This 1944 film's whacky but funny plot defies brief description – it just has to be seen.
How to Marry a Millionaire was a good follow-up movie, especially enjoyable on a big screen in Cinemascope. The plot of three women teaming up to catch some rich men had been done several times already by 1953, but combining Marilyn Monroe, Lauren Bacall, and Betty Grable was dynamite. Although William Powell was a catch that didn't quite last, Rory Calhoun, Cameron Mitchell, and David Wayne survived the test. Directed by Jean Negulesco, who remade  the story a year later in Rome with Three Coins in the Fountain.
A smart film was screened starring Deanna Durbin in her first big starring role: Three Smart Girls for Universal Studio, in what would be the upcoming star's single-handed job of saving the studio from bankruptcy. This Henry Koster directed film had Deanna Durbin and her two sisters, played by Nan Grey and Barbara Read, trying to prevent her divorced father from marrying a gold-digger. This to keep their mother from having a broken heart. Their schemes are complicated and highly entertaining. Also stars Binnie Barns, Charles Winninger,  Ray Milland, and Ernest Cossart. Bob Koster, pictured above, the director's son, spoke about his father's career and the movie.
An even longer line was formed for Leave Her to Heaven, a fabulous Technicolor film screened here at the Egyptian from a nitrate print from the Museum of Modern Art in New York. I attended with fellow blogger Patty Schneider aka The Lady Eve's REEL LIFE. The film stars Gene Tierney, Cornel Wilde, Jeanne Crain, and Vincent Price. This John Stahl directed film is unique in depicting Tierney as a twisted  personality, and is often described as a Technicolor film-noir. One is struck on first viewing it by the rich lush colors of the scenery and sets, and of Gene Tierney's beauty and initial magnetism (this was the 2nd time I had seen it at a TCMFF). Cinematography by Leon Shamroy.
Probably the best event of the Festival was Writing with Light, a panel discussion held at the American Society of Cinematographers Clubhouse. The event was moderated by director Taylor Hackford, and included cinematographers Amy Vincent, John Toll, Bob Richardson, Caleb Deschanel, and Stephen Burum. Taylor Hackford  asked stimulating questions that each cinematographer answered in turn. As a result, the audience got a lesson in what the cinematographer does, but also provided a fascinating series of anecdotes and stories about working with directors and on plethora of films, Highlights of their comnbined output includes: Braveheart;  TheThin Red Line; Cloud Atlas; Hateful Eight; Hugo; The Aviator; Kill Bill; The Horse Whisperor; National Treasure; The Natural; Being There; The Black Stallion; The Right Stuff; Mission Impossible; and The Untouchables among many others.
From left to right: Taylor Hackford; Amy Vincent; John Toll; Bob Richardson; Caleb Deschanel; and Stephen Burum.
Below is one of several early cameras on display at the Clubhouse, this was was able to pick up sound.
The next film I viewed was the under-appreciated The Adventures of Tom Sawyer, a David O. Selznick production done in 1938  while he was waiting for elements of Gone With the Wind to come together. Selznick used some of the production talent he would be wotking with in GWTW: art director William Cameron Menzies and costume designer Walter Plunkett. He also had James Wong Howe as cinematographer. Filmed in Technicolor, their on-set advisors gave a taste of the problems for the cinematographer they would cause on GWTW for costume colors. The director was Norman Taurog who worked with a large child cast as well as May Robson and Walter Brennan.  Cora Sue Collins who played the girl Amy Lawrence was interviewed about her role in this and many others. She had played  Queen Christina as a child in the Greta Garbo film and they had remained life-long friends.
An intriguing show was Cracking Wise, an edited medley of movie wise-cracks taken from dozens of films in the Paramount Archives. Rather than being Paramount films, however, these were mainly "B" films from the Republic Pictures (Paramount no longer owns the rights to their pre-1948 films). Paramount Archivist Andrea Kalas had assembled the clips representing the lines from many of the most clever Hollywood scriptwriters.
Always an interesting part of TCMFF, the Bonham's Hollywood Memorabilia appraisal session was held at the Roosevelt lobby. There was not much exciting this year, except for this Belgian Casablanca poster printed on fabric. Here Catherine Williamson from Bonham's, at far left, reviews the piece.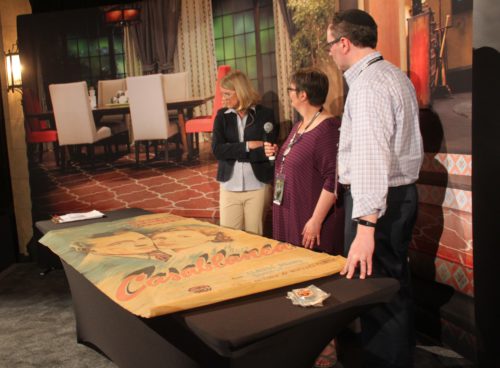 I had to skip out of the session to get in line for Places in the Heart, a special screening with both director Robert Benton (pictured at left below) and Sally Field in attendance. Sally Field received her second Academy Award for Best Actress for her role. They gave a lively remembrance of their working together on this excellent movie. She played a recent widower in  rural Texas trying against all odds to save her house and land by farming cotton with the help of an itinerant black man (Danny Glover) and blind roomer(John Malkovich).
My last film before a long drive home to San Diego was a favorite I couldn't miss on the big screen: Silk Stockings, starring Cyd Charisse, Fred Astaire, Janis Paige, Peter Lorre, Jules Munchin, and Joseph Buloff. This remake of Ninotcha as a musical featured  the last work of Cole Porter. The fabulous costumes were designed by Helen Rose  for Cyd Charisse as she is transformed from a Soviet commissar into a Parisian beauty. The other female cast also were dressed by Rose. And so I got to hum the numbers from  Too Bad (We Can't Go Back to Moscow), and Stereophonic Sound on the first part of my  high traffic drive. And remembering another great TCM Classic Movie Film Festival.
All Photos above by Christian Esquevin