Hollywood movies have a rich history of wild and outrageous costumes. My list of the "Ten Wildest" must be prefaced. I did not include show girl, chorine, or musical number costumes. If I had, Adrian would likely have taken all ten slots in his costumes from The Great Ziegfeld, and Ziegfeld Girl.  I also did not include fantasy, fairy tales, superhero, and science fiction movies, which precluded the great costumes from movies such as The Hobbit series, Snow White and the Huntsman,  the Star Wars series, and the fabulous Edward Scissorhands costume.
I did include the  costumes from historical characters on film, and from masked balls, which often depict historical characters, although with a bit of fantasy. Quite a bit as we'll see later.  The costumes skew to the 1930s. As has been written about elsewhere, so much energy was channeled into the movies as a release from the Depression and other societal pressures. This was especially true for film costume design. Well represented below are the great designers of that field: Adrian; Travis Banton; Walter Plunkett; Edith Head, and Irene Sharaff.
Your own list may be very different than mine. There are many costumes out there to discover. But to start out 2015, here's my ten wildest costumes of the last century on film. They are arranged in chronological order.
1) Alla Nazimova in SALOME. Costume design by Natasha Rambova, 1923
The Biblical story of Salome, the daughter of Herod II and the original femme fatal, is told in this film, based on the Oscar Wilde story. The sets and costumes were designed by Natasha Rambova, the wife and manager of Rudolph Valentino. Even Erte was an admirer of Rambova's style. She was born in Salt Lake City, and was not Russian. She did dance in the ballet and was very talented. She hired Adrian in New York to design costumes for Valentino, and was responsible for bringing him out to Hollywood with them. This costume was inspired by the book illustrations of Aubrey Beardsley.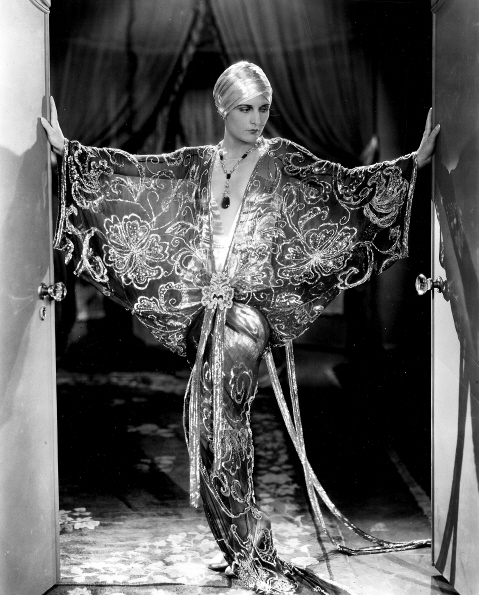 2) Evelyn Brent in SLIGHTLY SCARLET  Costume design by Travis Banton, 1930
Evelyn Brent plays the unwilling accomplice of a jewel thief in Paris and the French Riviera in this caper. She looks like a jewel herself in this Travis Banton "hostess gown."  The fabric was a sapphire blue chiffon, encrusted with crystal bugle beads. She wears no brassiere, definitely pre-code.
3) Kay Johnson in MADAM SATAN Costume design by  Adrian, 1930
This is a C.B. DeMille directed movie, which has to be seen if only for its Zeppelin Ball and "Ballet Mecanique" sequence. Kay Johnson plays a staid housewife that is losing the attention of her husband and so takes on the persona of "Madame Satan" at a party on a dirigible. The costume designed by Adrian had red sequins on the interior of the cape, flame-cut fabric that went up the bodice, flame shaped gauntlet gloves, and the horned mask. The velvet was not black but a dark purple that registered better on the black and white film.  See below.
4) Greta Garbo in Mata Hari. Costume design by Adrian, 1931
Certainly one of the most amazing costumes in movie history is this outfit made for Garbo in Mata Hari, its pants were made of gold mesh, the bodice of spruce green colored glass beads, and crystals, with a metallic scull-cap, jeweled-belt, and a bugle-beaded, long-trained skirt. Yet the costume was backless, a typical asymmetrical flourish of Adrian's, but one showing Garbo's vulnerability as Mata Hari the spy. Fifteen women worked three weeks to make the costume.
5) Marlene Dietrich in SHANGHAI EXPRESS. Costume design by Travis Banton, 1932
Marlene Dietrich plays "Shaghai Lilly" in Von Sternberg's film, playing a regular rider on the Shanghai Express, living by any means possible in China for a woman of her beauty and wits. Travis Banton dresses her to perfection for the role, the picture of allure that only the silver screen and the glamour photography of the era can capture. The black coq feathures, skull cap, and veil, concentrates attention on her face, yet surrounds it in mystery. Still the confidence and the power of glamour radiates from within. The long  string of pearls add sparkle over the black dress. The gloves and bag are Hermes.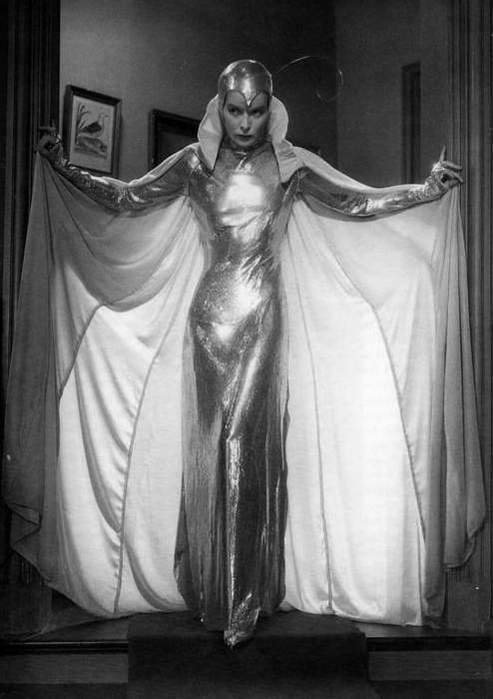 6) Katharine Hepburn in CHRISTOPHER STRONG Designed by Walter Plunkett, 1933.
Katharine Hepburn played an aviator in this story of complicated love affairs within the Brittish upper classes. This was her first starring role. Here she wears this stunning Walter Plunkett designed costume to a party, The costume's theme is "the silver moth" taken from "The White Moth," an early working title for the film. The costume was made from small silver-metallic squares like an airplane would be, and she had a skull cap/helmet with the antennae of a moth. Indeed, she flies too close to the sun.
 7) Claudette Colbert in CLEOPATRA, Designed by Travis Banton, 1934.
Cleopatra was one of the Cecil B. DeMille spectacles, and despite its age, holds up well in its visual and storytelling qualities. The sets are amazing, though very much influenced by the styles of the 1930s, but the same holds true with the later Cleopatra and the influence of the 1960s. Travis Banton's costumes are magnets for the eye, with essentially simple form-fitting, 1930s silhouettes adorned with Egyptian-chic  accesories. Banton had a series of arguments with Claudette Colbert over the designs for her costumes.  She found them too revealing, with disapproving comments written all over his beautiful costume sketches. He left a second set of costume sketches for her approval, with instructions that she had better either like these or slit her wrists. The next day Banton waited and waited, only to have them returned streaked with dried blood. Furious, Banton left the studio and went on a binge, not returning until several days later when studio head Adolph Zukor called him personally and mediated the situation.
8) Vivien Leigh in GONE WITH THE WIND, Designed by Walter Plunkett, 1939.
This is one of the most iconic costumes in movie history. Although the curtain dress was part of the original novel, Plunkett designed it with  much panache, adding its one sided capelet and huge tassled belt. Plunkett picked a green velvet to match Vivien Leigh's eyes, although he had parts of it faded to look like authentic curtains. Vivien's hat of velvet and black coq feathers was made by Mr. John. Scarlett wears the costume in crucial scenes as she goes asking for money from Rhett and then runs into Frank Kennedy.
9) Grace Kelly in TO CATCH A THIEF, Designed by Edith Head, 1955
The exquisite Grace Kelly does not play hard to get opposite Cary Grant in this movie where we are kept wondering, is he or is he not a jewel thief, operating on the French Riviera (jewel thieves and the Riviera have a long history in film). This movie has some of Edith Head's best costumes, and the one above is a knockout. It is worn at a costume party and the plot's climax, and Grace is wears the mock Marie Antoinette 18th century gown of gold lame, complete with golden birds and a golden wig.
10) Elizabeth Taylor in CLEOPATRA, Designed by Irene Sharaff, 1963.
The last "wild costume" comes from another Cleopatra, and probably the most lavish costume film in history. In fact the production and marketing costs of $44 million (in 1963 dollars) for the movie nearly bankrupted 20th Century-Fox, and halted production on several of the studio's movies. The number of costume changes for Elizabeth Taylor still holds a record at 65 costumes. The gold costume above and below was made of seed pearls, gold bugle beads, and sequins, including  a cape made of 24-carat gold -covered leather strips, made to look like the wings of a Phoenix.
If only we still had such Masked Balls.