Let it not be said that men are not the equal of women as duelling divas. There is no better proof than in the film The Duellists, with its noble heritage of being based on a Joseph Conrad short story titled The Duel, which in turn was based on a true story about two members of Napoleon's cavalry that carried on a series of duels with each other that lasted 20 years , from 1794 to 1813.
The Duellists, made in 1977, was the directorial debut of Ridley Scott. It was made for Paramount under a  tight budget of $900,000, and Scott was offered certain actors to work with. Those who accepted to be the principals were Harvey Keitel as the hot-headed Cavalry Hussar Gabriel Feraud, and Keith Carradine as Hussar Armand D'Hubert. Keith Carradine almost didn't accept since his song I'm Easy was a hit in 1976, and had received the Oscar for Best Original Song for Nashville. He was  thinking maybe the singer-songwriter life was calling him.
The panoramic scene below is not a duel between the protagonists, but rather of Feraud at left just before he seriously wounds the nephew of the Mayor of Strasbourg, which sends Carradine/D'Hubert on orders to arrest him for duelling, which precipitates their years-long grudge match of duels.
The Duelling Divas Blogathon is hosted by Lara at the Backlots blog
This opening scene is very reminiscent of the opening pastoral duelling scene of Stanley Kubrick's Barry Lyndon, made only two years before and undoubtedly a stylistic influence on The Duellists. The scene below takes place at Mme. de Lionne's salon, where D'Hubert is about to tell Feraud he is under arrest.
The costumes were excellent in the film, designed by Tom Rand and fabricated in Italy. The military uniforms were very accurate.  The Hussar's uniform of the period consisted of a fur-trimmed pelisse jacket with rows of buttons, frogging and loops, worn over the left shoulder. The torso was also covered with a dolman that also featured rows of frogging and a two-toned barrel sash. the trousers worn inside  cavalry boots. Belted sabers were accessorized with the black leather "sabretache" pouch that featured the Napoleonic eagle. The hat was the tall leather shako with brass chin straps, emblems, and feather, and later the bearskin hat. The colors of the uniforms depended on the regiments. D'Hubert at left wears the colors of the 4th Hussars, Feraud at right that of the 7th Hussars. Historically all hussars were light cavalry and assumed to be impetuous. They used sabers, pistols and carbines as weapons.
D'Hubert's visit, official business or not, was perceived by Feraud as an insult and the cause for their 1st duel. In filming these fight sequences, Ridley Scott operated the camera himself, using a hand-held camera and getting close to the action, dodging sword swings as he shot. Scott had been a maker of commercials before turning filmmaker, so he felt comfortable operating his own camera, talking directly to actors  while filming, and paying attention to the details of set design. He stated this made is easier for him to be thrifty while still achieving his goals in filmmaking.
The duel below ends with Feraud being wounded, but his girlfriend saved him by jumping on D'Hubert and severely scratching his face.
The photo below shows a close-up of the hussar uniform and hair-style. The French hussars' hair was worn long, somewhat typical of their Hungarian origins. It was braided at the side, this to add protection from saber cuts to the cheeks. The back was worn in a knotted queue, offering more protection for the back of the neck. Mustaches added extra panache. The red and white barrel sash belt was largely decorative – its origin was that of a rope to tether horses.
The scene below was shot from the interior of a village building that was transformed into a café. Scott filmed the movie mostly in France in the Dordogne area, No sets were used, only real buildings and outdoor settings. This worked for its authenticity and also to save money. Carradine as D'Hubert sits looking outside the window with his friend and fellow lieutenant Lacourbe played by Alun Armstrong. Also in the scene is the great actress Diana Quick, playing D'Hubert's girlfriend Laura. Outside the window, the dreaded Feraud's friend and second can be seen walking down the street, who also sees D'Hubert. Thus, the second duel is set up.
The second duel  is also set in a pastoral landscape, on a lush carpet of grass using epees as weapons. The duel is quick, as Feraud runs his blade into D'Hubert's chest. The wound is not mortal, but quickly ends this encounter. He is seen lying on the ground surrounded by the other hussars in the image below.
Laura nurses D'Hubert back to health, yet they separate as he prepares for another duel. This one is fought to exhaustion with swords inside of a vaulted barn. Ridley Scott shot this sequence himself as well with a hand-held camera. He used some rudimentary special effects, using chicken wire on the walls that had been wired to a 12 volt battery, so when Keitel's sword blade hit the wall sparks flew (and Keitel got jolted). The duel ends in a draw, as both men are bloodied and can barely lift their sabers, they lock arms and collapse on the floor.
In 1806  D'Hubert is now in Lubeck, with the rank of Captain. Again with  Lacourbe in a tavern, he is spotted by Feraud, who has also achieved the same rank. Fighting a superior officer would be grounds for a courts martial . Feraud immediately challenges him to another duel, this time on horseback, a "tribute to the cavalry," D'Hubert is told, who finds it hard to take this connection seriously.
The duel will be made by cavalry charges with sabers. D'Hubert is nervous, remembering his previous chest wound. When the two pass each other in their "joust," Feraud is struck on the head and knocked off his horse. D'Hubert celebrates by jumping his horse over a cart piled high with hay and then races down a country lane.
The Napoleonic wars continue and D'Hubert and Feraud find themselves in the disastrous Russian campaign. In the frozen terrain they are about to shoot each other with pistols when cossacks attack them, so they empty their pistols  at the cossacks instead.
After the wars D'Hubert, now a General, returns to a more peaceful life. He visits his sister and her two sons. The sons, shown in the picture below, were played by Ridley Scott's two boys: Jason and Luke Scott.
D'Hubert's sister Leonie, played by Meg Wynn Owen, introduces him to the beautiful Adele, played by Cristina Raines. Cristina just happened to be Keith Carradine's girlfriend at the time. In the scene below he proposes to her. She can't keep from laughing, however, as according to Scott, Keith's horse had an erection during the shooting. Erection or not, the horse should have gotten a Best Supporting Actor Award for continuously nudging Keith in Cristina's direction.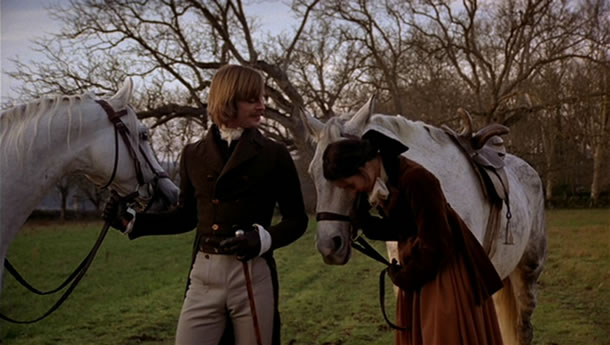 In the Conrad story D'Hubert wants to settle a final duel with pistols before he marries and so writes a letter to Feraud. In the movie Feraud's  friend and second, Chevalier played by John McNery, now in humbled condition as is his companion, finds D'Hubert and asks for satisfaction on Feraud's behalf – for a now long-forgotten reason. In fact unknown to Feraud, D'Hubert had saved his life by intervening when Feraud was put on a death list when the new Bourbon king came back on the throne. Feraud and many Bonapartists were in disfavor at best with the new royal regime.
As they had left off in Russia, pistols would be the weapon: two pistols; one shot in each in open country.
True to his character, Feraud is the more tempetuous, firing more quickly in their game of cat and mouse. D'Hubert is left with the last shot, which he can take at close quarters. Instead, he spares Feraud's life, on condition that he forever leaves him in peace.
The last film shots are of Feraud overlooking the hills and a river. He is expressionless, and we are left to draw our own conclusion about his state of mind. Like his Emperor's, his ultimate battle was a defeat. And the monarchy and its aristocracy, that they both fought against, were back in power in France and safe on their thrones throughout Europe.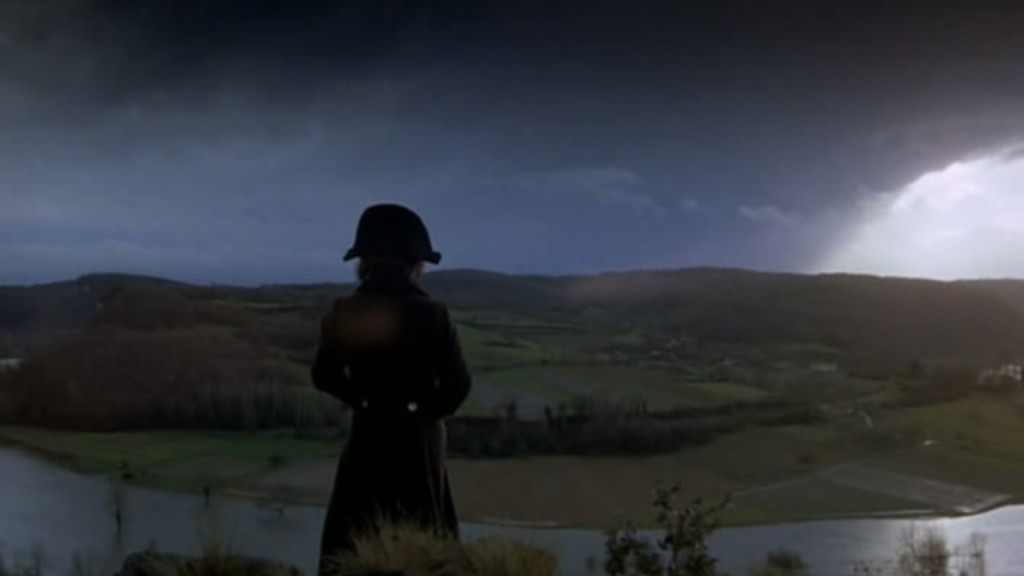 One can view The Duellists as an anti-war film, or one depicting the futility of war as represented by the stupidity of duelling. It was in any case an auspicious beginning for Ridley Scott. While it had limited distribution in the U.S., it won a Best First Work at Cannes where Ridley Scott was nominated for a Palme d'Or, and was nominated for Best Cinematography and Best Costume by BAFTA. One can see in this film Scott's clear focus on setting and his characters' often  sharp delineation in that world. The chiaroscuro of his cinematography is both beautiful and effective, and a hallmark of his film Blade Runner.
There is no more iconic story of dueling divos than The Duellists, but it is also fundamentally a story of forgiveness.