There were more far more beautiful actresses than Norma Shearer in the 1920s and 30s, and more pretty and flirtateous ones: the "It Girl" Clara Bow, or the beguiling Louise Brooks at Paramount. Gloria Swanson was there too, all of them representing the allure of sex without ever engaging in it.  At MGM, the hot looks of Joan Crawford, Greta Garbo, and Jean Harlow were magnets in the roles they played. Garbo was the  foreign exotic, made to seek redemption for her sexual transgressions, even in her Pre-code films.   And at Warner Brothers, gangster movies and women going bad were part of the wave that came with the Great Depression. We forget the revolutionary roles of Norma Shearer in the Pre-Code era, drowned amidst her later sympathetic and well-known roles in films such as Romeo and Juliet and The Women, and even Marie Antoinette.  But it was Norma Shearer that broke the barrier of the "everyday" middle-class woman on screen that had sex just because she wanted to, or in her ground-breaking role in The Divorcee (1930), to get back at her cheating husband.
Norma Shearer had already  been making films at MGM for several years, she in fact starred in the studio's first film, He Who Gets Slaped, in 1924. Although many of her roles were good, she was ambitious and wanted to push the envelope. She wanted roles that were daring, and wanted to break out from the "good girl" stereotype -roles that would later be considered liberating to women. That she was married to MGM production head Irving Thalberg was both a blessing and a curse. She had access, which in Thalberg's case was exremely hard to get. On the other hand he didn't think she was glamorous or sexy enough for these kind of roles. But Norma was undeterred. So she turned to two consumate artists. The first was photographer George Hurrell, who took a series of photographs of her in poses that, while sexually suggestive, were done in a manner that enhanced her best features and remained in good taste. These photographs surprised and ultimately convinced Thalberg that she had the qualities to take on the role for the film The Divorcee. The second artist was Adrian. He had just been made Head Designer at MGM in 1928, where in his first year he designed her costumes in A Lady of Chance, and the following year for The Last of Mrs Cheyney. His designs emphasized her best features while compensating for her less than ideal figure, all while making her look chic and alluring.  In The Last of Mrs Cheyney her role is such that one is kept guessing as to whether she is a "good girl" or a "bad girl."  She plays a jewel thief – but with a twist. She is shown below with Basil Rathbone. The dynamic is that he's from the upper-class and has no compunction about playing the field. But what rules apply to women? In 1929 there was still the basic elements of a code, but questions were being asked and doubts were being raised.
With The Divorcee the year later (1930) a big leap had been made by Norma and the movies.  This is the script she had lobbied her husband for. It was based on a book by Ursula Parrott, Ex-Wife.  Norma described the role as  "…very strong, almost ruthless. Perfect for me." And perfect for getting her out of the too-refined and too sweet roles she had been playing for years. Adrian takes her through a make-over with obvious results. She is transformed into a woman of the world – and into a very modern woman – no longer an ingenue of the 1920s. Her husband has been cheating on her. So she gets even by cheating on him – with his best friend.  When he finds out, has a fit, gets drunk and decides to walk out on her, she has her own angry speech, "I'm glad I discovered there's more than one man in the world, while I'm young and they want me. Believe me, I'm not missing anything from now on. Loose women are great…From now on you're the only man in the world my door is closed to!"
Below Norma Shearer never looked better – dresssed by Adrian in The Divorcee and out on the town with Robert Montgomery.  Norma won the Best Actress Oscar for her role. She attended the Academy Awards ceremony in an Adrian gown she wore in the film, the first recorded designer gown at the Oscars.
Soon after making The Divorcee, Norma made Let Us Be Gay, 1930, In this story too she plays a wife with a cheating husband, Only she has two children, and to emphasize the make-over central to the plot, Norma begins the movie wearing no make-up and in frumpy clothes. Three years later she is visiting her rich friend Mrs. Bouccicault, played by Marie Dressler.  "What have you been doing since I left you in Paris, she asks?"   Norma playing Kitty Brown, replies, "Oh different men for different months." Kitty is now the well-dressed sophisticate, the magnet for every man in the entourage, including her former husband who happens to be there, shocked at her transformation. He is courting Mrs. Boucci's granddaughter, and that's why Kitty has been invited to lure him away from her.
The photo below shows Norma Shearer as Kitty Brown, the center of attention in her black Adrian gown. Seated at left is Hedda Hopper. This famous gossip columnist was a fashion plate in her day, and always loved the way Adrian dressed her in her movie roles.
Norma's most daring role followed in Strangers May Kiss, 1931. In this movie she doesn't believe in marriage. She has one boyfrend, played by Neil Hamilton, that travels with her, but is secretly married and then goes off on a trip without her. Another man loves her, played by Robert Montgomery, but she's not in love with him. Stung by her boyfriend's betrayal – she travels to Europe, where she will experience all the other men she fancies. And does she. The character Norma plays is openly sexually aggressive, and there are many references to that in the film. "She changes her men with her lingerie…" one man says.  In the scene pictured below, she tells Robert Montgomery, "I'm in an orgy –  wallowing – and I love it."
The movie's ending is rather implausable, and belies the point of the theme, but Pre-Code or not, social conventions and the MGM's need to maintain a certain stature for Mrs. Thalberg prevailed. As it was the studio was getting a lot of flack by some critics, and  within the then Studio Relations Committee that reviewed movies  as part of the Production Code,  it represented: "…the initiatory stages of the degeneration of a people." as one member put it.*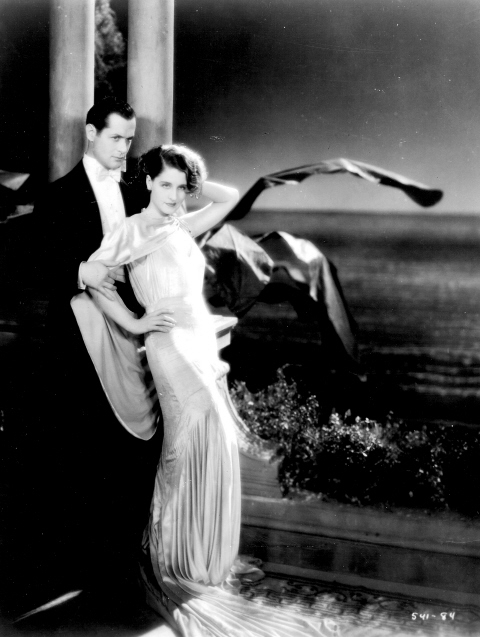 Adrian's gowns were defining  more and more Norma's elegant but beguiling roles.  Norma especially liked the sleek nightgowns he designed for her, that she would wear without undergarments while filming. "Norma's nighties" these would be called, and she would ask for them in all her movies.
For A Free Soul below, Norma wears an Adrian-designed nightgown made of a tangerine-colored velvet with a train. Both train and the cord at the waist help accentuate her figure.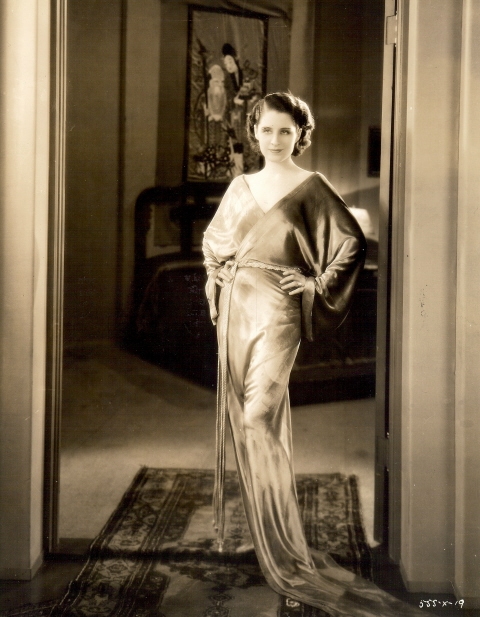 A Free Soul, 1931, throws in more complexities in the plot. Based on the book by Adella Rogers St. John about her own life, Norma plays the daughter of defense attorney Stephen Ashe, played by Lionel Barrymore. Their relationship is troubled by his alcoholism. Norma's steady boyfriend is played by Leslie Howard, an upper-crust type. One of Ashe's clients is the criminal Ace Wilfong, played by Clark Gable in his first starring role. Norma as Jan Ashe is stricken by Ace's animal magnetism and sexual attraction. In a famous scene from the movie, where they are together in his apartment, she cuts him off when he is talking about himself, reclining on his couch, she says, "Come on, put 'em around me."
A Free Soul won Lionel Barrymore a Best Actor Oscar, mainly based on his stirring courtroom speech in the film. Norma was nominated for Best Actress but did not win. Clark Gable, not yet with mustache, was all over the fan magazines. The "Put 'em around me" scene caused more problems with the Studio Relations Committee and the American Motion Pictures Producers. The movie had managed to put both free sex and gansters in a good light.
Norma's next movie, and her last "Pre-Code" film was Riptide, 1934. Here she plays a woman with a full romantic history but is married to an English Lord for convenience, played by Herbert Marshal. While he is off on a trip abroad she decides to go on one herself to Cannes on the Riviera, on the invitation of his aunt. But there she just happens to run into an old flame played by Robert Montgomery in the same hotel, and in adjoining rooms. The sex is is not overt here and Norma is not on the make. Robert Montgomery is the aggressor, which leads to the plot twists.
At this point in the cycle of her Pre-Code films, Norma Shearer had  blazed a trail of "sexual liberation."  In that regard, and in its acting, Riptide is the weakest of her movies. It must also be said that she had become the lightening rod for the forces of censorship in the U.S. (and in other countries). This had also become an issue for Irving Thalberg. After a heart attack and a forced temporary leave, and against his will, he was replaced as head of production at MGM.
Riptide achieved the peak of glamour for Norma Shearer.  Adrian's designs achieved Norma's ultimate desires for sophisticated yet sexy dress, as shown in the following two images.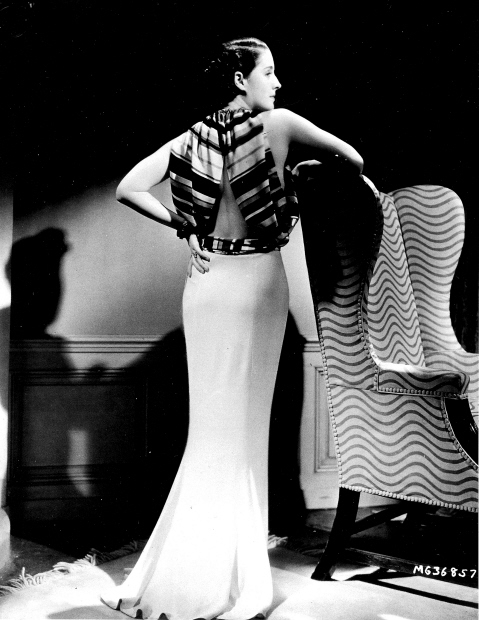 Adrian's designs for Norma Shearer often use a long skirt or gown that accentuate a flowing look for her otherwise short-legged figure. He also used fabrics and beaded material that hugged her figure to accentuate the slimness she worked hard to achieve.
Enough protest had been taking place around the country, led by some of the churches and others, that the Production Code Administration took control of film content on July 1, 1934. Joseph Breen was its head, and there would be serious changes in how films were made. Naturally, anything to do with sex, especially women's roles, would be scrutinized. Anything in the script would not likely be approved, anything that made it to the film would be subject to cutting. And anything that referenced "sex" that was not of the approved kind would need to have the character (the woman) punished as a consequence or made clear that the person  was a harlot. Criminals would also always be punished at the end of the story.
Norma Shearer had served a pivotal role in depicting women and their ability to choose their sexual identity and liberties, fleeting as it was. Actresses before her were sexual icons without overtly exercising sexual expression. Contemporaries like Greta Garbo that did make those choices on film were exotics that paid the price or sought redemption at the end. And others including Joan Crawford, Jean Harlow, and Barbara Stanwyck played women on the make or from a tough upbringing. Norma Shearer represented the middle and upper-middle class, and thus, many women fantasized about themselves while seeing her on film. For that she was more dangerous.
The next film Norma made would set the tone for her several films to follow: The Barretts of Wimpole Street, 1934 based on the life of Elizabeth Barrett Browning. This was followed by Romeo and Juliet, 1936,  and then Marie Antoinette, 1938.  They were all beautiful romantic films, though two had tragic endings – endings natural to the story, but certaily in compliance with the Production Code Administration for any transgression that was committed by the leading actress.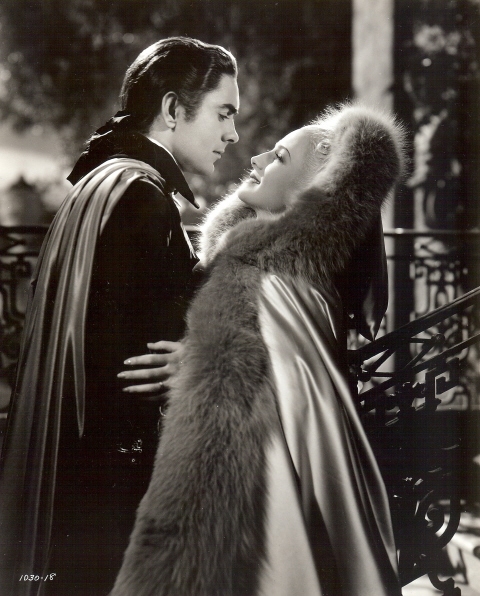 * Vieira, Mark.  Sin in Soft Focus: Pre-Code Hollywood.New York: Harry Abrams, 1999, p 52.
See also LaSalle, Mick. Complicated Women: Sex and Power in Pre-Code Hollywood. New York: St.Martin's, 2000 for an excellent discussion of women's roles in Pre-Code films.