Barbara Stanwyck was born July 16, 1907 in the Flatbush neighborhood of Brooklyn. She was the youngest of five children born to Byron and Catherine Stevens. She was named Ruby. Her mother was likely Scotch-Irish but died after a drunk accidentally knocked her off a moving streetcar and Catherine subsequently miscarried. Ruby was 3 years old. Her father then abandoned the children, the two eldest went off on their own and the middle child, by then a young-adult, raised Malcolm Byron and Ruby until they were passed off to one family and then another, as many as ten or twelve in succession, as orphans. Ruby grew up as a wild child with a tough exterior, with the primal understanding that only she could look our for herself.  Yet she was perpetually insecure. She hardly ever made friends and was always in trouble at school. She dropped out by age 14, ready to work for a living. She first worked wrapping packages at a department store, then for more money she took a job filing cards at the telephone company. She became a rep for Vogue garment patterns but was fired for bungling an order. But after her sister Millie began working as a chorine (chorus girl) on Broadway, Ruby began tagging along. She began imitating every dance step she saw, and it wasn't long before she auditioned and got a job as a Ziegfeld chorus dancer in 1922's Follies. She was 15 years old. Ruby also got a dancing job with the flamboyant Mary Louise "Texas" Guinan at the "El Fay" club, where Ruby Keeler and George Raft also made up the dancing talent. She made the transition to acting when Willard Mack hired her for a part as a chorine ("Why not cast a real one?), her friend had asked him. She got the part, and Noose, a prison  melodrama, lasted 9 months on Broadway.  It was for the play that she got her name Barbara Stanwyck. at the suggestion of the producer David Belasco.  He was looking through old playbills with Mack and concocted the name from a mix of former actresses. 
Writer and producer Arthur Hopkins picked Barbara Stanwyck to play the lead role in his new play Burlesque. The play became a hit. Movie moguls were scouring Broadway at the time looking for talent with good voices just as the movies were transitioning to sound. Famous Players-Lasky bought the rights to Burlesque, but for another lead actress. Joseph Schenck of United Artist offered Stanwyck the lead in The Locked Door in 1929. By then Barbara had married Frank Fay, a big vaudeville star with a big personality and plans of his own to make it big in Hollywood. They married and moved to Hollywood. Her next movie was with the "poverty-row" studio of Columbia – Mexicali Rose. Both of these movies are forgettable and even Barbara had doubts about continuing her career in the movies. But she got a non-exclusive contract at Columbia, and her next movie; Ladies of Leisure, would pair her up  with director Frank Capra. They would go on to make a string of successful and classuc films. He said of her that, "Her dedication made her beloved by all directors, actors, crews, and extras." The first of these movies that got her critical praise was The Bitter Tea of General Yen, set in China and co-starring Nils Asther. But her next movie got her a lot of praise, and with her non-exclusive contract, it was made at Warner Brothers. It's also one of the first to show on TCM that I would note for viewing on August 13 (spoilers will be included in all below).
LADIES THEY TALK ABOUT: (9:00 a.m EST)   Directed by Howard Bretherton and William Keighley, this is a drama set in a woman's prison. Barbara's character is sent up for serving as a decoy in a bank robbery. Prison life in the movie is not depicted as particularly harsh, but watching Barbara display her full sass, piss and vinegar to some of her prison mates is the highlight of the film.  She can't wait to get out to extract some revenge on the one she thinks double-crossed her in the bank job. The movie stars Lillian Roth, Lyle Talbot and Preston Foster. Costume design by Orry-Kelly. 1933
After a couple of movies at Warner Brothers, Frank Fay's short Hollywood career came to an end. Although he hung around, drinking and making a nuisance of himself and worse. He finally went back to Broadway and the couple divorced. After Barbara made His Brother's Wife with Robert Taylor, the two became involved and eventually married in 1939. They lived in a large horse Ranch in the then undeveloped San Fernando Valley, neighbors to Janet Gaynor and Adrian.
MAD MISS MANTON:  (10:30 a.m. EST)  This film was made at RKO in 1938, directed by Leigh Jason and co-starring Henry Fonda, the first of three films Barbara made with Fonda (The Lady Eve, You Belong to Me).  In the story, Barbara plays a young heiress and leader of the "Park Avenue Pranksters." This was quite a role change for her and the first time she was given the glamour treatment for her part. The plot involves a murder, a corpse, and some missing jewels, some criminals, and charity balls, and the involvement of the newspaper – which is where Henry Fonda's character comes in. It all gets sorted out in the end. The costume designer was Edward Stevenson, who used some clever design techniques to overcome her low rear. My great-aunt Marie Ree was the Head Cutter-Fitter in the Wardrobe Dept. at RKO.  She fitted Barbara for her costumes for this movie – see photos above and below.
THE LADY EVE:  (12:00 noon)  An all-time Barbara Stanwyck classic co-starring Henry Fonda, written and directed by Preston Sturges at Paramount Pictures. The story is classic romantic comedy. A rich heir and zoology fancier (Fonda) on a ship returning home finds himself the mark for a beautiful card sharp (Stanwyck) and her father (Charles Coburn). Fonda's buddy (William Demerest) smells a rat, but Fonda is hooked (almost literally). But before you know it she's falling for him too. Only several changes of identity throughout the movie by Stanwyck and falling in and out and back in love by Fonda in the usually zany but totally entertaining manner of a Preston Sturges movie will get you to the happy conclusion of this tale. And for Barbara Stanwyck fans, a jewel of a film. Claudette Colbert and Paulette Goddard were both  considered for the lead until falling out for one reason or another. Edith Head designed the smashing outfits for Barbara. 1941.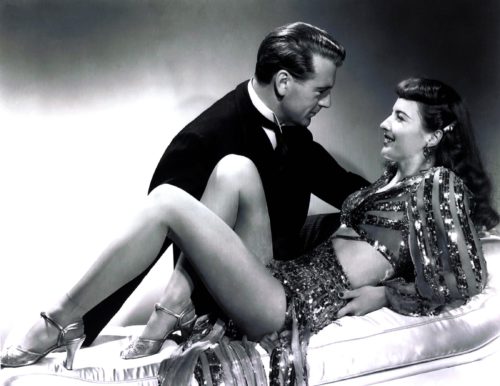 BALL OF FIRE: (2:00 p.m.)  This could be Barbara Stanwyck's nickname. This classic screwball romantic comedy was written by Billy Wilder and Charles Brackett with additional dialogue and slang terms added by Thomas Monroe.  Billy Wilder's story is a take off on a basic fairy tale, where the eight wise men know everything about everything except about sex. The movie was directed by Howard Hawks. Barbara plays a burlesque entertainer, mixed in with a group of college professors writing an encyclopedia. Gary Cooper is the leader and a linguist, needing to update the slang section. That's how Barbara, AKA "Sugerpuss" gets involved. She's running from the law and some gangsters, and decides to hang out with the eight wise men and help them with their research. This is helped along since Professor Bertram Potts "Pottsie" is a looker. But soon things gets mixed up with the gangsters, and the professors have to get out of their study and get physical.  Costumes by Edith Head. 1941
ALL I DESIRE (8:00 p.m.) Directed by Douglas Sirk and starring Richard Carlson and Maureen O'Sullivan. In this powerful story set in 1910 Wyoming, Barbara as Naomi Murdoch returns to her small hometown as a famous Shakespearean actress – a town she left behind along with her husband , son and two daughters. Her daughter Lily had written her and is now acting in the school play. She finds her old emotional attachments returning. But her arrival stirs controversy, including the attention from an old lover. Her reputation and this renewed attention roils her family and the town. Can things ever be normal again? 1953.
THE STRANGE LOVE OF MARTHA IVERS   (9:30 p.m.) Strange things happen behind closed doors and this movie has them in spades. The alternate title was Love Lies Bleeding and that was an apt title. Directed by Lewis Milestone, its cast includes Van Heflin, Lizabeth Scott, and in his first film role, Kirk Douglas.  Barbara (Martha) as a child kills her rich aunt in a fit of rage. Van Heflin (Sam) her friend is a witness. They were going to run away together but now he goes away alone to join the circus. Her tutor and his son Walter say it was an intruder that did it. Later Martha marries Walter, who has become a prosecutor. But then Sam returns to town, forming a love triangle – with nasty consequences. 1946.
BABY FACE (1:30 a.m.)  This is a real Pre-Code gem, where there is no mistaking the aims of Barbara as the protagonist. Starring George Brent, Margaret Lindsay, Donald Cook, and a young John Wayne. She is the daughter of a steel town speakeasy operator. She gets used to handling men early in life – which her father always seems to be foisting on her. She decides she's had enough after a cobbler and friend tells her she's beautiful and she could have power over men. So she moves to the city and applies for a job at a bank. The first man she meets in an office is about to give her the brush-off before she asks sweetly. He looks her up and down and asks, "Do you have any experience?" "Plenny," she responds rolling her eyes. "I'd rather wait in there," she nods towards a door to another room. "I hate crowds," leaning close to him, "Don't you." As she gets one job promotion after the other through affairs with bigger and bigger bosses, with more careers ruined. The pans of the exterior of the bank building show the floors going higher and higher. The a big marriage lands her in the penthouse but will she ever be satisfied? The censors had problems with the movie upon its release, wanting the film pulled from distribution. Apparently changes were made to the ending for Barbara's Lily Flowers character to make it acceptable.
But of course all of Barbara Stanwyck's films can not be shown on one day and night at TCM's Summer Under the Stars, especially as her career went through the 1960s, and on television well into the 1980s. There is one movie that should be pointed out as one of her all-time classics, however, and a favorite of mine: Double Indemnity. For a thorough review of this classic film noir, see my blog post here.
Anoyher one of Barbara's films and one of my favorites is Meet John Doe, directed by Frank Capra (1941). This is also one of Capra's all-time classics. It co-starred Gary Cooper, with Walter Brennan, Edward Arnold, Spring Byington, and James Gleason.  In this story Barbara as Ann Mitchell plays a newspaper columnist who writes a phony letter to the newspaper to keep her job. This was after hard-nosed business man D.B. Cooper buys the paper. In hard times the letter by "John Doe" states the sad state of affairs and says he will jump off the city hall roof at midnight on Christmas eve. This results in a mass of letters to the paper in sympathy and soon D.B. has Ann staying on the job and kept writing about John Doe. But now she needs to find him. And the public has formed John Doe clubs, wanting to stop him and in sympathy with his message. Only Ann has to find a real "John Doe," and makes do with an out of work baseball player and his hobo companion. But this plan soon goes haywire as the puppet get ideas of his own – and D.B. resents his new political success – and Ann starts falling for him – and there's that promise to jump off the city hall roof to keep. This movie is pure Capra, and the contrast between Cooper and Stanwyck works even better for the story than in Ball of Fire.
Barbara Stanwyck was one of the great stars of Hollywood's Golden Age. Her films like her life are endlessly fascinating and this TCM line-up a fitting tribute.