Costume designer Anthea Sylbert always added life and character into her costume designs. She designed for many notable actors in her career, and the movies they starred in are classics of the late 1960s and 1970s.  This skill came  partially from studying art history at Barnard College, attending Parsons School of Design to  study fashion – before dropping out to  become a research assistant for a theater group in New York.  Her grandmother had already taught her to sew in her Greek heritage home.  She started designing ready-to-wear garments for boutiques as well as shoes and sports wear. But moving from costume design to becoming Vice President of Productions at Warner Bros. and later Executive Vice President at United Artist had all to do with her intelligence and problem solving abilities.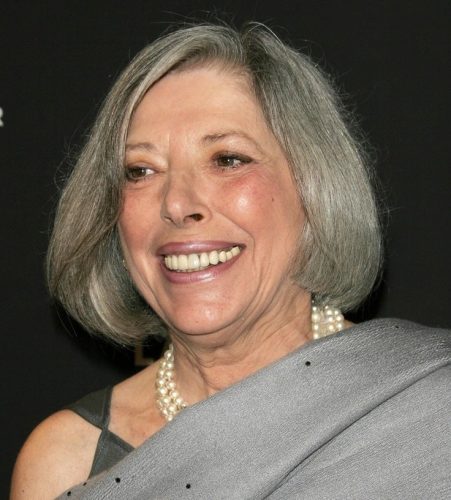 Anthea Giannakouros  married Paul Sylbert, a movie production designer, and she began socializing with a set of New York avant-garde theater and film actors including Warren Beatty, Dustin Hoffman, Jack Nicholson, and directors Roman Polansky and Mike Nichols. That led to her designing the costumes for her first movie, the low-budget The Tiger Makes Out (1967), where her husband was also the production designer. Stars Elli Wallach and Anne Jackson were married, and this was Dustin Hoffman's first movie. Anthea Sylbert's second movie had more consequence –  Rosemary's Baby  (1968). Roman Polansky directed, with Mia Farrow, John Cassavetes, and Ruth Gordon starring. Sylbert's costumes for Farrow made a splash, and were very influential.  The baby doll dresses in mostly floral patterns, pastel colors, or stripes, increasingly short as her situation grew perilous under the satanic forces of a coven, made for a bold contrast and sympathetic audience response.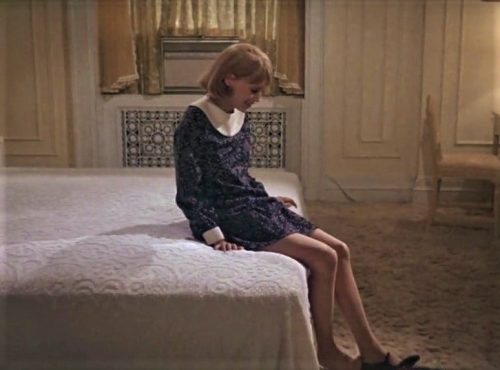 Several movies followed but her next substantial movie was Carnal Knowledge (1971) directed by Mike Nichols starring Jack Nicholson, Candice Bergen, Art Garfunkel, and Ann-Margret.  The sexual life and opinions of two friends through the decades  was the plot of the film, and the come-on for the 1971 audience. Since then the views of the protagonists has dated badly. But the costumes of the principal cast perfectly defined their character – who they are or want to be, from the well-dressed college days of the 1940s to the urban sophisticates of the late 1950s.
For something completely different, Sylbert designed the Western costumes for John Wayne in The Cowboys (1972). The movie costarred Bruce Dern, Colleen Dewhurst, and introduced Robert Considine. The Cowboys segued into designing Bad Company, Robert Benton's directorial debut about a gang of young men and boys on the loose in the post-Civil War West. Jeff Bridges and Barry Brown star. The gang were  dressed by Sylbert in threadbare period costumes fabricated or provided by the Western Costume Co., which had done the same for The Cowboys.
Anthea Sylbert's biggest hit came with Chinatown (1974), Roman Polansky's film noir classic starring Faye Dunaway, Jack Nicholson., and John Huston. The movie about Los Angeles water rights, corruption, murder, and incest is ranked as one of the best movies of all-time. The screenplay by Robert Towne and Edward Taylor is used as a model in  script writing.  The new Paramount production head Robert Evans hired Roman Polansky to direct a Technicolor film noir with a European perspective with a very Los Angeles-based setting. And that 1930s setting was enhanced in every way with period details.
Anthea Sylbert  designed costumes for the principal cast that put them squarely in the sunny, drought affected Los Angeles of 1937.  Jack Nicholson played a detective much like Philip Marlowe, only more of a dandy. Faye Dunaway, like her earlier Bonnie and Clyde, made fashion news. W magazine devoted a multipage feature on her costumes from the movie in its December 28 ,1973 issue.  Dunaway plays Evelyn Mulwray, the rich wife of the Chief Engineer of  LA's  Department of Water and Power. In a series of daytime scenes, she wears elegant tailored suits with stylish hats and gloves, the common well-dressed look of the day.  Polansky insisted she wear red lipstick and have high penciled eye-brows, which he remembered his mother wearing. This look was common for the 1930's movie-star. Sylbert's palette of light colors for Dunaway's suits, blouses, and riding outfits, change to black after her husband dies, and continues through to the end of the movie. The movie itself turns to night scenes as  its plot turns increasingly dark.
Shampoo (1975)  was something completely different. Directed by Hal Ashby about the fast times of 1968 in the life of a Beverly Hills playboy  hairdresser. The movie starred the real playboy Warren Beatty, with  Julie Christie, his movie and then real girlfriend, and Goldie Hawn and Lee Grant, his other movie  girlfriends. A young Carrie Fisher also cameoed, with costars Jack Warden and Tony Bill. Warren Beatty plays the hairdresser that all his women clients fall for. Those with husbands suspect nothing as they assume he is gay, even when he visits them at home or takes them out.  The screen play by Beatty and Robert Towne is patterned after English Restoration comedy of manners, and takes aim at the hypocrisy of society.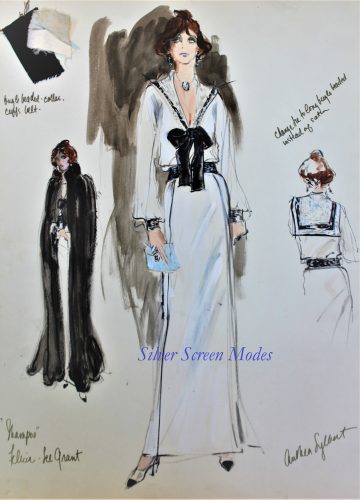 Anthea Sylbert designed costumes for Beatty and the women that captured their sexiness and allure. Based on the times of 1968, the skirts were very short on Goldie Hawn and Julie Christie. Christie's final all-white outfit of a belted short skirt, ribbed turtle neck sweater, and white go-go boots was a knock-out.  But her climax outfit worn at a restaurant dinner for the group, worn when she gives her unforgettable line, was a long black beaded gown covering up to her throat, but was completely backless. As Sylbert explained it, "I just thought it would be funny when we first saw her, if she looked so proper, like the queen mother, and then when she turned around, there she was, right down to the crack of her ass," *
Lee Grant, as the somewhat older woman and rich wife of Jack Warden's character, is  also a client and lover of Beatty's character George. Her wardrobe is more situational, although Sylbert designed a wonderfully distinctive  sailor-suit dress of white satin with black piping.
Beatty as George was dressed in a combination of stylish but  masculine costumes.
Anthea Sylbert's next two movies were not successes. The Fortune (1975) was a 1930's screwball comedy take-off directed by Mike Nichols that did not work, even with co-stars Warren Beatty and Jack Nicholson. King Kong  (1976) was a remake of the 1933 RKO classic. Jeff Bridges starred, and it introduced a young and very sexy Jessica Lange, reprising the role made famous by Fay Wray. The movie has its pros and cons, but the costumes did their jobs, especially in making Lange the enticing object of Kong's affections. Sylbert designed a stunning silver beaded, strapless and contoured gown with half-diamond patterning that was her costume for the final New York performance when Kong breaks all his chains after seeing her.
The Last Tycoon (1976) had a lot of promise, directed by Elia Kazan, Robert De Niro starring as the protagonist based on F. Scott Fitzgerald's novel about M-G-M's Irving Thalberg, with a cast including Jack Nicholson. Robert Mitchum, Tony Curtis, Dana Andrews, Jeanne Moreau, Ray Milland, and introduced Theresa Russell. Yet the screenplay by Harold Pinter and the not fully realized book led the plot nowhere. The art direction  was notable. Sylbert's costume designs hinted at the 1930s but were still planted in the 1970s.
Sylbert's next movie  Julia (1977) was nominated for several Academy Awards including Beat Costume Design and it won for Best Supporting Actors for Vanessa Redgrave and Jason Robards and for Best Adaptive Screenplay for Alvin Sargent. The story was based on the writing of Lillian Hellman and her childhood friend Julia. The movie was directed by the great Fred Zinnemann.
Anthea Sylbert's final film as a costume designer was for F.I.S.T., which starred Sylvester Stallone as a union organizer among truckers. After Sylbert made suggestions to the movie's director Norman Jewison about how Stallone was not wearing an article of clothing. She was told that he didn't want a costume designer interfering with his actors. After that she quit.
But she landed on her feet. She was offered and accepted a job as Vice President of Productions at Warner Bros. Proving herself fully capable at WB, she then moved on to United Artists as Executive Vice President. She had forged a friendship with Goldie Hawn during the filming of Shampoo, and when Sylbert produced Private Benjamin (1980), they formed the Hawn/Sylbert Movie Productions Company. After Anthea Sylbert finally retired, she moved to Greece, where she now lives on the island of Skiathos.