This post continues from FRED ASTAIRE AND HIS DANCE PARTNERS AND THEIR COSTUMES part one
Fred Astaire's amazing career and his talented dance partners as dressed by the great Hollywood costume designers  is reviewed in this post, continued from Part I. We left off with the movie You Were Never Lovelier with Rita Hayworth in 1942.  One of his next big films was done at his new studio: MGM. The studio was still pumping life into the Ziegfeld legend by making a third movie about Florence Ziegfeld, this time with Ziegfeld looking down from on high to the creation of a new revue.  In Ziegfeld Follies, a great cast was assembled including: Lucille Ball, Judy Garland, Lena Horne, Kathryn Grayson,  Esther Williams, Fanny Brice, Red Skelton and William Powell. Fred Astaire had two dance partners, Lucille Bremer, and for the first time, the great Gene Kelly himself. The movie is worth watching if only for the  Gene Kelly/ Fred Astaire number. Fred dances  with Lucille Bremer, a good dancer but not in the league of Ginger Rogers, Eleanor Powell or Cyd Charisse. Their two numbers were a Chinese inspired "Limehouse Blues," and "This Heart of Mine," In the latter one Astaire plays a jewel thief trying to seduce Bremer to get her jewels, but gets seduced himself. Irene Lentz Gibbons designed the beautiful white embroidered gown she wore. Irene Sharaff designed the Chinese-themed costume for the other number, but Lucille Bremer did not get along with Sharaff.
The next two movies Fred made were not very successful. He partnered again with Lucille Bremer in Vincente Minnelli's Yolanda and the Thief, in 1945, and in Stuart Heisler's Blue Skies, in 1946 along with Bing Crosby and Joan Caulfield, a sort of Holiday Inn take-off. In the later movie Fred dances mostly solo. At this point in his career Fred was preparing for his retirement.
In 1948 MGM was making the big musical Easter Parade when Gene Kelly broke his ankle. Kelly suggested that Fred Astaire replace him. Fred was surprised but accepted. The movie was directed by Charles Walters and co-starred Judy Garland, Ann Miller, and Peter Lawford. Ann Miller was herself replacing Cyd Charisse, who had pulled a tendon. The movie's plot complications are that Fred went from his regular stage and dance partner (and flame) played by Ann Miller to a new one played by Judy Garland (and back and forth). The movie was a huge costume production. The principals, cast, and extras in their 1912 finery was a big designing  job for Irene Lentz Gibbons. Some 700 extras were used. The long hobble-skirts and big picture hats cast a distinctive silhouette that was the big attraction for the "Easter Parade" scene on New York's "5th Avenue." Below is a costume sketch designed by Irene for one of the walkers on 5th Avenue.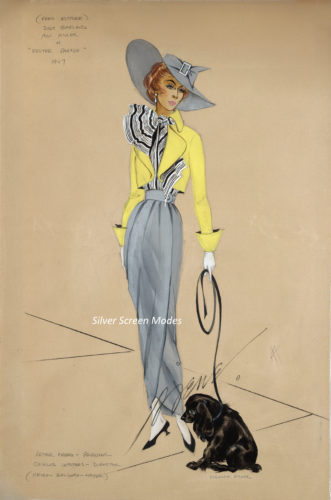 Irving Berlin provided the compositions, many from decades earlier, but some written just for the movie. The musical numbers incuded some of Fred's finest work, especially with Judy Garland. The Vaudeville number, "A couple of Swells" is pure joy in watching how much fun Judy Garland is having in this silly routine. "It Only Happens When I Dance With You" is the most beatiful song, sung by Fred to Judy, and the "Steppin' Out with My Baby" number by Fred has to be seen. Easter Parade was MGM's highest grossing film of 1948.
Fred Astaire and Ginger Rogers were teamed – for the last time – in The Barkleys of Broadway in 1949. The movie was supposed to star Judy Garland, but she suffered a nervous breakdown and was replaced. The story is about a husband and wife musical comedy team. A French playwright convinces Ginger's character that she should be doing serious theater roles, and accordingly she starts rehearsing – to Fred the husband's irritation and jealousy. Things spiral downward until she takes to the stage separately, and we wonder if their team will ever re-unite. The working title of the film had been, You Made me Love You. The movie did not recapture the magic of their RKO years.
Irene Lentz Gibbons designed the costumes. Below is a costume sketch for Ginger Rogers, although the costume was not used in the final film.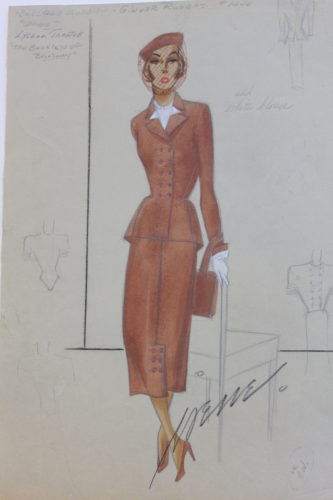 Ginger's gold lame gown below had plenty of fabric at the skirt to swirl as she danced with Fred in their opening number in the film.
While Royal Wedding (1951) is not as well known and is lightweight as far as story goes, it contains some of Fred's most well-known solo dance numbers – and some nice ones with partner Jane Powell too. It was also historic in other ways. The movie rode on the popularity of the  earlier royal wedding of Queen Elizabeth and Prince Phillip. Judy Garland was supposed to star along with Fred Astaire, but after missing three rehearsals she was suspended for her third and final time from MGM, her studio for 14 years and where she had grown up.  The end of an era had come.
The story is about brother and sister Broadway stars taking a ship to England, played by Fred Astaire and Jane Powell. They are to play in the Mayfair theater during the festivites around the royal wedding. But of course they each meet and fall for a Londoner – she with an English  lord played by Peter Lawford, he to  an auditioner played by Sarah Churchill (Winston's daughter). The movie is filled with clever dance acts, starting off with the Fred and Jane dancing on a rocking ship deck.
This is also the movie where Fred dances with a coat rack because his sister is not available at a rehearsal, and late in his bedroom imagines himself dancing on his walls and ceiling after staring at a photo of Anne (Sarah Churchill).
No costume design credit is given for the film. Normally Helen Rose would have been assigned the costume design, but with the troubles Judy Garland was having at the studio, Rose had made the mistake of siding with Judy. The studio bosses didn't appreciate that and took her off the movie, and significantly, Band Wagon that followed was assigned to another designer.
Many fans consider Band Wagon to be Astaire's best film. The film was directed by Vincente Minnelli and it pairs Astaire with the great Cyd Charisse. The plot parallels and was partially inspired by his own career. At that stage Astaire and the protagonist are facing a waning audience and with their best days behind him. Fred plays Tony Hunter, talked into making a stage musical by his friends as a comeback, the duo played by Nanette Fabray and Oscar Levant (passing as Comden and Green). The director Jeffrey Cordoba, played by Jack Buchanan turns the play into a dark modern hot mess, complicated by adding ballerina Gabrielle Gerard, played by Cyd Charisse into the cast. Tony and Gabrielle get off on the wrong foot from the beginning. Rehearsals are a shambles and it's only after Tony and Gabrielle get to talking and later take an evening buggy ride to Central Park that the chemistry ignites. The musical number and dance, "Dancing in the Dark," takes place as one of the highlights of the film, From there, one entertaining musical number after another takes place. Astaire and Cyd Charisse's "Girl Hunt Ballet," is particularly noteworthy.
The costumes were designed by Mary Ann Nyberg. She had few film costume design credits to her name, though A Star is Born with Judy Garland was one of them. She served as a sketch artist for Jean Louis and later a fashion designer. The costume sketch above is for Cyd Charisse in the wonderful "Dancing in the Dark" number. It is a simple but beautiful dancing outfit, its pleated skirt flowing to her every move with Fred.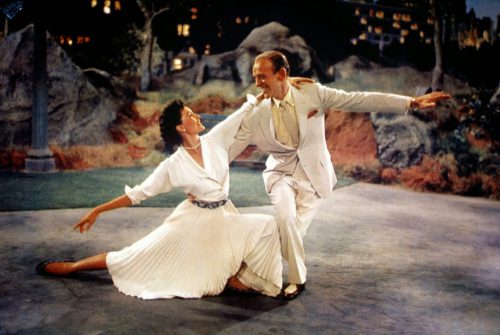 The "Girl Hunt Ballet" scene with Cyd Charisse begins with Fred entering a bar where she sits, wearing a dark green coat. A quick removal of the coat reveals her bright red sequined dress – showing lots of leg through a 3/4 surround skirt and narrow front panel. This makes for a stunning dance number with Fred shown below.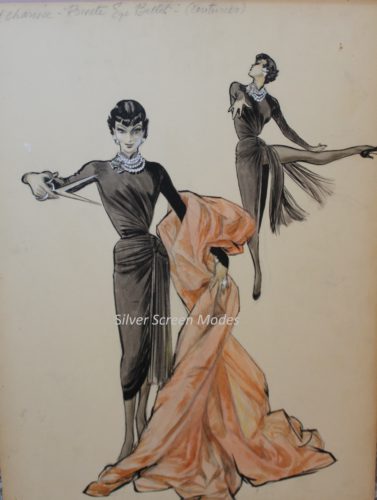 Mary Ann Nyberg's costume sketch above was for a Cyd Charisse costume in the "Girl Hunt Ballet" scene. For whatever reason, it was never used in the film.
Fred Astaire's last full musical dance movie was Finian's Rainbow, based on the 1947 stage play and directed by Francis Ford Coppola. It was released in 1968 and co-starred Petula Clark playing Fred's daughter Sharon. The costumes were designed by Dorothy Jeakins.
The movie has a fanciful plot, where Fred and his daughter travel to a fictional Southern state and burying stolen leprechaun gold believing it will multiply. But then a bigoted local senator, Billboard Rawkins, tries to foreclose on the young and popular Woody Mahoney's tobacco land. So Finian pays the balance of Woody's debt and he and Sharon become loved by the sharecroppers of the valley. Things are not settled however and Rawkins is not finished with his schemes before Finian's work is done and he can leave the valley to seek his fortunes elsewhere.
Finian's Rainbow is a movie that as a whole is not s good as its parts. No matter, as Fred Astaire's last full musical role, it is worth seeing. Thereafter, he could be seen in various bit roles and TV parts. And of course, was re-discovered in That's Entertainment! in 1974. We are fortunate to Have Turner Classic Movies where so many of the movies of his prime are shown regularly, along with his marvelous dancing partners and the wonderful costumes they wore.