When I asked some classic movie fans for what  their favorite movie costumes were I got some surprise answers. These were heartening in this age of narrowing focus on "the best"or more often "the most mentioned in the media" answer to such a question. But then again I was dealing with a group of discriminating and knowledgeable film fans and fellow bloggers. Their answers also run the spectrum of older classic and more recent movie costumes and film fashion, some are well known and some not at all.  Here are their responses:
Patricia Gallagher's favorite gown was worn by Grace Kelly in Rear Window,  this was the dramatic black and white coctail dress she is first seen in at Jimmy Stewart's apartment. Edith Head designed it with a simple black decollete top and a full white chiffon skirt decorated with beaded twig decorations in black. It was quite smashing, one of Edith Head's best designs. Grace wears black strappy heels with the outfit.
Deborah Thomas said her favorite was worn by Deanna Durbin in It Started with Eve, 1941. This outfit was designed by Vera West in a scene where Deanna Durbin is chased around a piano by her beau Robert Cummings. Deanna Durbin was a huge star in the late 1930s and early 1940s. She single-handedly kept Universal solvent with her popular films. Vera West designed costumes at Universal from 1928 until 1947.
Marsha Collock said her favorite was the "love bird dress" from  Gone with the Wind, 1939, designed by Walter Plunkett. The gown was made of blue silk and has "love-birds" sewn diagonally onto the front and right shoulder of the gown. It is seen briefly during a honeymoon scene in New Orleans. The gown is rarely seen in photographs. It was reportedly owned by the Montgomery Museum of Fine Arts as late as the 1970s, but was in poor condition then.
Jacqueline T. Lynch said her favorite costume was Audrey Hepburn's garden party gown from Sabrina  designed by Hubert de Givenchy. It is embroidered with black floral decorations on white silk organza. The gown has a detachable train that flows from the hips.
Dan DeSantis said he had many favorites, but especially the men's fashions worn in The Red Shoes. Indeed, these are striking to me as well. The chic but casual style of the clothing of the International set at the Riviera, 1925-1965, is a lost art. This was a time when men believed in dressing up to look their best in their leisure, though here they are so dressed in producing art. The stills don't do it justice, so the film has to be seen to appreciate the men's wardrobe (and this wondrous  film as a whole).
Danny Reid's favorite was the classic 1930s look of Kay Francis in Mandalay, designed by Orry-Kelly, 1934. The puffed tulle shoulders became popular after the "Letty Lynton" dress that Adrian designed in 1932. Kay Francis was a style-setting clothes-horse of the 1930s.
Aurora Bugallo's favorite was worn by Eve Marie Saint in North by Northwest, 1959. It's a black silk dress with red embroidered roses, with a deep v-cut back. The dress was selected by Eve Marie at Bergdorf-Goodman in New York, where Alfred Hitchcock was filming. The costumes were designed at MGM but the head- designer Helen Rose was unavailable at the time and Hithcock didn't like what had been provided. This one provided plenty of drama.
James Kelly said his favorite costume was worn by Elizabeth Taylor in Raintree County, 1957, it was a cream colored tulle and lace ball gown designed by Walter Plunkett. This movie was one of Walter Plunkett's best costume productions.
Billy Alvarez said his favorite costume is Deborah Kerr's ball gown from The King and I, 1956, designed by Irene Sharaff. The copper-colored satin gown with train and puffed lace sleeves was worn by Deborah Kerr as she danced with Yul Brynner. Irene Sharaff won a Best Costume Oscar for the film.
Darian Dare's favorite costume was Barbara Streisand's "On a Clear Day You Can See Forever" white satin decollete gown worn with a collar and headpiece in Funny Girl, 1968, designed by Irene Sharaff.
Patricia Nolan Clark said her favorite costume was worn by Jane Wyman in Just for You, 1952. Jane's costumes were designed by Edith Head.
Becky Barnes said her favorite costume was worn by Nicole Kidman in The Others, 2001. This mauve-colored outfit was designed by Sonia Grande. Its simplicity and somber tones fit the character and the plot. and This costume designer is not well known, although she has designed Midnight in Paris and Vicky Cristina Barcelona for Woody Allen.
Michael Munnelly's favorite costume was worn by Kate Winslet in Titanic, 1997, designed by Deborah L, Scott. This was Rose's peach-colored and sequined black lace gown worn early in the film when she wants to jump overboard before Leonardo Di Caprio prevents her from jumping. This costume sold at auction in 2012 for $330,00.
Barbara Allen's favorites were the sarongs that Dorothy Lamour wore in several movies starting with The Jungle Princess, 1936, The Hurricane, 1938, and several subsequent movies. With the start of World War II, silks and other fabrics became restricted or hard to find. Silk was used for parachutes, and European fabrics had been cut-off by the war. Barbara Allen's mother was a specialist working at the Paramount Pictures' Wardrobe Department, where she hand-painted the floral prints on sarongs and other costume's fabric due to its otherwise unavailability in sufficient variety.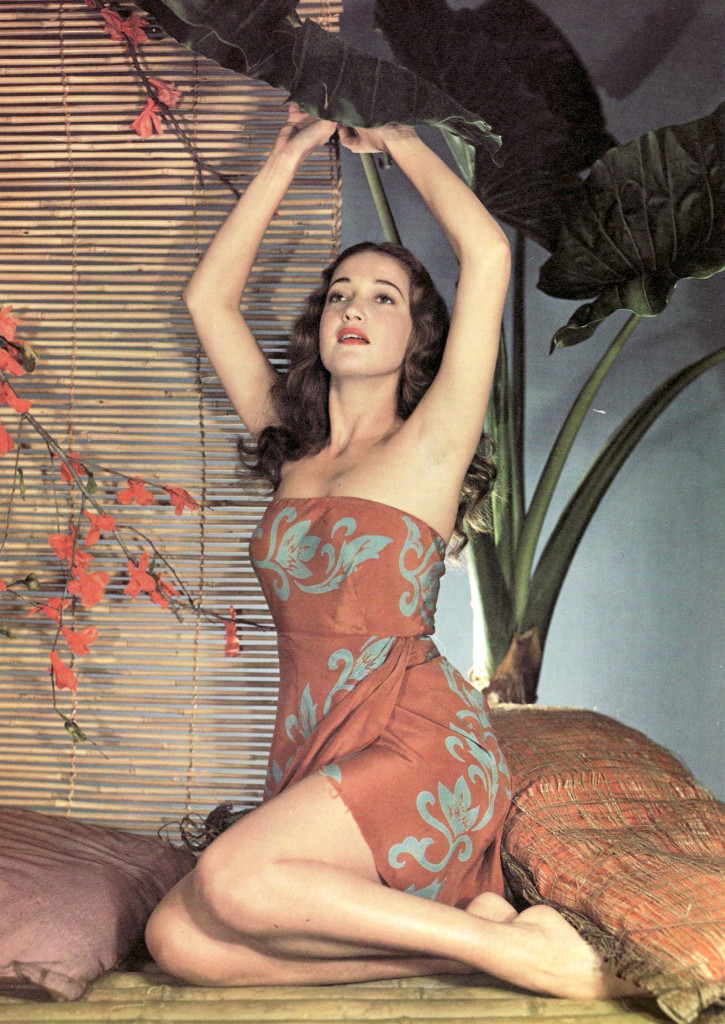 Inge Gregusch said her favorite costume was worn by Greta Garbo in Inspiration, 1931.  This is a stunning Adrian-designed black velvet gown and train with cut-crystals at the neckline and shoulders, with long gauntlet gloves. The gown has survived, and was recently exhibited at the Boston Museum of Fine Arts Hollywood Glamour Exhibition.
And what's my own favorite? There are so many. But to be fair to the those that responded, I too will pick just one. So here it is. Loretta Young in Midnight Mary, 1933, designed by Adrian. This silk satin gown with the caped shoulders, exposed back, fringe train, and accessorized with a medallion is too beautiful. And its the cover of my book on Adrian.
Thanks for sending in your favorites They are all wonderful!
COMMENT BUTTON AT TOP