Famed costume designer Jean-Pierre Dorléac has had a dynamic and fascinating career designing costumes for film, stage, and television. He recounts many of his experiences in his book: The Naked Truth: An Irreverent Chronicle of Delirious Escapades, published last year by Monad Books.  In his many years in Hollywood he met and worked with some of the legends of show business. His talent and skills in designing, sketching, and even producing costumes at the highest levels took him to Universal Studios during Edith Head's final years. She befriended him and mentored him in the nuances of working with difficult stars. And of course they shared many stories, one in particular which had always grieved Edith, was the story of the creation of the Sabrina dresses.
Mr. Dorléac granted me an interview to cover some of the highlights of his career and the friendships and working relationships he formed in the industry (both good and bad). There are of course many trials and tribulations he went through, as well as experiences with some famous movie stars that do not flatter their reputations. All of that is in the book. As a basic introduction, it covers the period starting with his winning of the Los Angeles Drama Critics Circle Award for the play Marat/Sade in 1973. It took hard work to capitalize on the win before he worked regularly in film or television.  He was befriended by June Lockhart, and the two were often out on the town. Connections he made would later prove helpful. Through her he met Ann Miller, who gifted him a good part of her personal wardrobe, forming the core of an eventual fabulous 25,000 piece vintage garment collection. Next came a promising film assignment starring Henry Fonda, with the then young stars Eileen Brennan and Susan Sarandon: The Last of the Cowboys. The film turned into a disappointment and even given a new title, but working with Henry Fonda was a great experience. In 1977 Jean-Pierre Dorléac was hired at Universal Studios to design period costumes for a TV movie called The Bastard. The risque title it seemed came from a popular novel by John Jakes, a story leading up to the American Revolution.
Eighteenth century costume was a specialty of Dorléac's, costumes he had studied at the Ecole des Beaux Arts in France. But as it turned out, that helped him little for his next work, designing the space-age costumes for the cult-favorite Battlestar Galactica, also done for Universal Television. His next film may not have won great praise, but Good Guys Wear Black (Black Tigers), with Chuck Norris, introduced the use of spandex in action-costumes. Battlestar Galactica was  such a hit that a  TV series was produced, and Jean-Pierre Dorléac's innovative costumes for the series have become legendary. In addition to his film and television costume designing, he has been very active designing for the private wardrobes of many stars.
I asked Jean-Pierre if there  was still so much fan interest in his Battlestar Galactica costumes. "Oh yes", he said,  "all the time". "And I have donated  20 Galactica  costumes to museums," he added. He said his success with science fiction costumes was a surprise since he never liked uniforms and doesn't read science fiction.  In 1979-1980 his costume design work alternated between the 18th century and the space-age as he designed for another John Jakes saga: The Rebels, and then Galactica 1980 and Buck Rogers in the 25th Century.  The Battlestar Galactica costumes used a variety of innovative materials: Whiting & Davis ( famous for its antique purses) chainmail; chromed plastic; spandex jumpsuits; and specially made macramé.
The year 1980 became very significant for Jean-Pierre, he designed for both The Blue Lagoon starring then young It Girl Brooke Shield, and the fan-favorite Somewhere in Time, starring Christopher Reeve and Jane Seymour. He said Christopher Reeve was then at the height of his egotism and very demanding about his wardrobe. Edith Head's advice for how to handle fussy stars worked just as well for men, he discovered.
Jean-Pierre started talking about his book by saying that, "I wanted to stay under the radar" after The Blue Lagoon came out. Brooke Shield was immensely popular at the time and there was intense interest in gossip about her and her mother, all of which he wanted to avoid because of his devotion to them. He was very gratified with his costumes for Somewhere in Time, designed for the period of 1912 and nominated for an Academy Award in Best Costume Design. Jean-Pierre said he immersed himself in the Belle-Epoque, "Looking for the character of Elise McKenna, an actress with advanced  haute-couture taste."  He spent hours looking  for antique laces and accessories. He was finally able to buy $5000 worth of the important silk and cotton laces through a dealer at an antique bazaar.  He was frustrated in his search for period jewelry, however. But at a lunch Edith Head made him a significant present, a magnificent Rhinestone necklace from 1900 that had once belonged to Broadway actress Ethel Jackson. It was the perfect piece for the gown he had in mind and he couldn't thank Edith enough for this gift, a very valuable piece.
Jean-Pierre Dorléac  had not started out wanting to be a costume designer. He was interested as a young adult in the history of fashion and worked briefly at Balmain and Dior learning the basics of couture. He has admired many American costume designers. "Orry-Kelly was my favorite designer," he says. He likes the classic look of the glamour gowns he designed. He knew and admired Walter Plunkett. "He gave me a book with plates of costumes that were inspirations for him in designing 'Gone with the Wind.'"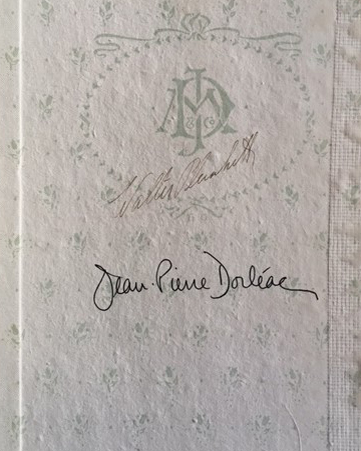 He was friends with Theadora Van Runkle, whose personal style of dress  he greatly admired. "She turned everyone's head when she entered a room," he said of her. "She had henna red hair and a constant display of vintage jewelry, outrageous beads around her neck and fascinating bracelets." Jean-Pierre, who renders amazing costume sketches, greatly admired Theadora's costume sketches as well. He also knew and admired Yvonne Wood and Noel Taylor. And of course there was Edith Head.
"Edith was always very kind and generous," said Jean-Pierre. "She was never vicious." This in Hollywood when the changed order of things had made climbing the ladder more like a game of thrones.  She gave him presents, "that were always extra special," and these always had a particular reflection on her career. Alfred Hitchcock had copies of the scissors made that Grace Kelly used as a murder weapon in Dial M for Murder. He gave a set to Edith Head, even though she was not the costume designer for the movie.  The scissors and their red leather case with her name on it she gave to Jean-Pierre.
Regarding the notorious case of the design credit for Audrey Hepburn's Sabrina dresses, Jean-Pierre had much to say.  Part of the problem started early. "Audrey Young was a bit player at Paramount who did not like Edith." he said. "She married Billy Wilder in 1949 and wanted to become a costume consultant." He said that Edith told him that Audrey Hepburn wanted to get couture items from Givenchy but showed up with sketches she had made herself based on what she had seen at his runway show. And Audrey Hepburn had already gone to director Billy Wilder and he consented to giving her what she wanted. Edith said she then modified the sketches "to give them her touch." Jean-Pierre said that the cutter-fitter (pattern-maker) at the time stated that all the costumes for Audrey Hepburn in Sabrina were made at Paramount. And also that Marjorie Bennett who played the cook said she saw Audrey Hepburn wearing the "bateau-neckline" Sabrina dress coming out of Wardrobe. Edith said that Audrey 's characteristic style was her angular features. So she designed her necklines with a pronounced horizontal line. Jean-Pierre emphasized the importance of the continuity of that neckline in the various costumes Audrey Hepburn wears in the film, from basic house-dress, to a sharp black apron,  to the famed bateau neckline "Sabrina" dress, to the charcoal-grey embroidered ball-gown. All these indicate the obvious intention of the designer – the costume designer – who is developing the character in the story, not designing couture.
With all the kindness that Edith Head showed him at the start and throughout his career, Jean-Pierre was saddened at the tarnished reputation she experienced during her final years at Universal. The film-credit embroglio, along with her advanced years and worsening health allowed some people to disrespect her at the studio. He has done his bit to champion her rightful place in Hollywood movie history.
Jean-Pierre Dorléac has earned his own place in movie and television history. He has been nominated 11 times for the Prime-time Emmy Awards for Outstanding Costume Design, winning for Battlestar Galactica and The Lot. He has won two Best Costumes Awards from the Academy of Science Fiction, Fantasy, and Horror Films for Battlestar Galactica and Somewhere in Time. And he was nominated for a Best Costume Oscar for Somewhere in Time. Today he works mainly in South America and Europe. He raises orchids and epiphyllum cactus plants as a hobby. His book The Naked Truth was well-written, highly informative and entertaining, an inside look at Hollywood from the production end – or how much of a game of thrones (unsavory characters and all) it really is. As a fan of film costume this was a great book to read and a wonderful opportunity to talk to this notable costume designer and author. You will no doubt be able to enjoy it on several levels.