The Best Costume Design Oscar nominees for the movies of 2016 offers a diverse and talented mix of designers and their creations. The five costume designers nominated and the movies they designed for were: Joanna Johnston for Allied; Madeline Fontaine for Jackie; Colleen Atwood for Fantastic Beasts and Where to Find Them; Mary Zophres for La La Land; and Consolata Boyle for Florence Foster Jenkins. Here's a look at the movies and the background brief on the designers' work.
Allied stars Marion Cottilard and Brad Pitt in a World War II spy thriller where he is a Canadian spy and she is a French Resistance fighter. They fall in love but not all is what it seems.
Many of the scenes are set in Casablanca. Joanna Johnston was inspired by the looks of Ingrid Bergman in the film of that title, and also of Bette Davis in Now Voyager, both films designed by Orry-Kelly. But she also liked the costumes of Lauren Bacall, Katharine Hepburn, and Barbara Stanwyck. Below is a costume sketch for the outfit seen in the photo above. The skirt's fabric was custom-printed and then box-pleated to line up the patterns perfectly.
Ms. Johnston believed the movie had the classic Hollywood feel, from the "gowns by Adrian" era. She called it the "Hollywood lift," in its look, and an old-fashioned quality. For Brad Pitt, the tailor Michael Sloan from The Curious Case of Benjamin Bunny was hired, and Johnston also contracted with a military uniform expert for his uniforms.
Below, Marion Cotillard steps out in one of her stunning satin gowns.
This is the second Academy Award nomination for Joanna Johnston. She was previously nominated for Lincoln.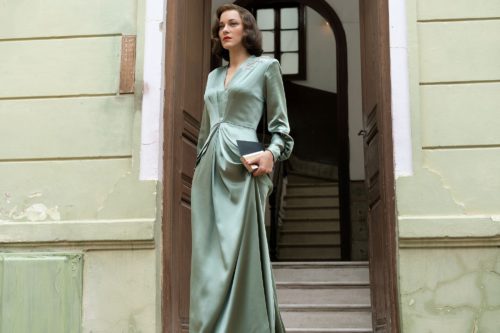 Jackie is a time-travel back to the sad days following the assassination of her husband President John F. Kennedy. The costume designer is Madeline Fontaine. The movie stars Natalie Portman as Jackie. The photo below shows Portman as Jackie, wearing a costume recreation of the pink Chanel suit and pillbox hat she wore the day of the assassination.
Ms. Fontaine and her team made the suit themselves, although Chanel sent the buttons used on the jacket.
An original design by Madeline Fontaine is this chic black dress with a buttoned strap shaping the neckline and décolletage.
Jackie is shown at left in a red suit she wore while giving a televised tour of the White House on Valentine's Day 1962. The costume version is in a different shade of red is worn at right by Natalie Portman.
This is Madeline Fontaine's first Academy Award nomination.
Based on the book by J.K Rowling, Fantastic Beasts and Where to Find Them takes place in 1926. A British wizard Newt Scamander arrives in New York City with his collection of unusual magical beasts. There the relationship between magical and non-magical people in America is hostile., Newt gets involved in a war between factions seeking either to destroy magic or to make it the law of the land.
Colleen Atwood designed the costumes for the cast starring Eddie Redmayne, Colin Farrell, Katherine Waterston, Alison Sudol, and Carmen Ejogo. "I love the nineteen-twenties in New York," said Ms. Atwood about the setting of the movie. "It was a major time in America. It was before the Depression, so it was a crazy time of excess in all ways," she added. All the costumes for the lead actors were custom made, "..adding layers of psychological insights and wit that help define exactly who theses people are – or might be."
Alison Sudol stars as Queenie Goldstein, a Legilimens who can extract memories and feelings from someone's mind. She does look mesmerizing in several of Colleen Atwood's outfits.
Below is the costume for the character Seraphina Piquery, played by Carmen Ejogo. Seraphina is the President of the Magical Congress of the United States of America.
Below is a costume sketch for Colin Farrell's character of Percival Graves. He is an Auror, a principal investigator of a group of magicians who work as special agents in New York.
Colleen Atwood has been nominated for twelve Academy Awards including this one, and the winner of three. She was previously nominated for: Into The Woods, Snow White and The Hunstman, Alice in Wonderland (Winner), Sweeney Todd The Demon Barber of Fleet Street, Memoirs Of A Geisha, (Winner), Lemony Snicket's A Series of Unfortunate Events, Chicago (Winner), and Beloved.
Mia is an aspiring actress. Sebastian a jazz pianist. They both struggle to realize their dreams in Los Angeles despite the often soul-crushing commercial nature of show business. After frequent rejection they forge unexpected paths to stardom, but now the young couple strives to sustain the love they found.
Mary Zophres designed the costumes for stars Emma Stone, Ryan Gosling, John Legend and pricipal cast.
Mary Zophres designed the canary yellow dress above for Emma Stone. its bright color picked after the designer reviewed past gowns the star had worn at red-carpet appearances. The color matched a particularly flattering Atelier-Versace gown she had worn in 2014. The basic style of the dress, perfect for the dance scene, is enhanced by hand-painted floral designs.
Ms. Zophres had particular film looks in mind. She cited Funny Face and Audrey Hepburn's black dance pants as inspiration for the black pants that Mia wears walking through the lot. Similarly, the color of Mia's emerald green dress worn at the Griffith Park Observatory is inspired by that of Judy Garland's in A Star is Born.  Mary Zophres also remarked that Mia's dresses get fuller as the movie goes on. Ryan's clothing were all made for him. He was meant to look jazz-inspired, but his pants were a bit shorter to show off his two-tone shoes and his dancing. The shoes were purchased at a dance-shoe store in Los Angeles.
At the end, her dance dress is white, no doubt inspired by Cyd Charisse's dress from the "Dancing in the Dark" scene in Band Wagon.
This is the second Academy Award nomination for Mary Zophres. She was previously nominated for True Grit.
Heiress Florence Foster Jenkins had been a champion of music her entire life.  Her own enthusiastic singing was awful. When she decides to give a concert at Carnegie Hall in 1944, her devoted husband doesn't discourage her.  In contrast, he and a befuddled pianist work tirelessly to ensure that the event is well attended and taken seriously.
Consolata Boyle designed the costumes for Meryl Streep and Hugh Grant and principal cast. Since the movie was based on an actual character, research was used to base some of her stage costumes on actual costumes of Mrs. Foster's own design. These were as unique and flighty as her own character
Consolata Boyle was challenged by the job but enthusiastic, " …the whole idea of the project is so intriguing and so magical, the idea that somebody who lives  totally in their imagination like Florence did allow freedom for us to fly, and the fact that somebody as wonderful as Meryl was playing that central role was wonderful for me." said Ms. Boyle. In the photo above Meryl Streep wears a Spanish-influenced costume similar to one Mrs Jenkins wore in her performance.
Ms. Boyle and her team sourced fabrics that were original to the late 1940s when the story took place. Luckily many were still available. Mrs. Jenkins devised her own stage costumes and "tableau vivant" outfits for her society circle gatherings. Boyle had to pad these for Meryl Streep. The most difficult costume to make was the white "Brunhilde" costume with wings that Meryl Streep wear as she is lowered onto the stage on cables.
This is Consolata Boyle's second Academy Award nomination. She was previously nominated for The Queen.
The candidates are all worthy of their nominations and a possible Oscar. While the nominations are made by the Costume Designers branch of the Academy, all members get to vote on the winner. Historically, it's the period films that succeed, or fantasies failing a big historical movie. Contemporary films (like La La Land) rarely win. The historical movies nominated take place in the fairly recent past, 1920s for Fantastic Beasts, 1940s for both Allied and Florence Foster Jenkins, and 1960s for Jackie.  Out of these five films, the only one that has any big steam behind it is La La Land, which mitigates somewhat the contemporary costume jinx. Yet it doesn't have any big costumes or outfits to grab attention, either. It does succeed at defining character as it should, and a barista in today's world doesn't dress out of Saks 5th Avenue. Jackie was very fashionable, but its most stellar outfits were recreations of 1960s originals. I found Allied and Fantastic Beasts to have the most visually stimulating costumes. I must admit I'm a sucker for the 1940s look and occasional glamour of Allied, but Fantastic Beasts is a piece of costuming art. Florence Foster Jenkins is also very worthy yet such outfits are as off-putting as her voice. The Academy may very well go with the ground-swell for La La Land. I would pick Fantastic Beasts.